June 13th, 2014
Two-day demo will reclaim one of Atlanta's most celebrated streets for people
By: Michael Andersen, Green Lane Project staff writer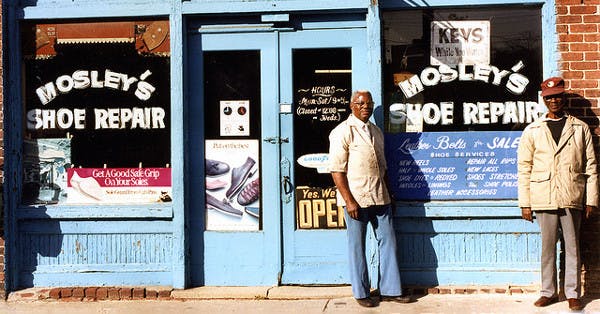 1992 photo of Mosley's Shoe Repair, at 346 Auburn Ave., via Russell Mondy.
Fifty years after a freeway sliced through one of the country's wealthiest black communities and left it out to dry, the neighborhood is trying a new way to serve its seniors.
Sweet Auburn, the neighbohood just east of downtown Atlanta where the Rev. Martin Luther King Jr. was born and preached before the 75/85 Downtown Connector was steered through the middle of the neighborhood, has struggled in the way many famous African-American communities have. But with a community farm, a new streetcar line and a dozen new pop-up businesses opening this month in once-empty storefronts, Auburn Avenue continues to hum with life. And this Saturday and Sunday, community members will join planners and experts on aging to redesign its core avenue, between Fort Street NE and Jackson Street NE, into one that can serve people of all ages more equitably.
"This weekend, we're learning how to change our bike lanes, how to look at our sidewalks, look at our crosswalks, look at the outside, look at how to make things more exciting, learn how to create these community spaces," said Nedra Deadwyler in an interview.
Deadwyler is the owner of Civil Bikes, a pop-up storefront that offers bike rentals, civil rights-themed tours and other services that "use bikes to transform the community." She and other businesses and locals will work with Mike Lydon of Street Plans Collaborative to temporarily convert a buffered bike lane on the street to a protected bike lane, adding the physical separation proven to make it more comfortable to people of all ages — or, as bicycle planners often call it, people "eight to 80."
Kathryn Lawler, director of the Atlanta Area Agency on Aging, said the two-day event will focus on the sometimes neglected upper part of that spectrum — a group whose interest in biking is soaring.
"It's quite clear that the Atlanta region, if its only economic development strategy is attracting young people to the region, that's not going to work," she said. Even a much higher rate of migration to Atlanta, she said, won't be enough to fill the region's jobs."We need to maintain an increasing percentage in the labor force of the 60-plus population. We need that older workforce to stay active."
The event, called "Sweet Auburn: Living Beyond Expectations" and open on Saturday and Sunday, June 21-22, is an attempt to rethink Auburn Avenue into a street that makes this possible. It's part of the Atlanta Regional Commission's Living Beyond Expectations campaign, which is a partnership of ARC, Public Broadcasting Atlanta and Piedmont WellStar Health Plans.
Deadwyler said that in the two weeks since her shop opened, she's started planning an "activity day" for the many residents of the area who tell her they're curious about trying bikes. She hopes to use Auburn's bike lanes to connect to the nearby Beltline trail.
Deadwyler's hope is that events like this weekend's will slowly transform what she called the "shallow" community on Auburn today into the "deep" one that once existed.
"It's a great initiative," she said. "But we, all these citizens and businesses, we've got to communicate, we've got to educate and we've got to take action. … It's really up to us to cultivate the deep community that's needed to get past all of these initiatives. It's more than just having restaurants and bars. There needs to be more community spaces. … I feel like that lifeline is here, and there are folks who really want that. But I think there has been a neglect and a void for so long."