June 4, 2018
The Bike Industry Takes to Capitol Hill to Support Recreation Not Red Tape
By: PeopleForBikes Staff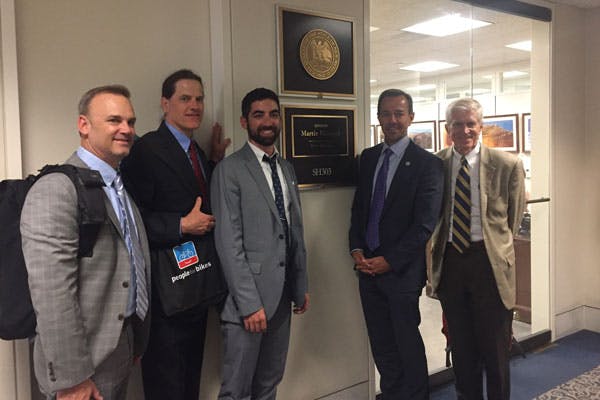 Ryan Miller (Shimano), Mike Delano (Giant), Saul Leiken (Specialized), Mike Olson (Trek Superstore), Bob Margevicius (Specialized) outside of Sen. Martin Heinrich (D-NM) office.
PeopleForBikes led a group of 12 influential leaders from the $88 billion bike industry to Capitol Hill this week in support of the Recreation Not Red Tape Act. This bill aims to improve and break down the barriers to recreational riding opportunities on our public lands.
"Communities across the nation rely on our public lands and the bike industry to create jobs, grow local economies, and improve quality of life," said Jenn Dice, PeopleForBikes' vice president of business network. "The Recreation Not Red Tape Act is a crucial piece of legislation to increase access on public lands for people who bike."
The Recreation Not Red Tape Act accomplishes three main goals, it creates a system of National Recreation Areas to identify and protect landscapes for outdoor recreation, including bicycling, it simplifies the permitting processes for the U.S. Forest Service and the Bureau of Land Management to create standard forms, deadlines, and informational materials for people who bike and bicycle tour guides, and it establishes a pilot program for interagency trail management for trails that cross agency jurisdictional boundaries to ensure trails are maintained according to the same standards. More information on Recreation Not Red Tape Act can be found here.
"It was great to join PeopleForBikes and industry leaders in talking with congressional offices about the benefits of the Recreation Not Red Tape Act. Local economies across the country will benefit from people enjoying expanded recreation," said Ellen Johnson, senior product manager at Advanced Sports, Inc.
Attendees included Mike Delano of Giant, Bernie Doering of Stages Cycling, Fred Ferguson of Vista Outdoor, Dustin Green of Trek, Ellen Johnson of Advanced Sports, Stephen Keller of Shimano, Saul Leiken of Specialized, Eric Lynn of Black River, Bob Margevicius of Specialized, Ryan Miller of Shimano, Mike Olson of Trek Superstore and Gary Sjoquist of Quality Bicycle Products (QBP).
"Our public lands provide excellent riding opportunities but obstacles arise when routes cross land managed by different federal agencies. I am excited that the Recreation Not Red Tape Act will break down these barriers." said Bernie Doering, head of marketing and sales at Stages Cycling. 
In addition to meetings on Capitol Hill, PeopleForBikes also held its annual Congressional Bike Fest in the Rayburn Building of the U.S. House of Representatives. Fifteen brands showcased their latest products. Roughly 400 Capitol Hill staffers attended the event, which featured items from Trek, Shimano, Advanced Sports, QBP, Saris, Specialized, Capital Bike Share, Blackriver, Giant, Pure Cycles, Shinola, REI, CSG, Bell, Giro, CamelBack, and Feedback Sports.