April 22nd, 2014
The big idea behind bike projects and the Memphis rebound
By: Michael Andersen, Green Lane Project staff writer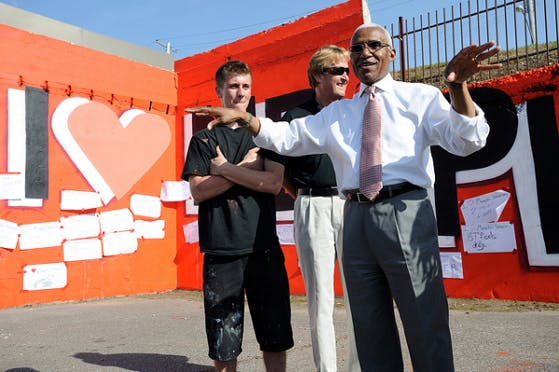 Memphis Mayor AC Wharton. Photo: Joey Miller.
This week in Memphis, three of the country's most interesting urban planners are giving a series of free lectures about the big, smart idea behind the deliberate, data-driven revitalization strategy that has led this city to embrace bike infrastructure.
Chuck Marohn of Strong Towns, Mike Lydon of Street Plans and Joe Minicozzi of Urban3 are each discussing the principle that has driven Mayor AC Wharton to steer the city away from annexation and suburbanization and toward proximity, quality of life and connectivity within the central city. Wharton's administration have embraced the strategy not just because protected bike lanes and other small-scale projects are cheaper in the short run (though they usually are) but because the human-oriented streetscapes they create are actually more valuable and better for everyone in the economy. Here's Marohn on the municipal mathematics:
When cities expand horizontally, they trade the immediate increase in revenue that comes along with expansion for the long-term liability of maintaining and servicing the new, far-flung infrastructure. In the short term, this creates an illusion of wealth as everything is brand new and the costs to the local government are minimal. Over time, however, as the maintenance bill comes due, cities find that the spread-out and expensive nature of this pattern of development overwhelms any revenue stream. Instead of building wealth, our post-World War II approach destroys it.
We've written several times about the role that the country's most interesting protected bike lane project has played in the revitalization of Broad Avenue in Memphis' Binghampton neighborhood. Earlier this month, Wharton described the payoff:
The city of Memphis, through the Mayor's Innovation Delivery Team, is focused on using data to identify those areas in the core of the city where small, tactical investments generate a high return. This has been seen in the revival of Broad Avenue in Binghampton, South Memphis, Overton Square, Crosstown and other citizen-led creative placemaking efforts. Over the past two years, Memphis is cleaning up our older neighborhoods and investing our time and money in our core city neighborhoods that generate high returns. For example, city investments in Crosstown, Overton Square and Broad Avenue are returning people to the core of the city where we have seen a 40-50 percent reduction in vacancy rates in these areas.
But there might be no better snapshot of the concept than this one, presented by Wharton this morning and captured in a tweet by Marohn:
None of these passages actually mentions bicycling, even though some of Memphis's key investments are related to protected bicycle lanes. And that's exactly the point. Memphians haven't come around to bicycle projects because they love bicycles more than anybody else. Memphians have come around to bicycle projects because they love Memphis.