January 29, 2014
Tech Talk: Latest innovations may make it dirt cheap to color streets
By: Michael Andersen, Green Lane Project staff writer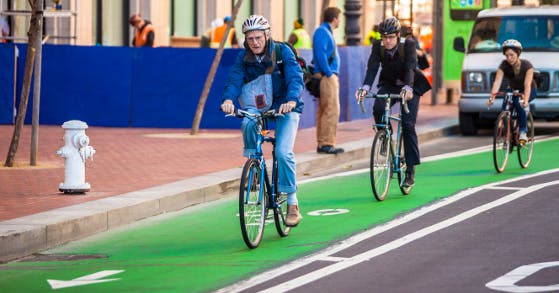 Green bike lane
As more and more U.S. cities embrace color as a way to make bike lanes visible, especially at intersections, a very important group of people are taking notice: the ones who figure out how to color things.
American pavement marking companies, especially the smaller and nimbler ones, smell a growth industry and are rapidly advancing the technology of adding color to streets.
Just don't call it "paint." They hate that.
"Paint is paint, and that's all fine, but paint doesn't offer the level of protection that we offer here," said Bill Ganger, a business development specialist for Columbus-based STAR who, last summer, colored part of the road in front of his own house green in order to test his product's durability.
Each month he takes a photo of it, so he can send it to civil engineers around the country and prove its color holds up.
"When the Federal Highway Administration came out with a designated color for bike lanes, we realized that this was going to be a big issue," said Michael Stenko, president of Transpo Industries in New Rochelle, N.Y. "I think the size of the market has huge potential."
STAR and Transpo Industries both have new bike-lane-oriented products on the ground in Memphis, a city that is painting some of its new bike lanes solid green to more clearly separate them from the road.
Memphis has been a useful test location for another reason: it's eager to keep costs down. That economy is helping drive a new product category that's stronger than paint, cheaper than plastic and could be on its way to streets everywhere.
'Could we make it bright green?'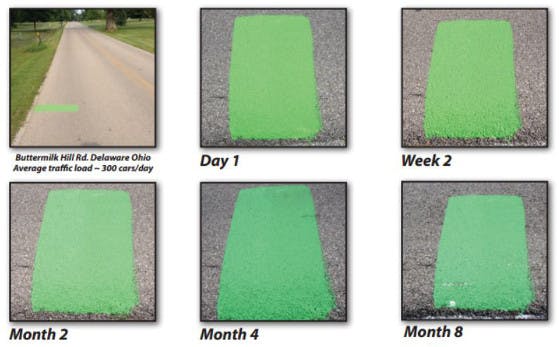 STAR's product, called STAR Spectrum, was born with a different sort of green in mind: the sustainability boom of 2008.
The company was looking for a way to protect parking lots from water or chemical penetration with low environmental impact. They hit on a water-based acrylic product that could be applied through either spraying or rolling. Later, they realized that by using a lighter base, they could also make the seal any imaginable color.
STAR had discovered what might be the cheapest way to add durable color to a bike lane. They just didn't know it yet.
"When we found that we could colorize it very easily with bright colors, which other people weren't doing, it really opened up a lot of opportunity for us," Ganger said. After staff started racking their brains for ways to use the new technology, he said "one of our salespeople stumbled across (a) bike lane project and asked us, 'Could we make it bright green?'"
"We went up the laboratory and figured out how to do it," Ganger said. The cost when applied, Ganger says: 50 cents per square foot — less than a tenth the cost of thermoplastic.
Kyle Wagenschutz, the bike coordinator in Memphis, said their application cost for Spectrum had been higher, about $1.50 per square foot, but that it was still clearly the lowest-cost durable option.
Joe Gilpin of Alta Planning and Design, a Montana-based expert in coloring bike infrastructure, said he's optimistic about Spectrum, but that it'd need to be tested in more cities first.
"If they can actually track it and provide that level of durability at that price point, I think they're going to kill it," Gilpin said enthusiastically. "But we need cities to play with it first."
Color captures public enthusiasm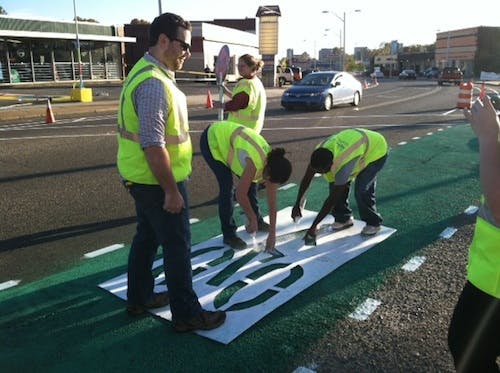 Meanwhile in New York, Transpo Industries has been working on a similar product: an acrylic resin-based material that comes with different types of aggregate designed to prevent any increased skidding.
After the 2011 FHWA ruling, the company began marketing and tweaking its Color Safe product for use on bike lanes. The color treatments, Transpo found, didn't fade in sunlight. They expanded and contracted with the pavement as it heated and cooled.
Stenko isn't yet certain whether colored bike lanes will become mainstream nationally or remain only in a handful of more bike-friendly cities in bike-friendly states.
But he thinks that using colorings that are more durable than actual paint are essential to selling the idea of colored lane markings.
"It's very disheartening to the public — and we've seen that in New York City here — if you start out putting down inexpensive materials that don't last a great time, the public loses faith and and loses interest in what you're trying to do," Stenko said.
Gilpin, the bike pavement marking expert for Alta, said he doesn't think most cities will embrace colored pavement until the FHWA-affiliated Manual of Uniform Traffic Control Devices fully approves colored bike lanes, bike boxes and other color treatments  The MUTCD has granted interim approvals for some of the uses but slow to make them fully official.
Giplin added that the most durable way to color pavement might be one used in Amsterdam, where the color is embedded within the asphalt.
The catch is that the bike lane has to be planned from the day a road is built ? something Gilpin hopes U.S. cities may experiment with soon.
"They just kind of add a red powder into their asphalt mixture," he said. "It pretty much lasts forever."