October 4th, 2018
Taking the Scenic Route: Long-Distance E-Bike Adventures
By: PeopleForBikes Staff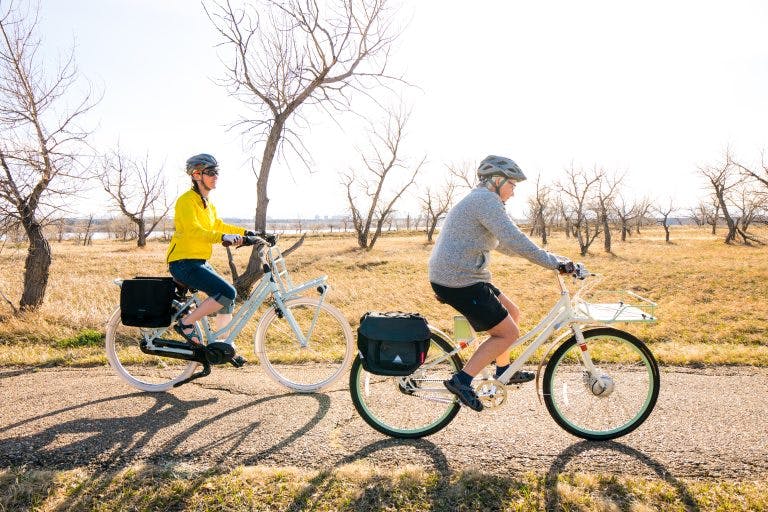 Electric bikes make long-distance tours accessible to a broader audience.
Pedaling along city paths or winding country roads, bicycle tourists are rewarded with unique vantage points and stunning views — it's a travel experience unlike any other. And, as networks of bike trails continue to expand and connect, more journeys destinations than ever are safely accessible by bike. But taking advantage of these extensive networks by traditional pedal bike isn't feasible for all riders; fortunately, electric bikes make long-distance tours accessible to a broader audience.
Before you take off on a cross-country e-bike tour, there are a few things you should know about long-distance riding on e-bikes:
Plan for the life of your battery. Know the range of your bike's battery and plan accordingly, whether that means mapping out charging stops or carting along a spare.
Anticipate service needs. Research bike shops along your route to find out where you can get your bike serviced for any necessary maintenance or repairs — not all shops will be able to accommodate e-bikes.
Keep an open mind. Even with the pedal assist, consecutive days of riding can be tiresome. Map out your route to include options for early stopping points or rest days.
For those wanting to tackle a ride greater than 100 miles on an e-bike, the country's rails-to-trails system is the perfect place to plot a bike tour. With nearly 25,000 miles of trail spanning a myriad of tourist-friendly trail towns, the network holds abundant opportunities for exploration.
To plan your own e-bike tour, the Rails-to-Trails Conservancy's TrailLink is an outstanding resource. It allows riders to search for trails by city, state, zip code or keyword. Detailed descriptions of the trail — from geography to history to availability of restrooms and parking — accompany links to websites and maps.* For those who would rather let someone else handle the logistics, many tour companies offer e-bike options on their catered bike tours.
To help kickstart your next pedal-assisted adventure, we've listed some of our favorite long-distance rides that are open to e-bikes. Regulations and rules can change frequently, so it's always best to check the managing agency's website before you travel.
The Katy Trail
A Missouri state park, the Katy Trail spans nearly the full width of Missouri — nearly 240 miles. The trail passes through a link of small towns boasting cozy accommodations, tasty restaurants and easy access to transportation. Oenophiles in particular will enjoy the stretch of trail near Hermann, with more than 10 tucked in the rolling hillside.
The Mickelson Trail
In the heart of the Black Hills of South Dakota, the Mickelson Trail leads riders down 109 miles of crushed limestone rail trail containing more than 100 converted railroad bridges and four rock tunnels. It's easy to combine the Mickelson with paved routes in nearby Badlands National Park.
The Great Allegheny Passage (GAP) Trail
The GAP Trail is the longest rail trail east of the Mississippi River. On the 150-mile trail, travelers ride from Pittsburgh, Pennsylvania, to Cumberland, Maryland. For those looking for a longer tour, it's possible to plan a multi-day, 333-mile bike tour to Washington, D.C., by connecting to the 184.5-mile C&O Canal Towpath. This route visits three states (Pennsylvania, Maryland, West Virginia) and the District of Columbia, and passes through four national parks: the C&O Canal, Antietam Battlefield, Harpers Ferry and Rock Creek Park.
Trail of the Coeur d'Alene/Route of the Hiawatha
These Idaho rail trails can be combined to form a 90-mile ride through the West's scenic natural beauty while also traveling through time. A highlight is the Taft Tunnel, which traverses between Idaho and Montana under the crest of the rugged Bitterroot Mountains. The tunnel was once used by the former Chicago, Milwaukee, St. Paul and Pacific Railroad, also known as the "Milwaukee Road.".
Palouse to Cascades State Park Trail
Like the other rail trails of the West, the Palouse to Cascades State Park Trail follows the corridor of the Milwaukee Road. The trail showcases the impressive construction of the railbed with its tunnels and trestles while also taking riders through a stunning array of ecosystems — including coniferous forests, arid farmland and deeply cut river canyons.
The Paul Bunyan State Trail
This 123-mile paved trail is rich in Minnesota history: Thirteen recorded prehistoric sites have been identified along the trail. Now, the landscape bears marks of more recent mining and logging activity, and the towns that dot the trail tell tales of how the area was developed. For a longer trip, the unpaved Blue Ox Trail extends northward from Lake Bemidji State Park for another 90 miles, forming one of the longest rail-to-trail conversions in the country.