May 1, 2020
Some Good News for Bicycling
By: Jenn Dice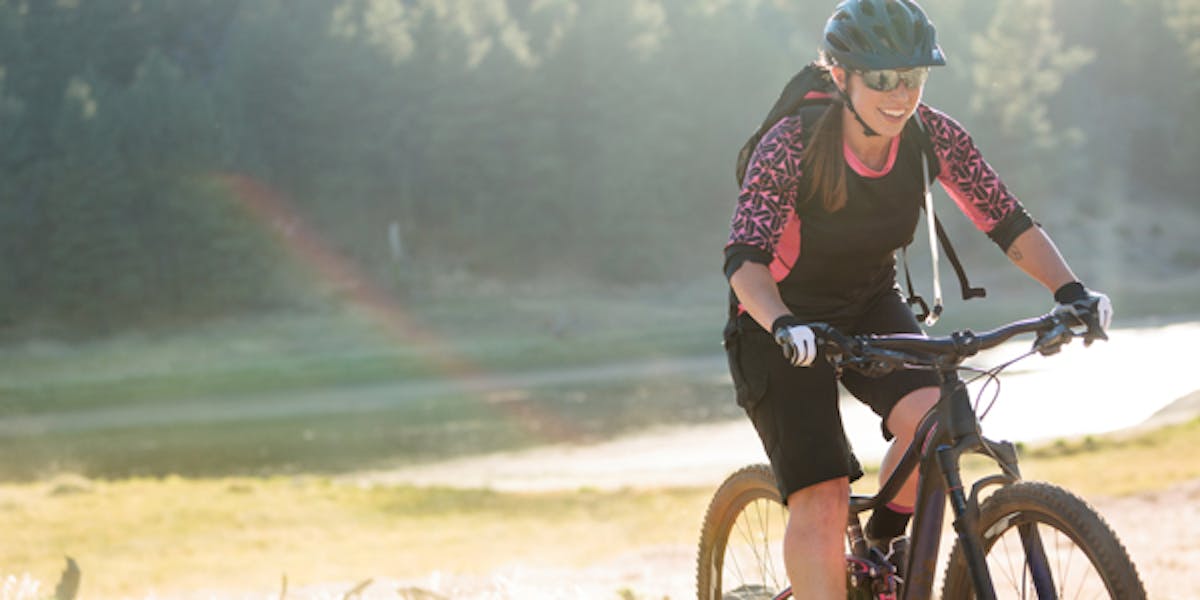 Mountain biker in a meadow
This op-ed was written by PeopleForBikes COO Jenn Dice for Bicycle Retailer and Industry News. View the original story here.
Every day we wake up to overwhelming bad news. We cling to government information about infection rates and death tolls. We watch the economy crumble and our friends in the bike industry suffer. We hope and pray and support our health care workers on the front lines and we latch on to every bit of information regarding when our communities and businesses will reopen.
Every day, many of us also wake up to Some Good News, or the wildly popular SGN, that John Krasinski now streams into our living rooms via YouTube. Thankfully, when it comes to bikes, every day brings more than just some good news.
Families are biking together and exploring, many for the first time. Kids are biking around their neighborhoods and essential workers are commuting by bike as a safer, cleaner option than public transit. All across the nation, we see people – lots of them – who haven't ridden in years dusting off their bikes and visiting their local bike shops to get back on two wheels.
Mayors are realizing their citizens need more room to move and have been limiting cars and embracing bicycling and walking. Oakland's Mayor reallocated 74 miles of city streets to bikes and pedestrians. Philadelphia's Mayor prohibited vehicular access along a four-mile stretch of Martin Luther King Jr. Drive and Denver Mayor nixed cars from eight streets to encourage residents to get outdoors while still practicing social distancing. Even if your city isn't reducing access for cars, you are still likely seeing an increase in people getting out on bikes.
Environmentally, our skies are clearer. Here in Colorado, the notorious "Brown Cloud" over Denver has dissipated, residents in Los Angeles are marveling at bright blue skies and health advocates worldwide are saying that cleaner air and healthier lungs will help people resist some aspects of COVID-19.
As an industry, we face enormous challenges as we emerge from this pandemic, but also opportunity. We have a chance to help leaders at all levels see the simple, low-cost solutions bicycling offers — for transportation, the environment and physical and mental health.
Cities have their work cut out for them and are already thinking about their resiliency and mobility planning post-COVID. Residents likely won't return to crowded public transit anytime soon. There is a tremendous opportunity to help city leaders prioritize bicycling, specifically by lowering speed limits, opening more streets and places for walking and biking and building protected bike lanes to support people who commute in a safe, socially distanced way.
As a bike industry, it is our turn to lead. Cities won't naturally do this on their own, but we can position the bicycle as one smart solution to some of our community problems.
PeopleForBikes is already moving. We know that the most important thing right now is keeping your employees safe and healthy and your businesses recovering. We know many are exhausted and just trying to keep up. When the time is right, we hope you can join us in two important ways, so we don't miss this historical window of opportunity.
First, promote Ride It Out, the first in our series of Ride Spot campaigns dedicated to get and keep Americans riding bikes. Ride Spot, PeopleForBikes' digital riding platform, is designed and funded by retailers and brands as a united industry effort to address barriers preventing ridership and meet people where they are — online and on their mobile devices. Full of powerful content to encourage communities to keep riding, ride responsibly and promote the power of the bicycle, Ride It Out provides retailers and suppliers with a free and diverse collection of images and messages they can promote through their own digital channels.
Second, tell your story. When the time is appropriate, write a short letter to your city asking for more open streets for bicycling and walking, lower speed limits and protected bike lanes. Tell them what you and your business are experiencing firsthand. Whether it is the people who never biked before who are now able to safely commute, the boom in family exercise and exploration or touting the many mental health benefits biking can provide, your story matters.
The world is changing in many ways as we move forward and recover from this global pandemic. People are moving, thinking, shopping and working in different ways. We know that new local policies and funding priorities are sure to follow.
Our PeopleForBikes team is thinking about all of this and working to strategically position bikes for the best possible outcomes – representing bike businesses for stimulus recovery and tariff relief, making sure the bicycle is part of any resiliency/mobility/sustainability planning, lobbying for funding for connected bike infrastructure of all types and working for safer streets.
More than anything, we have a clear vision for how livable and vibrant our communities can become with more bicycling and some much-needed good news from this mini-bike boom. As a bike industry and bike community, let's take advantage of this surge in bicycling and lead the way towards a brighter future of biking for all.
Resources:
COVID-19 Bike Industry Resources
Ride it Out campaign free creative assets