December 4, 2017
New Proclamations Dramatically Shrink Two National Monuments in Utah
By: Alex Logemann, director of state + local policy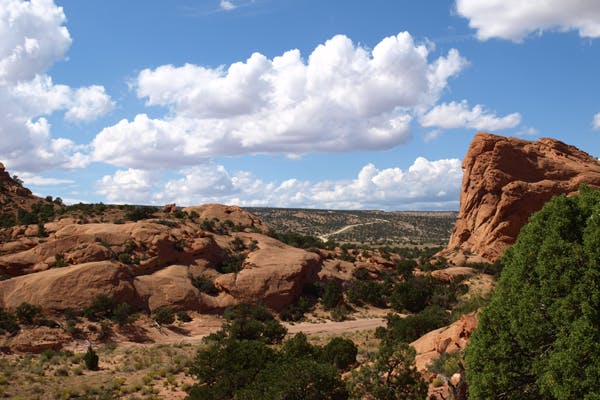 Burr Trail in Utah's Grand Staircase-Escalante National Monument
On Monday, December 4, President Trump visited Salt Lake City to make an unprecedented announcement regarding two National Monuments in Utah. The president signed new proclamations that will dramatically reduce the area of the Bears Ears and Grand Staircase-Escalante National Monuments. This announcement is a damaging blow for millions of acres in Southern Utah that have tremendous cultural and conservation value, and deserve their status as monuments. For bike riders, this means that trails in areas that have been eliminated from the existing monuments will no longer be afforded the same level of protection, and could be exposed to greater risks from development. Visitor experiences and archaeological protection may suffer.
Under the new proclamation for Bears Ears, the monument would be reduced to approximately 229,000 acres from the 1.35 million acres that comprises the current monument, and split into two separate monuments. This reduces the footprint of Bears Ears by approximately 85 percent. For Grand Staircase-Escalante, the proclamation reduces the national monument from 1.9 million acres to approximately 997,000 acres, split across three monuments. These reductions will expose a substantial amount of cultural artifacts and landscapes to new risks from competing uses.
The new monument boundaries will also eliminate existing land protections for several important trails. Based on our initial review of the proclamations, the Burr Trail, Lockhart Basin, and Elk Ridge will no longer be within national monument lands. These trails alone comprise 150 miles of pristine bike riding in red rock country that has now lost monument status.
Protecting our public lands is not only good land management policy—it is good for state and local governments and businesses. Outdoor recreation and bicycling have helped fuel Utah's economy. The outdoor industry generates $12.3 billion in consumer spending, 110,000 jobs, and $737 million in state and local tax revenue in Utah each year. Bike riding is an important contributor to this engine, supporting $773 million in spending, nearly 7,000 jobs, and $44 million in taxes for state and local governments. These proclamations undermine the public land policies that have balanced beautiful landscapes, cultural preservation, and stable economies in the state.
PeopleForBikes has been advocating to preserve our national monuments since President Trump signed his Executive Order in April ordering the Department of the Interior to review 27 monuments. Working with our partner organizations, we have generated grassroots support from bike riders, bike businesses, and utilized our Washington, DC presence to show the administration and Congress the value of these lands. Americans have responded in force. During the public comment period, 2.7 million people provided comments to the Department, with 98 percent of people supporting existing national monuments. Despite this significant step backwards, we will continue to work with Congress and the administration for better outcomes as it continues its review, and with leaders who are committed protecting public lands for outdoor recreation.