November 25, 2020
Senate Committee Votes Yes on Important Public Lands and Recreation Legislation
By: PeopleForBikes Staff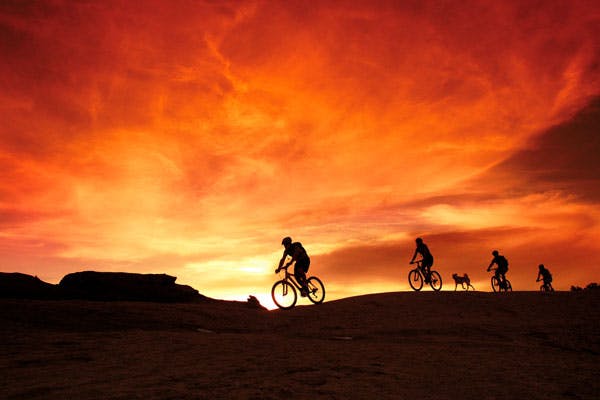 Mountain bikers against sunset
While recent news out of Washington, D.C. may seem singularly focused, members of Congress continue to work steadily to advance priority legislation that preserves public lands and improves recreation opportunities.
Earlier this week, the Senate Energy and Natural Resources Committee passed both the Land and Water Conservation Fund (LWCF) Permanent Funding Act (S. 1081)  and the Restore our Parks Act (S. 500). If ultimately approved by the entire Senate, the House of Representatives and the president, these bills will benefit everyone who enjoys biking and recreating on our public lands. These initiatives can build on the John D. Dingell Conservation, Management and Recreation Act (S. 47), a major package of recreation and conservation legislation that became law earlier this year.
LWCF has a strong history of bipartisanship. It has funded parks, trails, athletic fields, and other types of recreation projects coast to coast. Permanent funding for LWCF holds tremendous promise for future generations of bike riders and public land lovers. We are proud to support S. 1081 that was introduced in April by Senator Joe Manchin (D-WV) and Senator Cory Gardner (R-CO).
Our national parks are suffering from inadequate funding to perform essential maintenance of buildings, roads, bridges, trails, and water systems. The backlog is estimated to over $11 billion. ROPA, introduced by Senators Rob Portman (R-OH), Mark Warner (D-VA), Lamar Alexander (R-TN), and Angus King (I-ME), would reinvest some of the energy revenues collected from public lands to address this shortfall. This legislation enjoys strong support from the outdoor recreation community. If approved, we hope the benefits can be extended to other federal land management agencies, including the U.S. Forest Service.
Back in September, the Senate Energy and Natural Resources Committee held hearings on other recreation priorities, including the Simplifying Outdoor Access for Recreation Act  (SOAR, S. 1665) and Recreation Not Red Tape Act (RNR, S. 1967). SOAR would streamline the permitting process for outdoor recreation on our public lands, and RNR would reduce barriers to access and recreation opportunity development.
These four pieces of legislation are the next iteration of recreation policies that Congress should package and approve for the benefit of all Americans. Our public lands stand at a precipice with increasing visitation numbers and a growing maintenance backlog. We must preserve our favorite places to ride bikes and assure that future generations can enjoy the full range of incredible experiences that are available to us today.