August 24, 2012
San Francisco: Cycling in the City
By: Alexis Chavez
A green lane on Market Street equipped with safe hit posts.
It was a foggy August afternoon seven years ago when I arrived in San Francisco, my life neatly packed into a few boxes. Without a car, my options for transportation were walking, bicycling and taking public transit; luckily, San Francisco is a compact 47 square miles. I quickly learned that walking, while enjoyable, was not the most efficient way to travel long distances, and that public transit, though quicker than walking, can be less adventurous. Though each form of transportation serves its purpose, bicycling comprised the perfect medium?more convenient than walking and less mundane than sitting on a bus. There are countless other reasons why biking the City by the Bay is one of the best ways to travel temperate climate year-round, breathtaking vistas, plentiful parking, to name a few but none more than the ever-evolving landscape of San Francisco's streets.
Since moving here, there have been tremendous changes to the city's streets. Recognizing a need to become more bicycle-friendly, the Board of Supervisors approved the 2005 Bicycle Plan?an updated version of a citywide policy aimed to make bicycling a practical and safe form of transportation. The bicycle plan, which also sought to increase bicycle funding, expand bicycle access and educate the public about bicycle safety, was brought to a halt, however, in June 2006 when the Superior Court of California issued an injunction requiring the city to produce a full Environmental Impact Report showing that the plan implementation would not cause significant damage to the environment.
Despite increases in ridership, the injunction was kept in place for four years. It was finally fully lifted in August 2010, allowing the City to move forward with 35 approved bike lane projects?a record number. According to the San Francisco Bicycle Coalition, bicycle ridership increased 53% during the four-year injunction, and has increased 71% in the last five years. With more cyclists on the road, the need for safer roads is imperative?not only for those on bikes, but for motorists and pedestrians as well. The City's focus on the creation of better places to ride bikes is fueled by the increase in cyclists, and also to meet the City's goal of increasing bicycle use to 20% of all trips by the year 2020, a resolution that was passed by the Board of Supervisors.
In 2010 and 2011, existing bike lanes on Market Street were outfitted with plastic posts, creating a physical separation from vehicle traffic. ?Adding the safe-hit posts changed the nature of these lanes from being part of the street and part of mixed traffic, to a zone where cyclists felt that they had a legitimate space on the street,? Bridget Smith of the San Francisco Municipal Transportation Agency said. ?It was a catalyzing moment: the width of the lane hadn't changed, but it felt completely different.? Known as green lanes, protected lanes or cycle tracks, the designs have been used in Europe for decades and are now catching on in the U.S. Some of the lanes incorporate green paint for visibility and safety.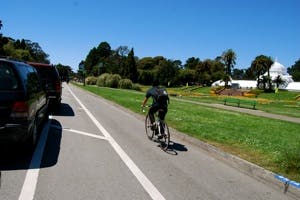 Earlier this year, San Francisco also welcomed its first-ever parking protected bike lane on John F. Kennedy Drive in Golden Gate Park. In this case, the existing bike lane was moved next to the sidewalk and parking was moved outside of the bike lane. A buffer zone between the parking spaces and bike lane provides room for opening car doors. Green lanes like this, separated from moving vehicles, are the key to growing the number of cyclists in San Francisco, according to Smith. "For cycling to increase in San Francisco, we need to develop facilities that will appeal to a broader range of cyclists, people who want to bike but do not feel safe sharing the street with cars," she said.
Attracting new riders is one way the City can reach its goal of 20% of all trips by bike, while green lanes are changing the way we think of cycling. As a result, San Franciscans can get used to the ever-changing streets. The City has a list of upcoming projects on the way, including a separated bikeway on Fell and Oak streets, traffic calming on the popular Wiggle bicycle route (which winds around the city avoiding hills), and demonstration projects on both the Embarcadero and Polk Street. So, whether you are a daily bicycle commuter or a recreational rider, exciting improvements will be coming to a street near you.