October 10th, 2013
San Francisco architect: Better bike lanes = higher land value
By: Mary Lauran Hall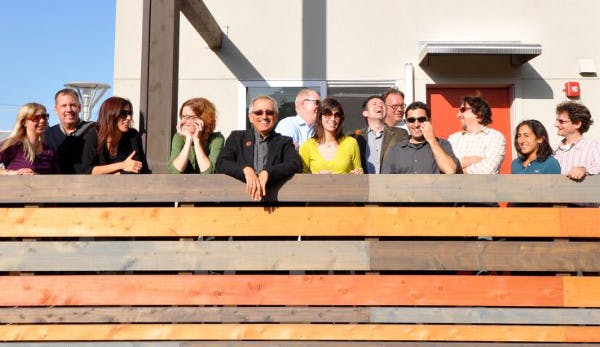 David Baker with his staff in San Francisco.
David Baker, founder and principal at David Baker + Partners Architects, was dubbed "a starchitect for the common man" for his firm's work designing green buildings and innovative housing complexes.
But he said his motivation for supporting a new protected bike lane along San Francisco's Second Street is, in part, "purely selfish: I'd like to have my employees safe on the way to work."
Citing a recent tragedy in which a young woman was struck by a truck while pedaling in an unprotected bike lane, Baker noted that three-quarters of his 22-person firm bikes to work at least some of the time. A protected bike lane outside the office would help ensure that his employees get to and from the office safely, he said, and have more enjoyable riding experiences en route.
But Baker is also thinking about his own bottom line. As a veteran in Bay Area real estate and development, he's been around long enough to see that wide streets with fast-moving car traffic tend to depress property values, while buildings on streets with new bicycle facilities and pedestrian improvements have actually appreciated.
"I own the office. I know that if we had protected bike lanes out there, it will improve my property value," he said. "World class bike networks can't come soon enough."