September 27, 2018
The Results are In: The US Outdoor Industry is an Economic Powerhouse
By: PeopleForBikes Staff
eMTB riding in a pine forest
Just how big is the outdoor industry? In 2016, the outdoor recreation economy represented $412 billion, 2.2 percent of the U.S. gross domestic product and 4.5 million jobs. It's a big economy — and it's getting bigger.
On Thursday, Sept. 20, the U.S. Department of Commerce's Bureau of Economic Analysis (BEA) published updated statistics showing how various industries are involved in outdoor recreation — retail trade, recreation, manufacturing — and how each segment contributes to GDP.
This release marks the second phase of an unprecedented federal government commitment to study the economic impact of outdoor recreation; the data published Thursday builds on statistics released in February of this year. These reports have been in development since 2016, when President Obama signed the Outdoor Recreation Jobs and Economic Impact Act, which ultimately required the federal government to provide analysis of the outdoor recreation economy. PeopleForBikes joined with partner industry organizations to advocate for the passage of the bill.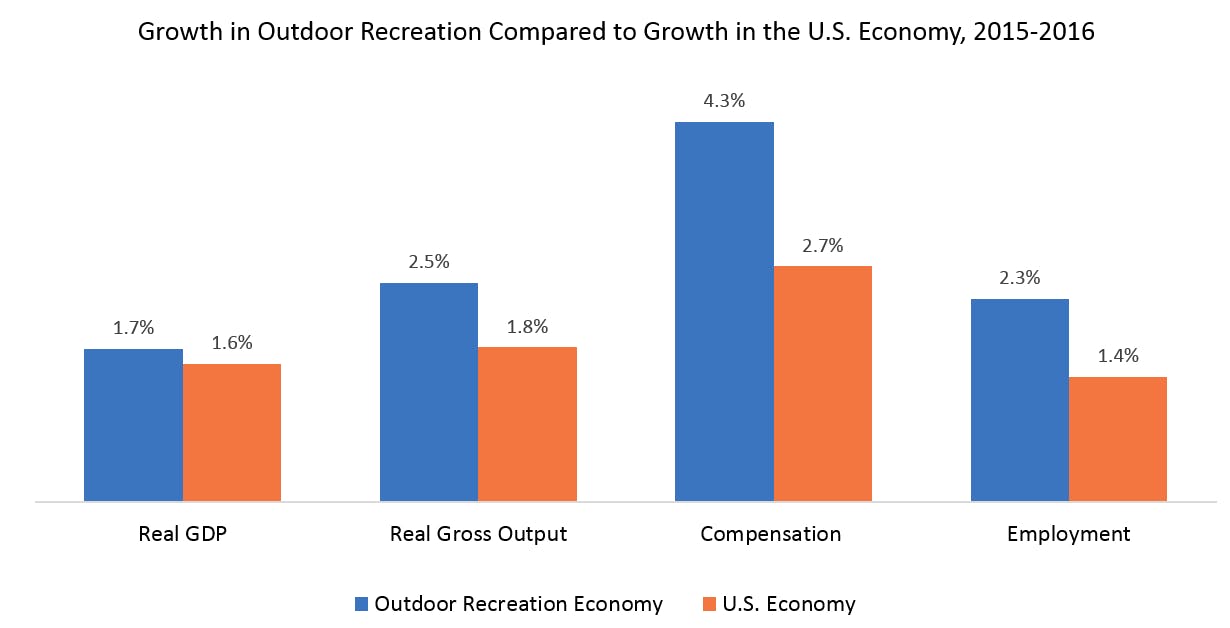 Why are these stats such a big deal? For one, the government focus and findings validate the strength of the outdoor industry (as reported by an economic impact study published by the Outdoor Industries Association, which ranked outdoor rec as a bigger contributor to the U.S. economy than the pharmaceutical, motor vehicle, and fuel industries). This also should help the federal government to recognize the growth of the outdoor industry as a whole, as well as the contributions from specific activities – like the $3.48 billion gross output from bicycling.* (Note: This gross output calculation does not include revenue generated from imported bike products or from tourism — both big numbers.)
"The federal government makes decisions every day that affect bicycling and the broader outdoor recreation industry," said Tim Blumenthal, president of PeopleForBikes. "Having a better understanding of how our industry strengthens the U.S. economy is a vital piece of information when making policy decisions."
The new data includes detailed breakouts on individual segments of outdoor recreation, pinpointing guided tours and separating land tours from water tours. These distinctions improve understanding of how each activity contributes to the outdoor economy. The Sept. 20 release also offers modifications to better reflect reality: The 20 sets of tables are all adjusted for inflation.
"These statistics will be key moving forward as we advocate for legislation related to outdoor recreation," said Jenn Dice, PeopleForBikes' vice president of business network. "Whether working at the national, state or local level, this research helps make the case that a vote for outdoor recreation is a vote for jobs and economic development."
*Gross output describes goods and services related to biking; when a person buys a helmet or biking shoes, goes in for repair services, or buys a bike or bike parts, these are all actions that contribute to the gross output of biking. Check out this infographic from BEA. When comparing BEA numbers to other reports on the economic impact of the bicycle and outdoor industries, it is important to note that BEA numbers do not include revenue from tourism or from bike products imported to the United States.