September 10, 2018
Giant USA Rides with Rep. Mike Thompson
By: PeopleForBikes Staff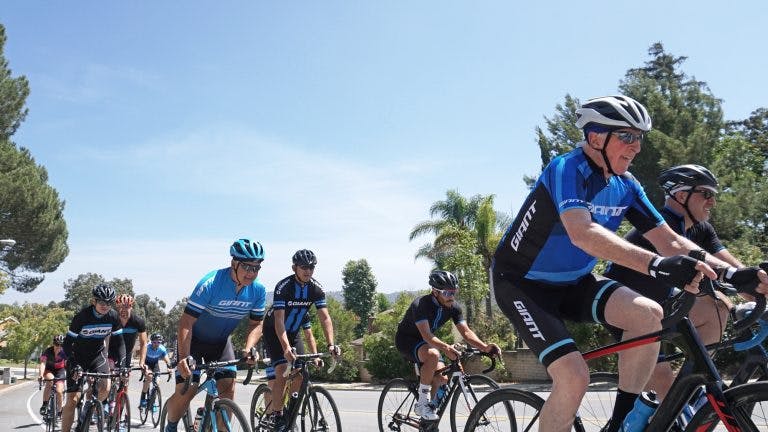 U.S. Representative Mike Thompson is an avid cyclist.
U.S. Representative Mike Thompson (D-CA-5) isn't just a bike supporter — he's a rider, racer and enthusiast. Last week, Rep. Thompson arrived at Giant USA offices north of Los Angeles "with an eagerness and excitement we've all felt entering a cool bike shop — eager to see the latest and greatest models, learn about new technology and engage with our staff on what's new in the biz," says Allen Needle, sales operations manager of Giant USA.
Giant/Liv/Momentum brands are sold by more than a thousand retailers across the country, and Rep. Thompson was ready to learn about the products and the people behind the scenes. He walked the offices and showroom, asking questions about market trends and the latest gear and engaging with team members.
Prior to Rep. Thompson's visit, the Trump administration implemented tariff increases on e-bikes and proposed additional tariff increases on bikes, components and accessories imported from China. Giant spent part of their day with the congressman sharing how tariff increases would hurt American bike businesses, including Giant and all the retailers who carry their brands.
"We discussed the negative impact of the President's trade war on businesses and employees like theirs," Rep. Thompson said. "We also discussed transportation funding that will help create safer routes to schools for kids and other important transportation infrastructure."
Rep. Thompson talked more about the role that bicycling has played in his life personally and professionally as he joined forty Giant staff members for a lunchtime group ride touring the local Newbury Park community and neighborhoods.
"We enjoyed the casual and social nature that comes with turning pedals," Needle said. "The day exceeded expectations [….] I'm grateful to PeopleForBikes and the entire team at Giant who made the event such a huge success."
Rep. Thompson expressed gratitude for a fun and informative visit. "I look forward to working with Giant and PeopleForBikes on these important issues in the future."