August 7, 2018
Rep. Boyle talks tariffs with Advanced Sports Enterprises
By: PeopleForBikes Staff
Courtesy of Advanced Sports Enterprises.
On Thursday, Aug. 7,  U.S. Representative Brendan Boyle (D-PA-13) visited Advanced Sports Enterprises (ASE) headquarters in Northeast Philadelphia. His timing was perfect. Rep. Boyle's visit came just days after the Trump administration announced they are considering increasing a proposed tariff on Chinese bikes — a tariff that would include most bicycles, parts and accessories sold in the United States — to 25 percent.
"We had an excellent exchange with Rep. Boyle about the administration's proposed tariff increases," says Milay Galvez, ASE's manager of commercial sales and sponsorships. "We would not be able to absorb these tariff increases without a significant price increase that will affect our customers and our sales."
Rep. Boyle toured the ASE facility, where bikes are assembled for the portfolio of brands under the ASE umbrella: Fuji Bikes, SE Bikes, Kestrel Bicycles, Breezer Bikes, Oval Concepts, Phat Cycles and Tuesday Cycles. Rep. Boyle met with technicians and warehouse staff, then spent time with ASI President and CEO Pat Cunnane, who talked policy and infrastructure — and showed a replica of a Breezer Bike made for Pope Francis' 2015 visit to Philadelphia.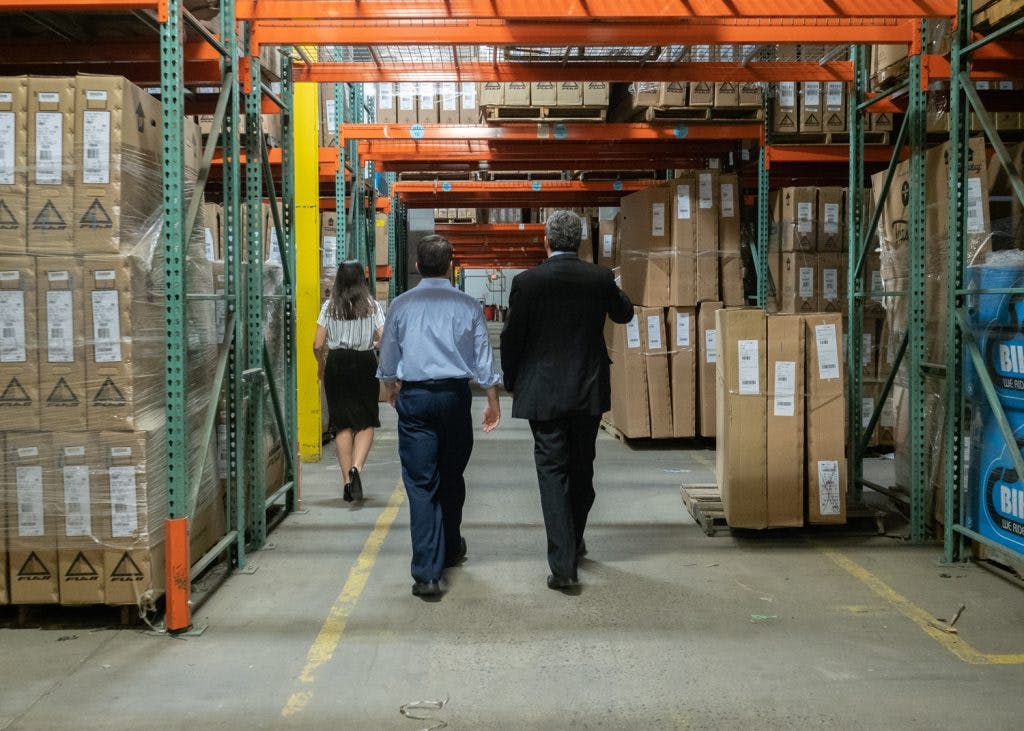 While current tariff proposals are a huge threat to the bike industry, other trade policies hurt the profitability of bike businesses — including the de minimis exemption for imported goods. Currently, any person may purchase or import goods valued at $800 or less without paying duties or tariffs. This threshold was increased from $200 to $800 in 2016 under the Trade Facilitation and Trade Enforcement Act of 2015, signed by President Obama. ASE team members shared their ideas for a revision to the de minimis exemption to reduce the disadvantage it creates for American bicycle retailers, and apply duties and taxes more fairly based on the cost of goods being imported.
"All of us continue to work with our Representatives in Congress to make sure the interests of the bicycle industry and cyclists are represented in Washington," Galvez says. "We are very appreciative of Rep. Boyle's support of bicycling in the greater Philadelphia area and look forward to collaborating with him in the future."
Rep. Boyle's visit to ASE further demonstrated his support for bikes. He has been an advocate of efforts by Circuit Trails and East Coast Greenway to improve access and recreation along the Delaware River, closing gaps to create better connections from South to Northeast Philadelphia.