March 25th, 2015
Queens teens push for protected bikeway to reconnect their peninsula
By: Michael Andersen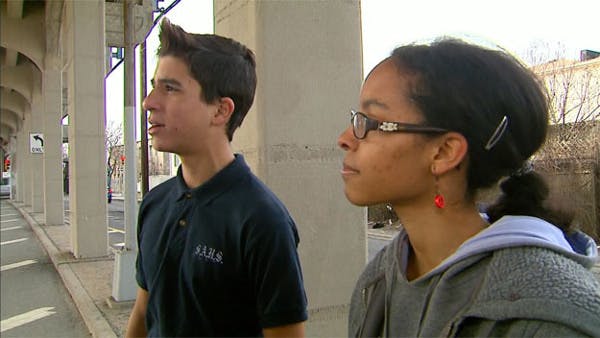 Sabastian Rahman and Jocelyn Dicent of Rockaway Waterfront Alliance at the Underway. Photo: CBS New York.
When Jocelyn Dicent walks home from school, she has a choice between two streets.
One is Rockaway Beach Boulevard, a route her friends have urged her not to take because, as she says, "a lot of shady people get on that road." The other is the Rockaway Freeway, a route beneath the A Train viaduct that has seen 117 traffic injuries and two fatalities in the last three years.
More often than not, she takes Rockaway Beach. At least it has sidewalks.
Dicent, 16, is one of a handful of youth leaders in this isolated, deeply multicultural corner of Queens who, since early 2014, have been searching high and low for government officials who'll take a serious look at their plan to improve the Rockaway Freeway.
The simple concept: put a physical barrier between cars and other users, returning a comfortable biking and walking route to a waterfront community hit hard by Hurricane Sandy in 2012.
Replacing a 'jewel of this community'
"After we lost our boardwalk, we had lost a mode of connectivity between the east side and the west side," says Sabastian Rahman, who like Dicent is 16 and works as an intern for the Rockaway Waterfront Alliance's Shore Corps. "That was kind of like the jewel of this community. … People really enjoyed biking along there."
Dicent says nearby Shore Front Parkway, whose bike lanes were upgraded in 2013 with jersey barriers, should be a model for the project they call the Underway.
"I know for a fact, having lived here all my life, I was not really keen on biking on Shore Front in the bike lane that was painted onto the road, because I just felt like I might be too close to the cars," she says. "So I would just bike on the boardwalk. But once they put the jersey barriers there, I would gladly do so."
She says the same thing would work on the Underway, where only a striped shoulder currently separates people biking or walking from speeding car traffic.
On Earth Day 2014, RWA's student-led team temporarily closed part of the freeway to auto traffic to hold a community design charrette, complete with butcher paper, markers and a miniature model of the viaduct. They've also conducted in-person counts of biking, walking and driving traffic on the Underway and, with the help of RWA's adult staff, gathered neighborhood-level statistics on obesity and physical activity.
All of that, plus block-by-block summaries of their proposal, went into a 35-slide presentation to the New York City Department of Transportation in June. They've also lobbied two local community boards, been featured on the local CBS News and personally gathered 2,000 signatures in support.
https://vimeo.com/86374583
State Sen. Joseph Addabbo has made the concept "one of his campaign foundations," Rahman said. But few other politicians have showed interest.
"They have so many things to deal with, so many issues, so many things that they would categorize as 'bigger,'" Rahman says.
Rahman and Dicent say that as longtime locals, they're certain the concept is both achievable and beneficial.
"We know our roads," Rahman says. "We know the things that we need and we know the things that we don't need."
'How is it that we would not receive some sort of outcome?'
Dicent says that as she gathered signatures in support of the plan, some adults told her it could never happen.
One upside of being young, Dicent says, is that such dismissals don't faze her.
"As a teenager, I'm like, well, we're doing all this stuff, so how is it that we would not receive some sort of outcome?" she says. "I just can't see how we wouldn't get something done."