November 20, 2018
In Providence, City Development Relies on Bikes
By: PeopleForBikes Staff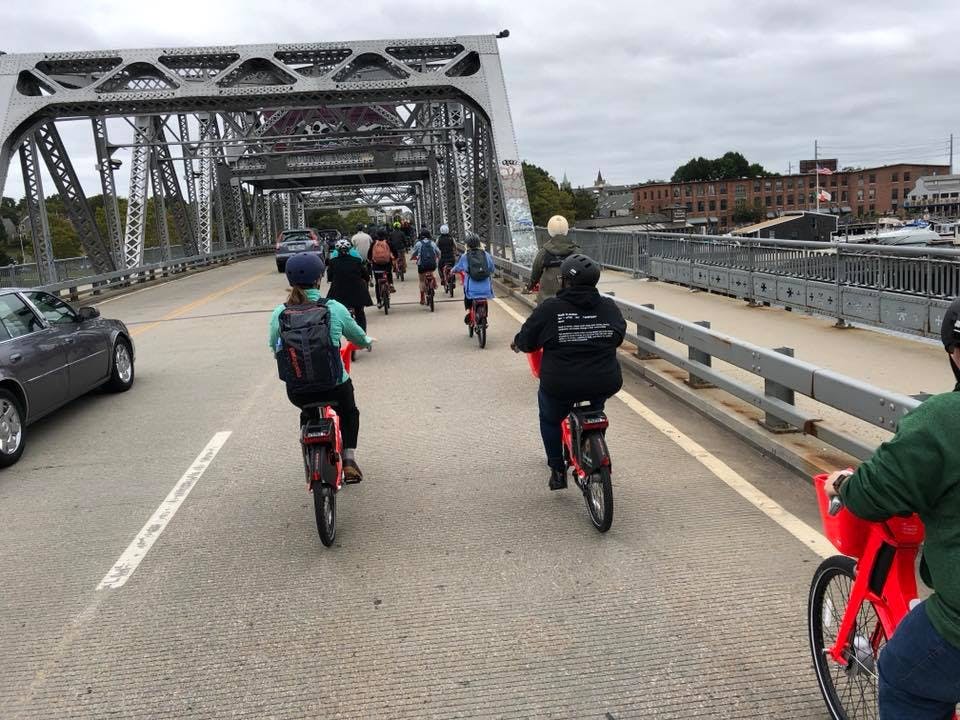 Biking in Providence.
Cities evolve. Like people, they grow and change. Providence, Rhode Island, is one place undergoing serious and exciting changes, many of which have to do with bike infrastructure and bike sharing.
At the center of Providence's developments is a bike and pedestrian bridge over the Providence River. This used to be the I-95 bridge for cars, but as part of a $610 million infrastructure project completed in 2013, the interstate was rerouted around downtown instead of through it. The bridge's footings were left in the river, so when the city decided to build the bike/pedestrian bridge, they just needed to add a new deck over the top. It was an obvious evolution. The surrounding land is being transformed into educational buildings, parks, public plazas, and apartments, with bikeways as the veins throughout.
Providence also recently broke ground on the Woonasquatucket River Adventure Park, which consists of two pump tracks, a parkour course and a multi-use hiking and biking trail. This trail connects to an existing bikeway, making it accessible to over 6,000 residents who live within 10 minutes of the park.
The adventure park will be located in the Olneyville neighborhood — an area where approximately 40 percent of the families live below the poverty line. One goal for the park is to give at-risk youth a place for outdoor activity, and to generally diversify recreational options. The adventure park is a great example of a city that's working to improve the Reach factor in their City Rating score.
Jumping in through bikeshare
With new places to ride come new bikes. Providence recently welcomed 400 pedal-assist electric JUMP bikes to town. Within 20 days of the program launch, the city saw 27,000 rides — JUMP's most successful city initiation outside of California.
Martina Hagerty, special projects director in the City Planning Department for Providence, says, "JUMP Bikes are kind of addictive and life-changing." This doesn't seem to be an exaggeration. According to Haggerty, the plans for a bikeshare were more than nine years in the making. "As soon as I started working with the city we did a feasibility study to see if Providence was ready for a bikeshare." Haggerty says there wasn't much support back then because the whole concept was still new. But when Mayor Jorge Elorza took office in 2015, bikeshare became a priority.
A warm reception
As soon as the bikes hit the ground, they were rarely sitting still. Haggerty says, "I've had so many people approach me who say, 'People I thought would never get on a bike in a million years are loving the bikeshare.'" She's also witnessed lots of people who were skeptical on launch day, "Some asked, 'What is this bikeshare? What is it doing here? Why are bikes taking up parking places?' And now they're superfans." People of all walks of life, varying in physical ability, ethnicity, and age have started using the bikes.
Court King is one such person who was initially skeptical, but now says the bikeshare has changed her life for the better. "I hadn't ridden a bike in two decades — probably since I was twelve. I was always the fat kid. And the slow kid. I think that's a lot of people's experience."
In fact, King didn't have any interest in trying a bike for herself until JUMP put a hub right in front of her office. She started thinking about how her opinions influence the young people she works with. And she decided that they shouldn't have a decades-old opinion about bikes, so she gave it a try. She rode a bike home. Then rode one to an appointment, and another to the bank, and yet another to get donuts. King was surprised at how much fun it was, and how it changed her entire outlook on her neighborhood. "It gave me a completely different sense of what the city even looked like. Not being boxed in a car, and going at a slower speed, I was suddenly taking in the landscape, and actually felt safer than I've ever felt." It also changed how King saw other people on bikes. "I think one of my favorite things was seeing other people out, and ringing our bells at each other."
Bikeshare as empowerment
King has found bikeshare to be a useful tool in her work as program director for Youth In Action, an organization on the south side of Providence seeking to give young people the space to share their stories, practice leadership and create change in their communities.
She says the bikes are a conversation starter with the young people she works with. "I get to have a conversation with them about what it means to have resources that are not yet available to you, and how we might change that, and what we could do." She's also talked with them about the zone that the bikes can be used in. "It opened this whole conversation about the things that we stand for, like community and identity and social standing. These things eventually led to realizations about health and self-care and the environment."
Trying new things
For King and for a lot of people who were initially unsure of the pedal-assist, the bikes are now facilitating social connection. To anyone who is still unsure, King says, "People have to get on the bike and try it. If it's giving you pause, just try it and figure out what your pause is really about." She says that she's seen more of the city and reconnected with more friends since she started using the bikes than she had in years. The bikes have revised her life so that she's now much more in touch with her place.
Providence is also under a one-year pilot period with both Bird and Lime scooters. The City of Providence's Hagerty says that for the most part people are really excited about them, "There are some people who, no matter what, bikes will never be their thing, but scooters might fill the void." Overall, scooters seem to be helping to make the case for mobility infrastructure, which is a push in the right direction, according to Hagerty.
The people of Providence are on the move, and they're reinventing themselves as a city that values the benefits of being multi-modal. Perhaps most importantly, they're not limiting who gets to reap the benefits of being outdoors, on bikes, and connected by infrastructure that allows for a dynamic new definition of place.