August 10, 2018
Providence Uses Creative Outreach to Build Support for Better Biking
By: Allegra Abramo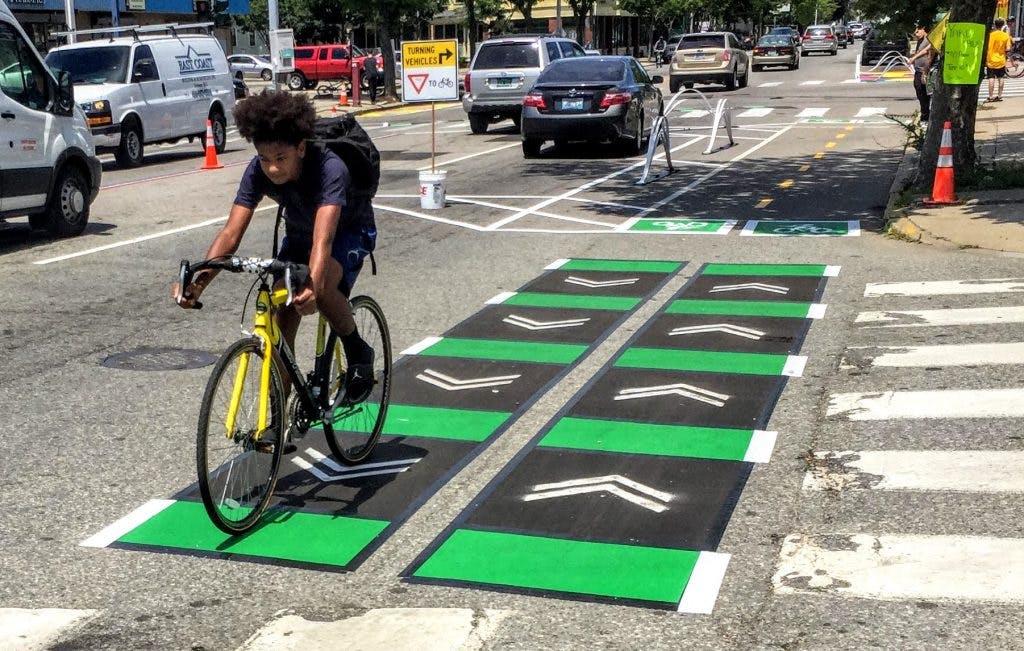 Biking in Providence
How can a city build community support for a sweeping overhaul of its streetscape that spans eight diverse neighborhoods, crosses private property and lays down a network of protected bike lanes?
As part of its ambitious City Walk urban trail initiative, Providence is experimenting with creative answers to that question.
One successful experiment was a daylong pop-up project in June, designed to help local residents envision possible improvements to a 2.4-mile segment of Broad Street, which runs through the city's vibrant Latino community.
Bettering Broad Street
Improving this stretch of Broad Street is a key component of the City Walk initiative's first phase, linking downtown and South Providence and connecting two major parks. It's also an important step for safety. Between 2009 and 2015, 82 people were struck by cars while walking or biking along Broad Street, making it one of the most dangerous roads in Providence.
During the event, city officials gathered feedback on possible designs for a new two-way protected bike lane, curb extensions and brightly painted public plazas that will be permanently installed along Broad Street in spring 2019.
"It's certainly different to experience something and walk and bike along it than it is to look at a drawing," says Martina Haggerty, the Planning Department's special projects manager. "It has a much more profound impact on people."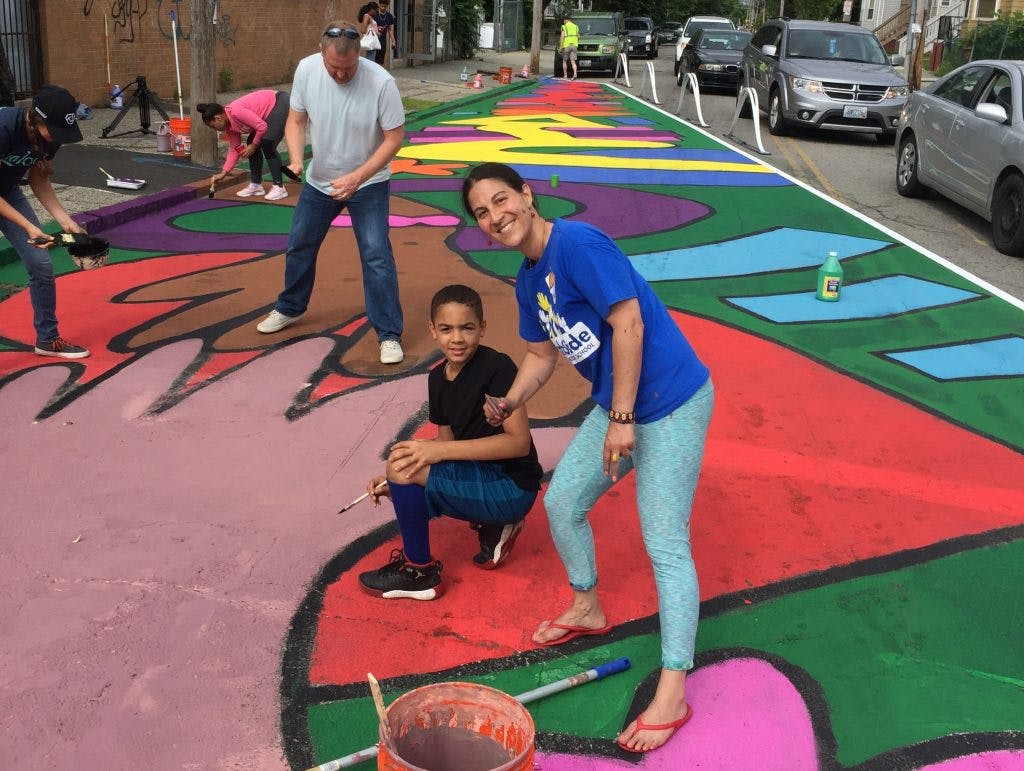 In a community with a large population of school-age children, youth were a big part of the event and related outreach. Children walking home from school the afternoon before the event pitched in to help paint temporary ground murals designed by local artists.
"There were all sorts of neighbors that just jumped in to help paint," Haggerty says. "It was a really nice community-building exercise."
Community involvement didn't stop there. Neighborhood youth were challenged to dispel the myth that people of color, who make up the majority of the neighborhood's residents, don't ride bicycles. The city worked with youth empowerment nonprofit Youth in Action to hire locals to interview and photograph people walking and biking in South Providence. The photos and quotes were placed on banners and displayed in storefronts along Broad Street.
Providence's roving outreach
Efforts are ongoing to engage community voices in the urban trail initiative. The city is employing a half-dozen "street team" members to serve as neighborhood spokespeople for City Walk, talking about the project with people at farmers markets, festivals and other events along Broad Street. In a neighborhood where nearly four in 10 residents were born outside the U.S., the paid bilingual staff living in the neighborhood serve as a roving outreach team that neighbors can connect with.
"It's been really successful in engaging people that you might not be able to draw out with a public meeting," Haggerty says. "Participating in public meetings is a luxury for people who have the time and the energy, so this is a great way to get additional input."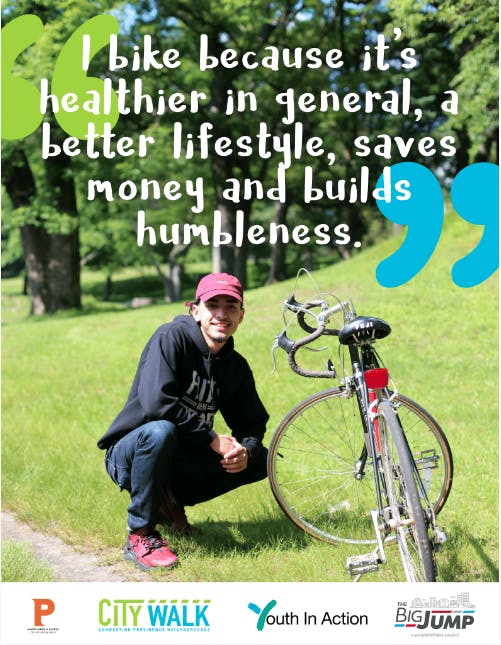 City staff have been looking to get creative with public meetings too, including exercises in interactive street design using the Street Mix application. In a recent meeting, participants used the app to examine current street widths and try out different configurations for bike and transit lanes, parking, landscaping strips and other features.
The city will come back to the community this fall to review final designs for Broad Street. Taking a "quicker, lighter, cheaper" approach, planters or temporary bollards will be used to separate the bike lane, at least initially. "It's more important to get things on the ground quickly and test ideas than to do a full $100 million build-out," Haggerty says.
While Providence has lots of work ahead to expand its network of bike lanes and increase local ridership, the city's recent steps to quickly improve city bike infrastructure earned it an overall City Rating that places in the top five medium U.S. cities for biking.
This fall, Providence will also launch its bike share program with 400 electric JUMP bikes.