March 29, 2018
President Makes Major Trade Announcements
By: PeopleForBikes Staff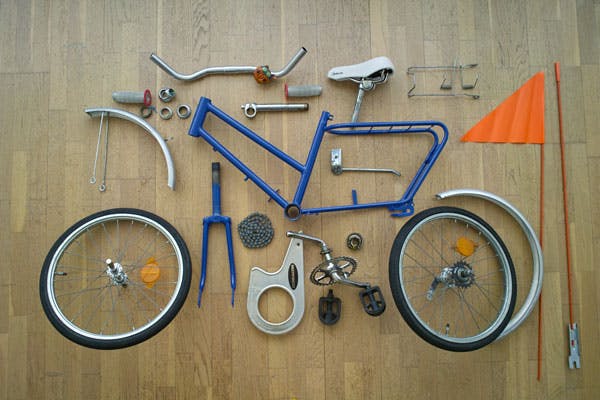 Changes to trade policy may affect a wide range of companies that manufacture or import bicycles, parts and accessories.
This month, the Trump administration announced two changes to trade policy that may affect a wide range of companies that manufacture or import bicycles, parts and accessories. The first change relates to new tariffs on imports of raw steel and aluminum, while the second is focused on new tariffs on products imported from China.
Higher tariffs on steel and aluminum
On March 8, the president announced new tariffs on imports of specific types of unfinished steel and aluminum. The new rates are 25 percent on imported steel and 10 percent on imported aluminum. According to the administration, these tariffs are needed because the United States is highly dependent on foreign producers of raw steel and aluminum, posing a threat to our national security interests. The European Union, Canada, Mexico, Australia, Argentina, Brazil, and South Korea are exempt from the tariff increase.
The increased tariffs apply to specific codes within the Harmonized Tariff Schedule (HTS). With respect to steel, the relevant HTS codes are:
7206.10 through 7216.50
7216.99 through 7301.10
7302.10
7302.40 through 7302.90
7304.10 through 7306.90
Broadly speaking, these codes include a range of ingots, flat-rolled products, bars and rods, angles, shapes, sections, wires, semifinished products, rails, fish-plates, sole plates, tubes, and piping made or iron or nonalloy steel, stainless steel or other alloy steel.
The following HTS headings are subject to the new tariffs on imported aluminum:
7601
7604
7605
7606 and 7607
7608 and 7609
99.51.60 and 7616.99.51.70
These codes generally include bars, rods, profiles, wire, flat-rolled products, tubes, pipes, fittings, castings, forgings and unrought aluminum.
The practical implications of these changes remain to be seen. Some bicycle wheel manufacturers import material covered by these HTS codes, but may not be the only bike businesses affected by the tariff increase. Even for those companies that source their raw materials from within the U.S., an uptick on prices for foreign steel and aluminum may translate to higher prices from domestic sources as well.
The administration has also outlined a process by which companies may apply for an exemption from the tariff increase if a steel or aluminum import is not produced in the United States in a sufficient and reasonably available amount or of a satisfactory quality. Those procedures are available on the Department of Commerce's website, here.
New tariffs on imports from China
In the second major initiative, the United States Trade Representative announced a process to consider new tariffs on products imported from China. This process arises out of an investigation that the administration launched in August 2017 into Chinese trade practices under section 301 of the Trade Act of 1974. While the primary focus of this investigation has been focused on technology and intellectual property, higher tariffs on consumer products are also now part of the discussion with respect to potential penalties.
On Thursday, March 22, the administration unveiled a public process to determine what products might be subject to new tariffs. According to the announcement, a proposed list of products imported from China that could face higher tariffs would be released within 15 days, or by April 6. That list would then be open to public comment for at least 30 days.
The list of products that may face higher tariffs is unknown at this time. The administration is using a computerized algorithm to identify penalties, which may include listing specific HTS codes that will be subject to new tariffs. We understand that the products under consideration are not limited to technology-related goods, such as electronics, and may include a wide range of consumer products. We will update the industry if bicycle products are included on the proposed list of tariff changes scheduled for release on April 6.
Update — April 3
On April 3, the United States Trade Representative announced a proposed list of products that would be subject to a 25 percent tariff if imported from China. While none of the core bicycle HTS headings are included on the proposed list of tariffs, the list does include other items that may be relevant to our industry such batteries, motors, and machinery. A full list of HTS classifications included in the proposal is available here. The proposal will be open for public comment (in writing) through May 11, 2018.
We are continually seeking input from companies in the bike industry with respect to how these tariff changes will affect your business. Please contact us to let us know if these policies will have a specific consequence by contacting policy directors Katy Hartnett and Alex Logemann.
Update — July 13
This week, the administration released a new proposal that would increase the tariff on nearly every other bicycle, component and accessory imported from China by 10 percent. If approved, these significant tax increases will affect every level of our industry's supply chain, from manufacturers to dealers and, ultimately, customers.