March 4, 2013
Portland retailers swoop into storefronts along bikeways
By: Michael Andersen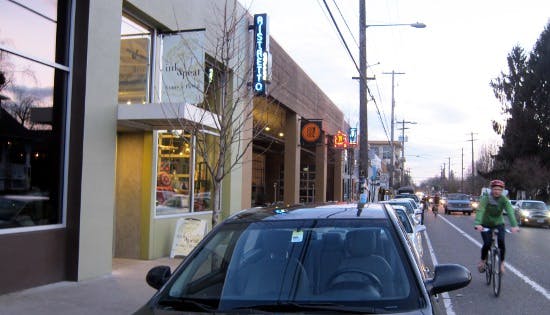 Riding through one of Portland's retail areas.
Urban commercial real estate has always been a rough-and-tumble scrum, and now Amazon.com has torn up the playbook. Across the country, many brick-and-mortar retailers are in big trouble.
But there's an opening in this bad news that you can ride a bike through.
Bikes, it turns out, seem to be a perfect way to get people to the few retail categories that are thriving in the age of mail-order everything: bars, restaurants and personal services. And in Portland, where an early investment in basic bikeways has made bikes a popular way to run errands, retailers are responding by snapping up strorefronts with good bike exposure.
"All the bike traffic is part of the reason I chose the place, and I am definitely paying a premium for this spot," said Shana Lane-Block, whose 30-seat farm-to-table cafe and bakery Compote opened in 2011 on Portland's Clinton Street bike boulevard. "In the nice weather, it is astonishing to me how many bicycles go by."
When Jon Kellogg started redeveloping vacant buildings along Portland's North Williams Avenue in the mid-2000s, he might have laughed at the idea that its six-foot-wide bike lane could be a meaningful river of revenue for his tenants.
"I think there were 375 bikes a day on Williams," Kellogg said. "We saw some bikes there, and frankly didn't think twice about it."
Then Portland's bike boom happened. Drawn to Williams by a long straight route in and out of downtown, the number of bike commuters on the corridor doubled once, twice, three times. By summer 2010, Williams was moving 3,000 to 4,000 bicyclists each day — and Kellogg's firm Adaptive Development Company was designing an entire retail development around businesses that would either serve bicyclists or draw on the appeal bikes brought to the area.
"We named our happy hour 'commuter corridor happy hour,' said David Welch, one of Kellogg's tenants and the owner of Lincoln, a "casual fine dining" joint on Williams. "There's a dude on a bike on a sign that we put out every day."
Welch said he and his wife chose the location because of its combination of east-west car traffic and north-south bike traffic.
Up the street at Yoga Shala, Traci Vogel estimated that about one-third of her studio's customers arrive by car, one-third by foot and one-third by bike. The location on a "major bike thoroughfare" has definitely benefited the business, she said, though she said auto parking spaces and travel lanes are also essential.
But the rise of bike-oriented retail is more than a string of anecdotes. New research shows it's built on cold, hard cash.
Bikes mean revenue for bars & restaurants, study finds
After the Oregon Transportation Research and Education Consurtium circulated research last fall that correlated retail spending patterns with the transportation mode of retail customers, national and local media trumpeted it as a sign that "non-car users handily outspend drivers at restaurants and bars."
If that sounds odd, it's because the reporting was wrong. Anyone who read the paper would have noticed its finding that "differences by mode disappear" after being controlled for customers' demographics.
In other words, people who use bikes tend to spend a lot at bars not because they arrived on bikes, but because they tend to be young and single.
But the actual findings of the research, led by Kelly Clifton of Portland State University, still offer important lessons for the retail service industry.
It's not just that a potential customer on a bike is just as valuable as the same potential customer in a car. It's that good bike access is disproportionately good for the core customers of bars and restaurants.
And in a real estate market where sellers of electronics, books and clothing are withering, the thriving service sector is becoming especially important.
Can bikes revitalize strip-mall streets?
"The huge challenge right now with retail development is there really are very, very few retailers out there," said Kellogg, the commercial real estate broker, developer and landlord. "Restaurants and bars–that's who's doing deals right now."
Kellogg, whose firm specializes in adapting existing buildings for new retail use, said it'd be "a great idea" for Portland to beautify a "notorious" thoroughfare, Foster Road, and make it safer with amenities like a controlled center turn lane, protected bike lanes and trees.
Foster's auto-oriented businesses might end up moving elsewhere, Kellogg said. But the human-oriented ones that moved in would thrive.
Of course, locating on a bikeway is no guarantee of retail success in Portland or elsewhere. Lane-Block said that though she's happy with her restaurant's location and the exposure to bikes, it doesn't seem to capture as much direct bike traffic as she was hoping for. And many retailers said they think nearby bike parking, in addition to a good bikeway location, is important to getting the attention of people who ride.
But Bruce Kehe, marketing director for Hopworks Urban Brewery, said he's confident that people in the business of selling pleasant experiences would do well to be near popular bikeways.
"Bike riders have more of a connection, I think, to the areas they're riding past," said Kehe, whose brewery operates a bike-themed bar on North Williams. "The sights and sounds and smells and everything are more appealing."