October 8, 2019
PeopleForBikes Welcomes New Marketing Director Jose Maldonado
By: PeopleForBikes Staff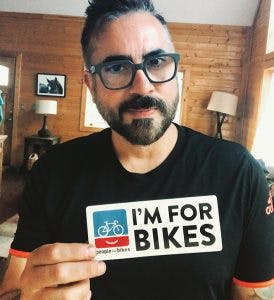 Marketing Director Jose Maldonado
Jose Maldonado, a widely respected marketing leader forBackcountry.com and Competitive Cyclist (CC), will join the PeopleForBikes (PFB) staff team Oct. 14 as marketing director. Maldonado was selected from a pool of 250 applicants. He will guide all of PFB's marketing projects, including the further development and nationwide launch of Ride Spot, the organization's ambitious new program to help all riders find and enjoy the best bike routes and events in their communities. He will also focus on the effort to connect PFB supporters — bike businesses, individuals, foundations and government partners — with the group's key projects.
Maldonado joined Competitive Cyclist in 2011 when it was based in Little Rock, Arkansas. Following CC's acquisition by Backcountry and a move to Utah, he helped develop the company's mix of bike products. In 2015 he became Backcountry's Director of Bike Merchandising and in 2017 took over as the Director of Marketing for Competitive Cyclist. He worked with Backcountry's executive team to develop CC's brand value proposition and on-the-ground activation strategy.
Maldonado, who will be based at PeopleForBikes' Colorado headquarters, said, "I look forward to leveraging my years of experience and my passion for riding bikes to amplify PeopleForBikes' powerful voice in advocating for access and infrastructure. PFB's work is something we all should care about, regardless of where we ride."
PeopleForBikes president Tim Blumenthal said, "Jose's marketing chops and enthusiasm for bicycling will benefit PeopleForBikes tremendously. He joins us at a time when we are rapidly expanding. He will boost our work on Ride Spot, help market our industry efforts that are focused on e-bikes, tariffs, legislation and data, and he'll elevate our targeted campaigns to make bike riding safer and more appealing all across America."
Maldonado developed his love of bikes and the bike industry while living in Philadelphia and working for Cadence Cycling and Multi-Sport, a bike coaching, training and retail business. He and his wife Lynda became active members of the eastern Pennsylvania cycling community and embraced its diverse mix of pro road races, velodrome competition, bike businesses, advocacy and city transportation riding programs.
"We participated in a number of advocacy activities that benefited the underprivileged and underrepresented," Maldonado said. "We quickly realized the power of bicycling access and the physical, social and economic impact that bicycling can have for people. I hope I can assist PFB in building a broader biking community." 
Maldonado can be reached at jose@peopleforbikes.org.