October 24, 2021
PeopleForBikes Renews Partnerships With International Mountain Bicycling Association and National Interscholastic Cycling Association
By: Zoe Kircos, PeopleForBikes director of grants and partnerships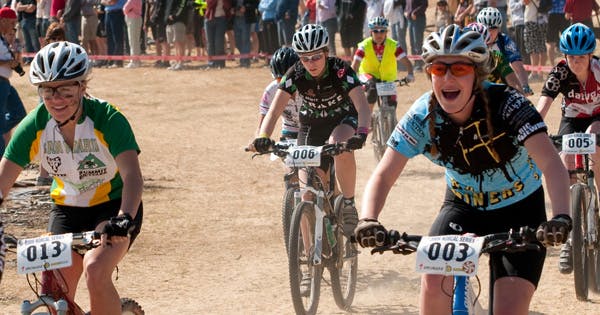 PeopleForBikes is the national organization that supports every kind of bicycling. Whether it's on road or dirt, or for recreation, transportation or competition, in every state across the country, PeopleForBikes works to make biking better for everyone. That's why we're delighted to announce our recommitment to two longtime partners: the International Mountain Bicycling Association (IMBA) and the National Interscholastic Cycling Association (NICA). These two incredible organizations work to create, enhance and protect great places to mountain bike across the U.S. and introduce more youth to the activity by building strong minds, bodies and characters through cycling.
"We look forward to continuing our close partnership with PeopleForBikes, working together to put more trails close to home and see more people riding bikes more often in communities across the country," said David Wiens, executive director of IMBA. "Our educational programs, funding support and advocacy efforts all work in tandem to help communities see the vision for trails and steer local leaders toward a path to more and better biking." 
PeopleForBikes was an early supporter of IMBA's Trails Are Common Ground campaign to improve trail etiquette as the use of dirt trails exploded over the last two years. PeopleForBikes will continue to share IMBA's efforts to build more single track trails and keep them safe for all users. 
"We're pleased to continue our long-standing partnership with PeopleForBikes," said NICA President Steve Matous. "We look forward to working together to increase access to cycling for all kids and foster the integration of trails and cycling into local communities."
NICA and PeopleForBikes are both founding members of the Youth Cycling Coalition, sharing the common goal of introducing more kids to bicycling and keeping them riding into adulthood. 
"We have a long history with both IMBA and NICA, two important and critical organizations," said Jenn Dice, president and CEO of PeopleForBikes. "We applaud all of their great work and look forward to our continued collaboration to improve access to biking and get more people on bikes more often, especially youth mountain bike riders."
As a part of these renewed partnerships, PeopleForBikes will continue to share IMBA's and NICA's great work with the PeopleForBikes audience and provide modest financial support to both organizations.