June 4, 2018
PeopleForBikes Holds Second Annual Congressional Bike Fest
By: Emily Furia, business network writer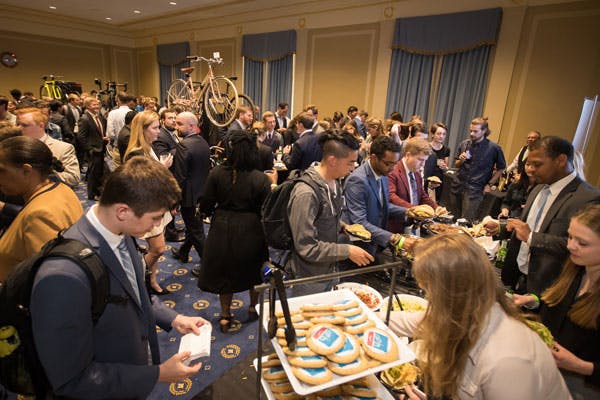 PeopleForBikes Congressional Bike Fest
They came for the tacos, but they stayed for the bikes.
On May 23, nearly 400 Capitol Hill staffers attended the second annual PeopleForBikes Congressional Bike Fest in Washington, D.C., held in the Rayburn Building of the U.S. House of Representatives.
The reception served not only to showcase some of the latest bikes and gear, but also to call attention to the robust network of bicycle infrastructure in the nation's capital. Road, mountain and commuter stations featured bikes and accessories from Trek, Shimano, Advanced Sports, QBP, Saris, Specialized, Capital Bike Share, Giant, Pure Cycles, Shinola, CSG, Bell, Giro, CamelBak and Feedback Sports. Rebecca Smith, general manager of REI's D.C. flagship store, and Eric Lynn, founder of the route-finding app Blackriver, offered guidance on places to ride.
"For the second year in a row, the Congressional Bike Fest served to educate attendees about the economic impact of the bike industry, and to showcase the technology, innovation, and jobs that our industry creates," said PeopleForBikes Vice President of Business Network Jenn Dice.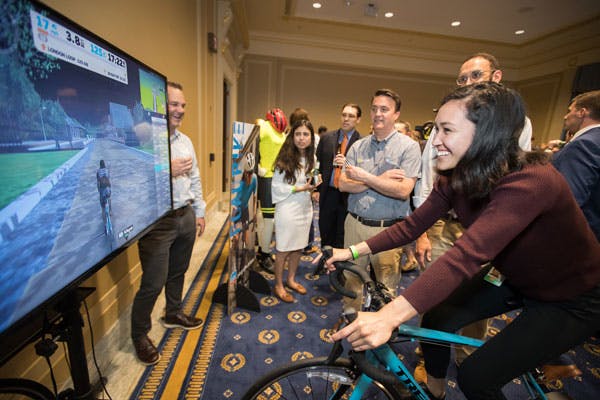 Many attendees were recent college graduates or summer Congressional interns and relatively new to the city. Some ride regularly, including Alex Attebery, deputy communications director for Rep. Jodey C. Arrington (R-TX-19), a fixed-gear commuter who bikes six miles to work one or two days a week. A few said that they bike in their hometowns but hadn't been riding in DC; others were just starting to ride recreationally. Almost all sounded interested in riding more—to drive less, to get to know the area better, or to get back in shape. A few even took a spin at the PeopleForBikes event, pedaling a CycleOps Hammer trainer hooked up to the online riding platform Zwift.
Putting people in the saddle is the first step in getting the conversation about bike infrastructure started, said Steve Hawkins, a regional manager at Saris Cycling Group. Seeing the bikes up close, he says, "makes it real."
Infrastructure is crucial to growing the number of people who ride, said U.S. Representative Daniel Lipinski (D-IL-3), an avid road biker and member of the House Transportation and Infrastructure Committee. The congressman stopped by in part to admire the newest version of his bike, a Specialized Roubaix.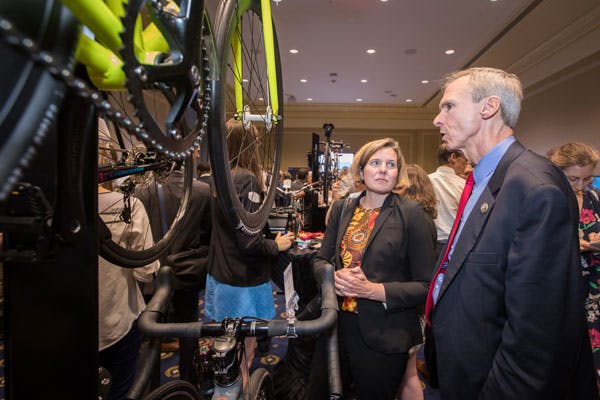 "The more comfortable people feel to get out and ride, the more people you see riding, and the more you realize it's an option," Lipinski says. "It catches on." The payoff: fewer cars on the road, and less gasoline burned, which makes life better for all road users, he says. "And it's a great way to help our society with health care costs." Lipinski remains hopeful that Congress will pass an infrastructure bill by the end of this year or early in 2019, and says he'll fight to make sure that bike and pedestrian paths are funded.
In Washington, DC, where about 5 percent of commuters travel by bike (according to Census estimates), riders can pedal more than 80 miles of bike lanes as well as several car-free bike paths. "You can ride across the city, all on trails," says Josh Wentzel, legislative assistant for Representative Mark Meadows (R-NC-11). "I don't think that gets advertised enough." Wentzel says he makes a point to talk up the city's bike network to colleagues. "A lot of staffers grew up in rural areas where you can ride recreationally, but it's less functional," he says. "It doesn't always occur to people that biking is an option here."
That sort of evangelism is important, says Blackriver's Lynn, who created a custom ride guide for Bike Fest attendees–complete with commuter routes to the Rayburn Building and a DC brewery tour. "All these places to ride we take for granted, but they don't happen by accident. But taking the time to talk to people about why you care about cycling-it really makes a difference."
Hill staffers weren't the only ones interested in talking bikes, said Todd Mader, who co-owns The Bike Lane shops in Springfield and Reston, Virginia, with his wife, Anne, who helped organize the event. When the Maders were unloading gear outside the Rayburn Building, people of all ages and walks of life stopped by, he says. "It was, 'Oh, look at that bike! That's a fixie! That's an electric! And everyone wanted to tell me their [bike] story.'
"It's amazing, the universal love."