November 12, 2018
PeopleForBikes — and public lands, too
By: PeopleForBikes Staff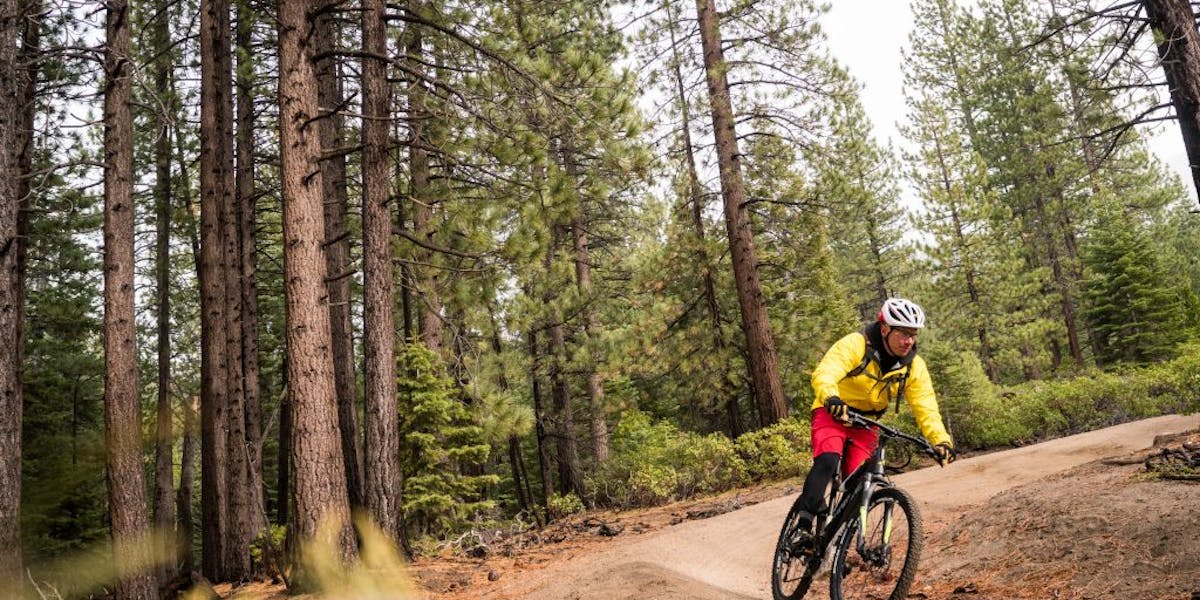 Mountain biker in pine forest
You won't be surprised to learn that the PeopleForBikes team is comprised of bike enthusiasts who love to ride scenic roads, explore mountain trails and venture into the backcountry. It also shouldn't come as a surprise that our love of bikes goes hand in hand with a passion for the outdoors. Our commitment to increasing the number of safe and fun places to ride bikes includes a dedication to protecting and conserving the beautiful landscapes of our national parks, forests, waters and other lands.
Before 2018 comes to a close, Congress may (and should) consider a package of important bills that could greatly improve access to and funding for our public lands. From opening the door for young kids to visit national parks for free, to allocating funding for much-needed land and facility maintenance, these bills underscore the importance of respecting our public lands and ensuring access for future generations. [Update 12/20: On December 19, a public lands package was blocked by Utah Sen. Mike Lee. Lawmakers voiced a commitment to bring the package back to the floor in early January. ]
We're excited to see a robust group of bills that are so close to the finish line, especially since it has taken many years of hard work to push these bills through the legislative process. Below, we've put together a list of public lands policies that we hope to see passed.
Recreation Not Red Tape
This bill seeks to encourage new approaches to outdoor recreation on public lands, from establishing a National Recreation Area System to increasing recreation during the offseason and much more.
Every Kid Outdoors
This legislation mandates the creation of an Every Kids Outdoors program, providing fourth grade kids free access to public lands and waters. These students can request an annual pass, which will allow them to have free access for themselves and up to three adults accompanying them, whether touring the lands on foot or by bicycle. This will help to provide greater access and eliminate financial barriers to children and their families.
This bill passed the House of Representatives (383-2) and now goes to the Senate for a vote.
LWCF authorization
For more than 50 years, the Land and Water Conservation Fund has worked to improve outdoor recreation opportunities, including bicycling, across the nation. Reauthorization and continuing funding for the LWCF is important to ensuring the next generation enjoys the outdoors. The LWCF expired on September 30. Committees in the House and Senate have both passed legislation that permanently reauthorizes the LWCF, which would eliminate the pain of annual reauthorization debates (sweet!) and allow Congress to instead focus on how much money will be allocated to the fund.
Restore Our Parks and Public Lands Act
Our public lands are burdened by a maintenance backlog. This bill proposes a portion of revenue from energy development to be dedicated to address these maintenance needs, including maintenance on trails. Congress is considering iterations of the bill that include funding for the National Park Service and possibly the Fish and Wildlife Service, the Bureau of Land Management and the Bureau of Indian Education.
Public Land Recreational Opportunities Improvement Act
This proposed legislation would help guides and outfitters have a streamlined permitting process to increase access and make planning guided trips more efficient.
21st Century Conservation Service Corps Act
This legislation would officially establish the 21st Century Conservation Service Corps — a program that has been in operation for several years. The 21st Century Conservation Service Corps works to place youth and veterans in national service positions to conserve, restore, and enhance the outdoors.
Guides and Outfitters Act
This bill would streamline and simplify various permitting processes managed by the Department of the Interior and the U.S. Forest Service. In particular, it allows for joint-permitting across the federal agencies. It constrains increases in permitting fees and directs fees to offset processing costs.
National parks offer some of the most beautiful rides in the country, both on scenic roads and on trails. People visiting public lands also buoy the economies of neighboring cities and towns. But our support of these bills is about more than bike access or a boost to the economy — it's about protecting the parks, forests and waters that are essential to the identity of the United States.
Watch your inbox for emails from us providing instructions on how to take action in support of public lands. Not yet a member of PeopleForBikes? Join us today — it's free.