June 6, 2022
Our Top Adventure Biking Destinations
By: Sasha Miller, contributing writer
We collected a few of our favorite places to adventure by bike, all of which ranked in the top 100 of our 2022 City Ratings.
Adventure is out there, you just have to bike to it! Adventure biking is all about taking exciting and out-of-the-box routes to see some of the most beautiful destinations our country has to offer.
In this year's City Ratings, PeopleForBikes' annual program to evaluate, identify and compare the best cities and towns for bicycling, many places in the top 100 out of more than 1,000 rated cities offer some truly incredible adventures by bike. Whether you are biking on the road, gravel, downhill, or long-distance, all of these cities have something great to offer!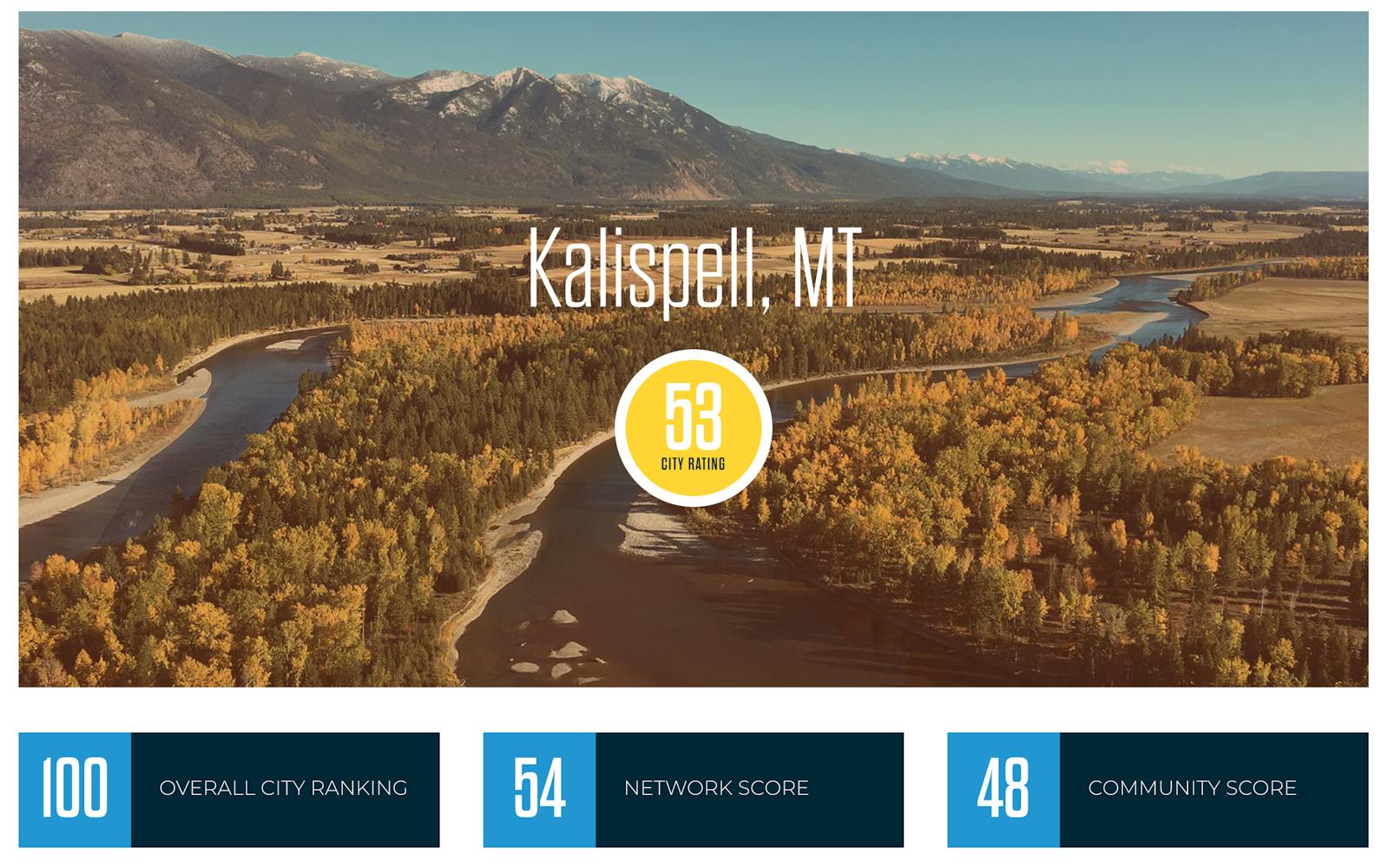 Affectionately known as the "Moab of the North," Kalispell, Montana, less than a two-hour drive from the Canadian border, is home to 24,000 people. Kalispell is in the heart of the Swan, Mission, Whitefish, and Salish mountain ranges and boasts beautiful views of the surrounding valleys, rivers, lakes, and nearby Glacier National Park. Here, there is biking for everyone, from paved rail-trails for the kids, mountain bike parks for the thrill-seekers, and the famed Going-to-the-Sun Road in Glacier National Park.
The must-do trail for anyone visiting Kalispell is a 22-mile section of the Great Northern Rail Trail which was advocated for and completed by Rails to Trails of Northwest Montana, a grassroots organization founded in Kalispell. The start and end point is Flathead Lake, the largest natural freshwater lake west of the Mississippi. In town, Wheaton's Cycling Shop has been the beloved local bike shop for nearly 17 years and they offer great suggestions for other in-town ride destinations including Lone Pine State Park, Crane Mountain Trails, and the Broken Leg Trail (Trail 544). Kalispell is an exciting and beautiful adventure biking destination with unique trails and views everywhere you look, making it the perfect addition to any Western road trip.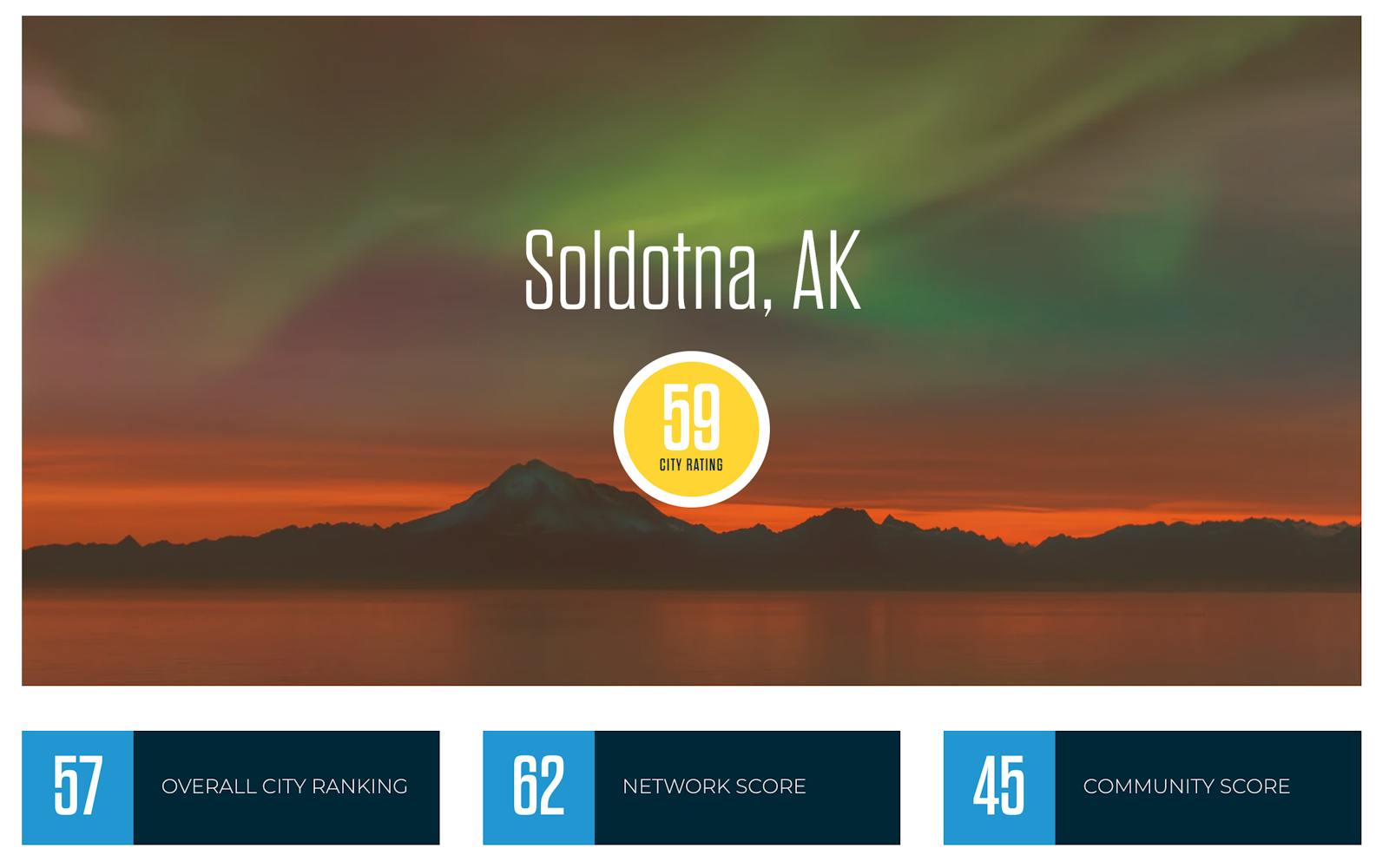 The most remote location on our list, Soldotna, Alaska, is known for its cold and dark winters, with an average temperature of 10 degrees Fahrenheit and less than six hours of daylight in January. However, come summertime, this sleepy Alaskan town becomes a lively destination for locals and tourists alike. Soldotna is home to nearly 4,700 people year-round but its population doubles to nearly 10,000 people in the summer.
The sometimes wild climate and challenging terrain do not stop cyclists: Nearly 80% of Alaskan households own a bicycle and more than 60% of Alaskans bike or walk for recreation. Soldotna is a popular destination for folks passing through for the Kenai 250, an approximately 265-mile race featuring tons of single track and nearly 30,000 feet of elevation gain. This race is for experienced backcountry endurance riders and traverses some of the most beautiful landscapes Alaska's Kenai Peninsula has to offer. Soldotna may not be the most conventional adventure biking destination, but its unique location offers plenty of gravel, mountain biking, and bikepacking opportunities.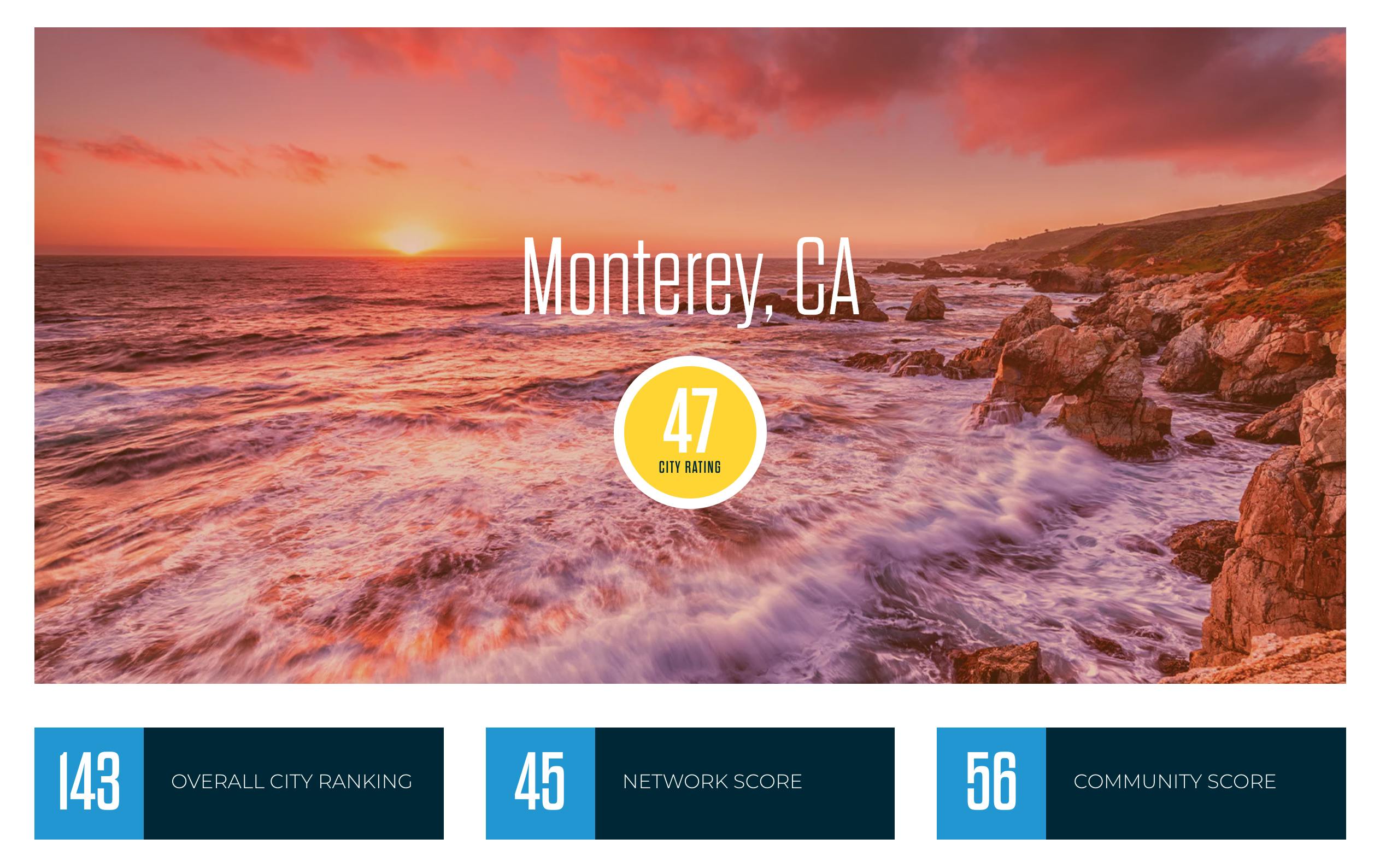 Monterey, California, is a picturesque town in Central California that follows the Monterey Bay National Marine Sanctuary as it weaves along the coast. This classic California town is home to 28,575 people and has a prominent cycling scene. Monterey's flat topography, mild climate, 190 miles of bikeways, and encouragement of sustainable travel make cycling a great option to explore the city and surrounding area.
This former military base is also the site of the Sea Otter Classic, regarded as the world's largest cycling festival, attracting nearly 10,000 athletes and more than 74,000 fans every April. The race at Sea Otter is an 18-mile loop that includes an exciting mix of forest roads and singletrack. The Sea Otter Classic isn't the only thing that attracts thousands of people to Monterey each year — the crown jewel of adventure biking in the region is bikepacking down the Pacific Coast Highway through the Big Sur Mountains. This rugged and mountainous section of road is known for its dramatic landscape where the Santa Lucia Mountains rise abruptly from the Pacific Ocean. Even for an experienced bicyclist, the ride through Big Sur may be the best ride you've ever taken. For those seeking a more relaxing experience, the Monterey Bay Coastal Recreation Trail is an 18-mile trail protected from vehicles that crosses through some of the best attractions in Monterey. This coastal cycling town provides something for every rider!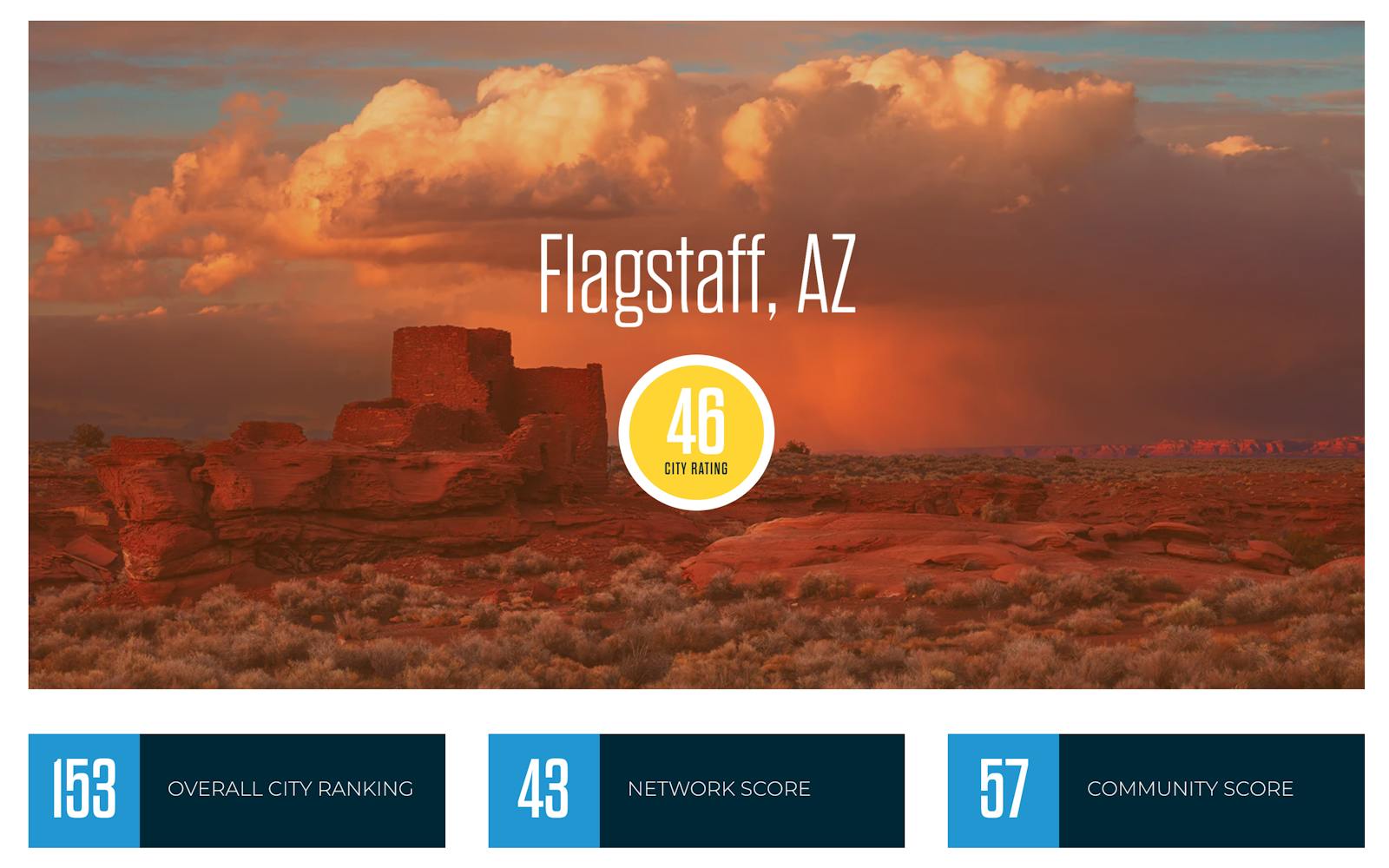 Flagstaff, Arizona, is home to about 73,319 people and provides stunning peak views, clean mountain air, and abundant wildlife. Established in 1894, this high desert town is nestled right below the San Francisco Peaks, the tallest mountains in Arizona. There are seven national parks and monuments right in the backyard of Flagstaff, earning it its nickname "The City of Seven Wonders," but locals might argue that there is an eighth wonder: biking. Driving into Flagstaff, you'll see cyclists zipping by on some of the city's 117 miles of bike lanes. Just about every local owns a bike, 5.2% of work commutes are made by bike and most other trips can be made on two wheels in just a few minutes.
Passing through town, you might see bikes adorned with lots of bags, as there are some great bikepacking trails in Flagstaff including the nearly 800-mile-long Arizona Trail (AZT), which passes through the majority of Arizona, and the 250-mile-long Coconino Bikepacking Loop that connects Flagstaff to Cottonwood. Just outside of town, Fort Tuthill Bike Park is a great network of mountain biking trails to build your skills to use on other local trails like the ones in Buffalo Park or Campbell Mesa Loop. If you ever get bored of Flagstaff (you won't!), Sedona, another world-class biking destination, is just 27 miles north. Close to some of the most remarkable places in the U.S., Flagstaff is the perfect road trip destination for adventure biking.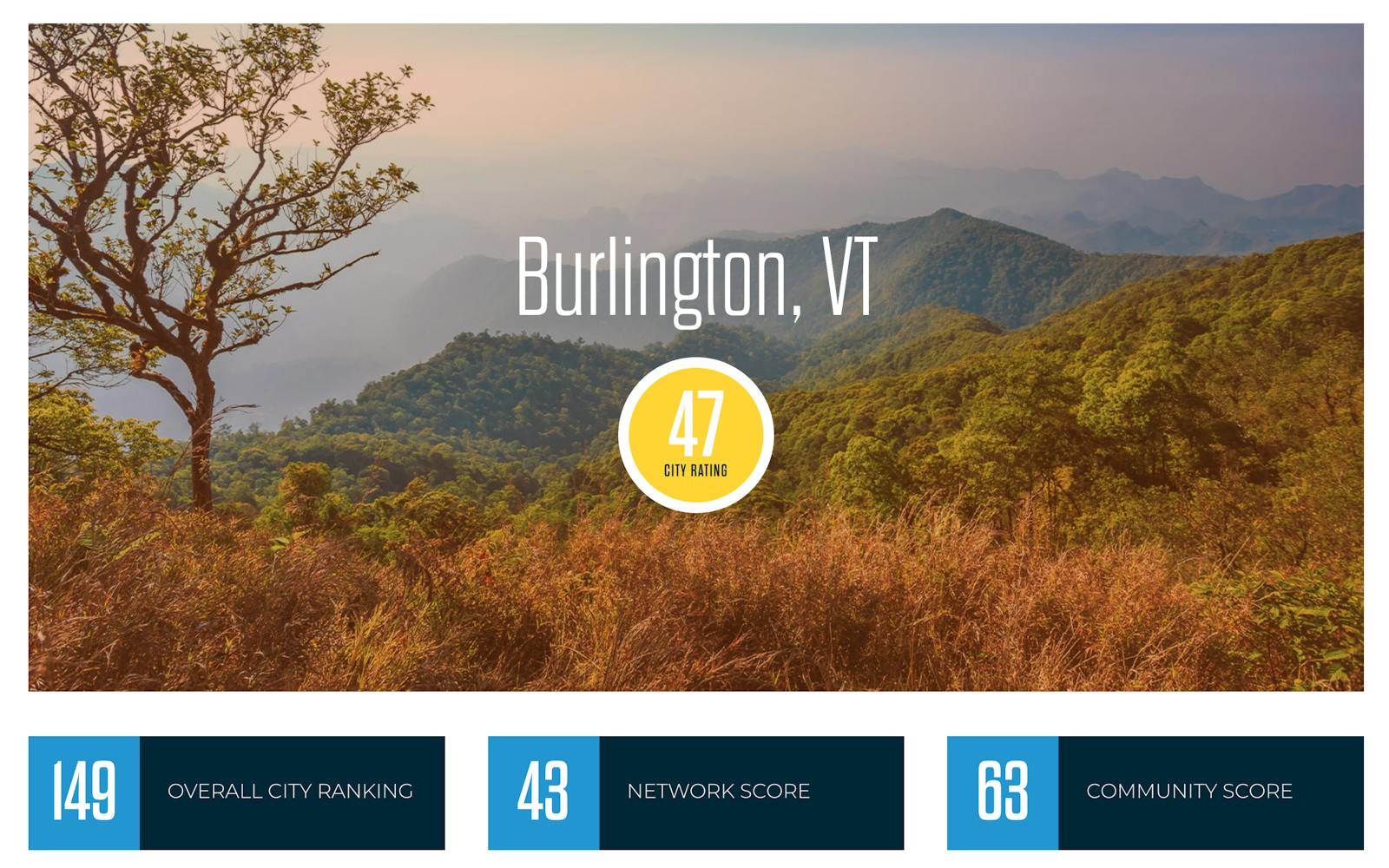 Burlington, Vermont, lies on a gorgeous hillside overlooking Lake Champlain with a view of New York's Adirondack Mountains in the distance. Rising from the shores of the lake is the Island Line Trail, a 14-mile-long shared path that offers great views of the lake and downtown Burlington all in one. In the coming years, there are plans to add tens of miles of new bike paths added throughout Burlington as a part of a "quick-build" program by Burlington Public Works.
If you desire more of an off-road experience, you can head over to Catamount Outdoor Family Center to take advantage of their 20 miles of trails that include gravel, wooded sections, open fields, steep climbs, technical terrain, and two pump tracks. Once you've tuned up your skills, take advantage of Lincoln Peak at Sugarbush Resort, a lift-serviced area with tons of trails that promise high-speed fun and lots of features. If downhilling isn't your thing, don't worry. Many bikepacking adventures pass through the region as well. The Green Mountain Loop runs through Green Mountain National Forest and covers 377 miles of beautiful rolling hills, mountains, and forest, eventually ending up back in downtown Burlington. Backroads, an award-winning travel company, also offers great bikepacking adventures from Burlington to Montreal, Quebec, covering more than 250 miles along the way. In Burlington, there are opportunities aplenty for a two-wheeled adventure!