June 28, 2018
Could Northern Missouri Become the Midwest's Next Great Bicycling Destination?
By: Emily Furia, business network writer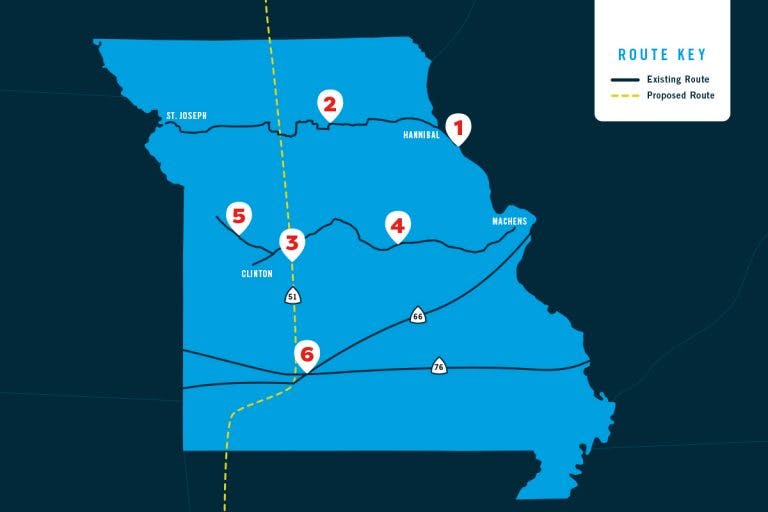 Map of existing and proposed bike routes in Missouri.
Brent Hugh couldn't quite believe what he was seeing.
The executive director of the Missouri Bicycle and Pedestrian Federation was looking at the Strava heat map for Louisiana, Missouri, a town of about 3,200 people on the Mississippi River. To cross the river into Illinois, bicyclists must ride over the 88-year-old Champ Clark Bridge, a 20-foot-wide, five-truss span with no shoulders. After driving over the structure, a reporter from the Boone County Journal in Illinois described it as "so painfully narrow, you squeeze your shoulders together and hold your breath as you slowly inch your way over it." And it was glowing.
"I was astonished," Hugh said. "You would not believe the number of people who bicycle across that bridge."
The bridge's replacement, which will have two 10-foot shoulders, will likely attract even more riders when it opens next November. "It's going to be a huge improvement for bicycle access," Hugh says.
A bicycle rider's dream
The new Champ Clark (see map, 1) is just one of many bicycle-related projects that could transform the riding scene in Northern Missouri. In many respects, the region is a bicycle rider's dream. Shaped by glaciers during the Ice Age, the terrain is gently rolling, much less rugged and more human scale than the Ozark Mountains to the south. The area is mostly rural, with miles of low-traffic paved roads connecting small, friendly towns through vast stretches of farmland. "It has a huge potential for bicycle tourism," Hugh says.
Bike touring has long been big business in Missouri. Bicycling and walking trail use accounts for $2.8 billion in annual consumer direct spend statewide, as well as 28,043 jobs and $219 million in local and state tax revenue, according to the Outdoor Industry Association. The state is home to seven cross-state or national bicycle routes—the most of any state in the nation; bicyclists spend an average of $200 a day while crossing the state. Missouri also boasts the longest developed rail trail in the United States, the 240-mile Katy Trail, which sees 400,000 visitors from all 50 states each year and has an annual economic impact of $18.6 million, according to a 2012 state department of natural resources study. But until recently, the state's bike-related tourism was concentrated almost exclusively south of the Missouri River.
That's starting to change.
Riders boost local economy
In 2012, Dave Fiedler, a cyclist, writer and history enthusiast worked with the Missouri Highway 36 Heritage Alliance to create the Highway 36 Bicycle Route (see map, 2), which extends about 260 miles on low-traffic county and state roads from St. Joseph to Hannibal. It closely parallels Highway 36, which is nicknamed the Way of American Genius because of the numerous historical figures—including Mark Twain, Walt Disney, General John "Black Jack" Pershing and J. C. Penney—who have connections to the route. In 2016, the organizers of Big BAM, Missouri's first cross-state bicycle tour, chose the Highway 36 route for their second annual ride. More than 500 people pedaled from St. Joseph to Hannibal, with overnight stops in five towns along the way.
While official figures aren't yet available, ride director Greg Wood believes the economic impact of the ride is sizeable. Now in its fourth year, the ride attracts participants from 30 states. Although most riders opt to camp, they're responsible for purchasing their own meals and snacks. About 20 to 25 percent of them bring a support vehicle; in addition to buying gas, most support crew members stay in hotel rooms. Wood estimates that riders bring $20,000 a day into the local economy—and that doesn't include the fees the ride pays to vendors for services such as showers, route marking, and SAG support.
Building a network
At least two other routes in the making have the potential to bring more tourists on bikes to northern Missouri. A new section of the United States Bicycle Route System, USBR 51, is currently under development and will pass through Missouri on its way between Louisiana and Minnesota (see map, 3). Hugh says there's a statewide group working on the route that hopes to have the Missouri segment mapped within the next two years; right now the plan is to cross the Missouri River at Lexington, then head north to the Iowa border. The route will provide a key connection to other established bikeways, including the Katy (see map, 4) and Rock Island Trails (see map, 5), USBRs 76 and 66 (see map, 6), and Adventure Cycling's Lewis and Clark Route. The segment will be the first north-south bike route on the western side of the state.
Also in the works is a plan to connect northern Missouri to the Katy Trail. Hugh says that the Rock Island Trail spur connecting the Katy to Kansas City will be complete by next year. Advocates hope to eventually extend the trail north to St. Joseph and Rock Port, then west to connect with trails in Nebraska. Once completed, riders would be able to enjoy a car-free trip from St. Louis to Omaha.
The benefits of such infrastructure extend well beyond the trail: research suggests that communities don't have to be on the bike path itself to see economic benefits from bicycle tourism. In 2013, the Adventure Cycling Association conducted a survey focusing on routes in its home state of Montana. The study found that riders used Adventure Cycling's routes as a general guide, but often ventured elsewhere—to visit a friend in the area, for example.
"You would assume if there's a route, that's where people go," Hugh says. "But you can't corral them."