September 10, 2020
Moving Forward for Federal Transportation, Infrastructure and Recovery Funding
By: PeopleForBikes Staff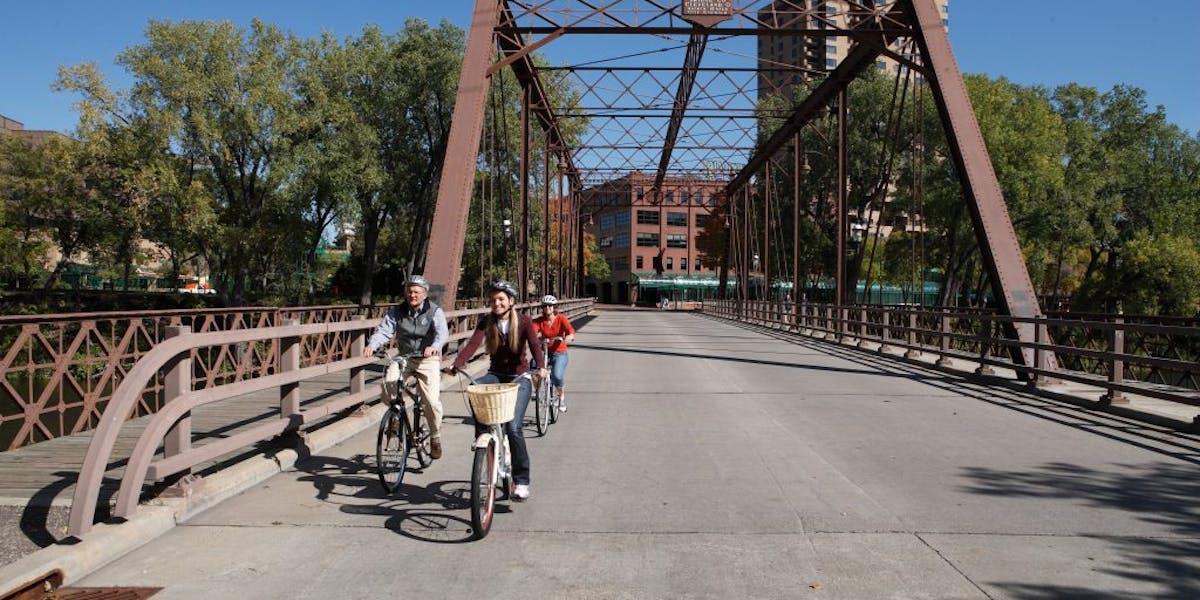 Bikers on a bridge
As Americans demand more resources for COVID-19 recovery efforts, Congress faces several funding deadlines on September 30, 2020. These deadlines include decisions on appropriations (Treasury funds used by federal agencies) to keep the government running, as well as our national transportation policy, which has funded road, bridge, rail and transit projects across the nation since 2016. PeopleForBikes and our partners in federal advocacy are pushing for bikes in four major legislative opportunities. We're making sure that lawmakers understand more Americans than ever are looking to bikes during this challenging time to get around, stay active and find joy.
Recovery and Stimulus Funding
Cities and states face tough decisions in the coming months as the economic downturn continues to affect their budgets. We've joined a chorus of state and local officials asking for $500 billion in aid for their governments to keep public services functioning. Some cities are using previous rounds of federal aid to build out bike networks for their recovery, keeping their communities protected and active. While we're pushing for this money to come soon, negotiations at the highest levels of government have stretched for weeks. It is possible that Congress will attach these efforts to must-pass government funding solutions by the end of September. 
Promises on Infrastructure 
Before the end of the year, we anticipate a broad-reaching effort on infrastructure legislation to gain speed in Congress, like the $1.5 trillion package the U.S. House of Representatives approved in July. Infrastructure in this context means everything from roads and transportation to energy development, water resources, telecommunications and housing. We're asking Congress to recognize bikes in their plans to fight climate change and incentivize bike commuting (at almost $650/year per commuter) as more Americans return to work. This legislative opportunity will likely include a transportation reauthorization bill but may be stalled until 2021.  
Transportation Reauthorization
Congress confronts a September 30 deadline for our nation's most important transportation policies and funding. This once-in-five years opportunity to replace the FAST Act should dedicate new money to connect bike networks, build recreational trails, make our roads safer for vulnerable users and leverage bikes for carbon reduction programs. While the House passed a reauthorization bill as one part of their infrastructure package, the Senate has not. It seems likely that Congress will authorize an extension of current funding levels until they agree on a new bill, possibly in 2021.
Momentum for Recreation 
Building on the monumental success of the Great American Outdoors Act, we're asking Congress to make it easier for people on bikes and e-bikes to get outside and explore our public lands. Right now, applying for a permit to travel on or across multiple different types of federal lands (think, for example, crossing from a Bureau of Land Management trail to riding within the National Forest Service) is an outdated and paperwork-heavy project, especially for professional guides and outfitters. PeopleForBikes and our partners in the outdoor community support streamlining the permitting process (SOAR Act, H.R. 3879/S. 1665) and establishing a National Recreation Area System to designate new opportunities for getting outside (Recreation not Red Tape Act, H.R. 3458/S. 1967). 
Help us get these legislative priorities across the finish line by contacting your members of Congress and asking them to prioritize bikes in these upcoming policy opportunities.