June 7, 2022
Morgantown's Bike Strategy Focuses on Youth
By: Kat Andrus, youth program manager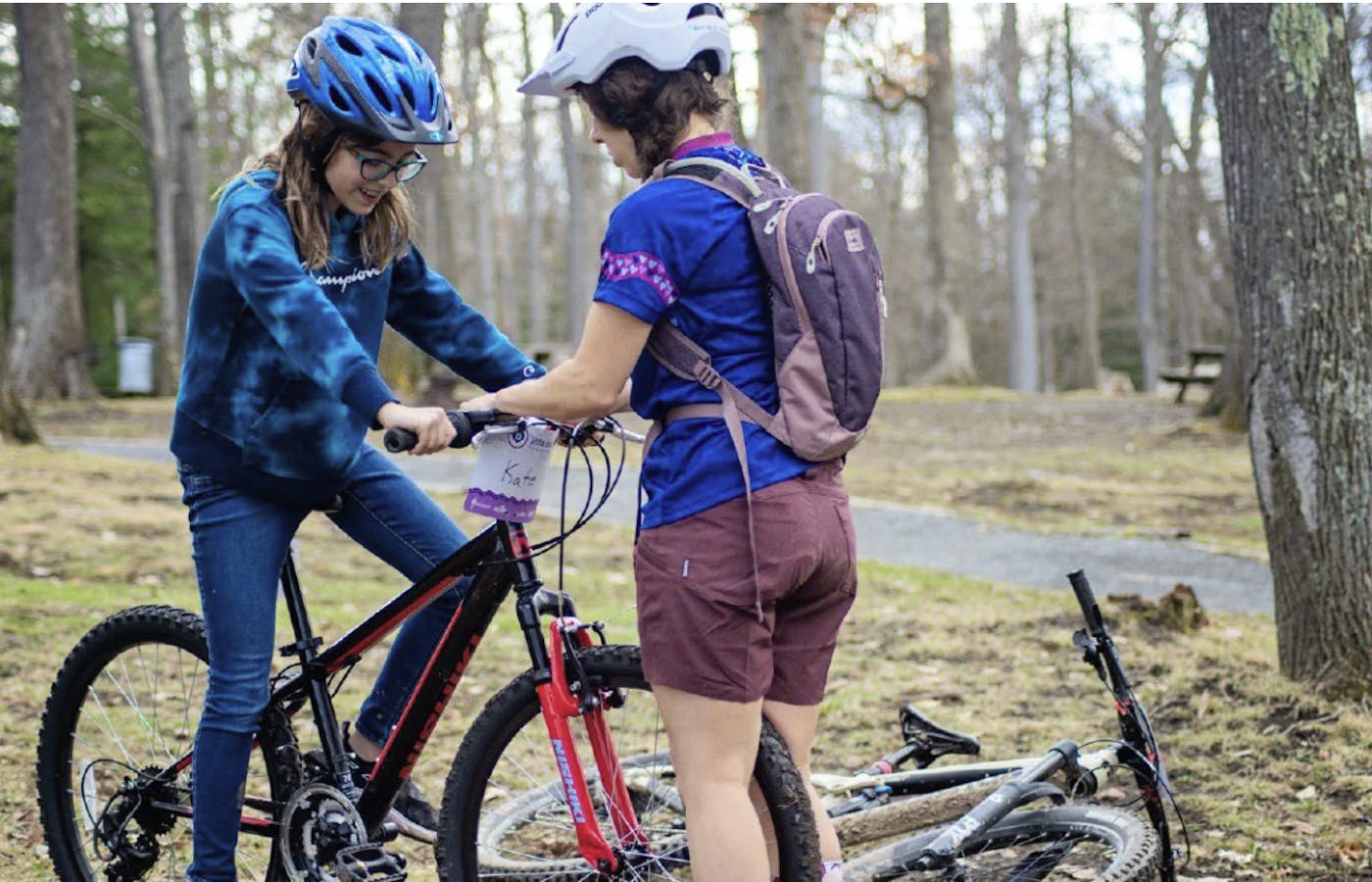 Mentor and mentee during Little Bellas inaugural practice in Morgantown. (Photo credit: Shannon Arbogast for West Virginia University Smith OEDC)
While the West Virginia city doesn't currently have the most impressive City Ratings score, it's well-positioned to grow into a top spot for bicycling.
In 2020, the Youth Cycling Coalition (YCC), a collaboration between 10 different bicycling organizations, set out to find the ideal location for its inaugural pilot program. The YCC's model is based on collective action — through place-based programming, we want all kids to access, experience and develop a life-long love of bicycling, the ultimate goal being the integration of cycling into the fabric of local communities. In line with that mission, the team sought a community with a high need for youth programs, as well as a place with the potential to grow a robust youth bicycling movement.
After considering more than 30 locations around the U.S, the 30,000-person city of Morgantown, West Virginia, was ultimately selected.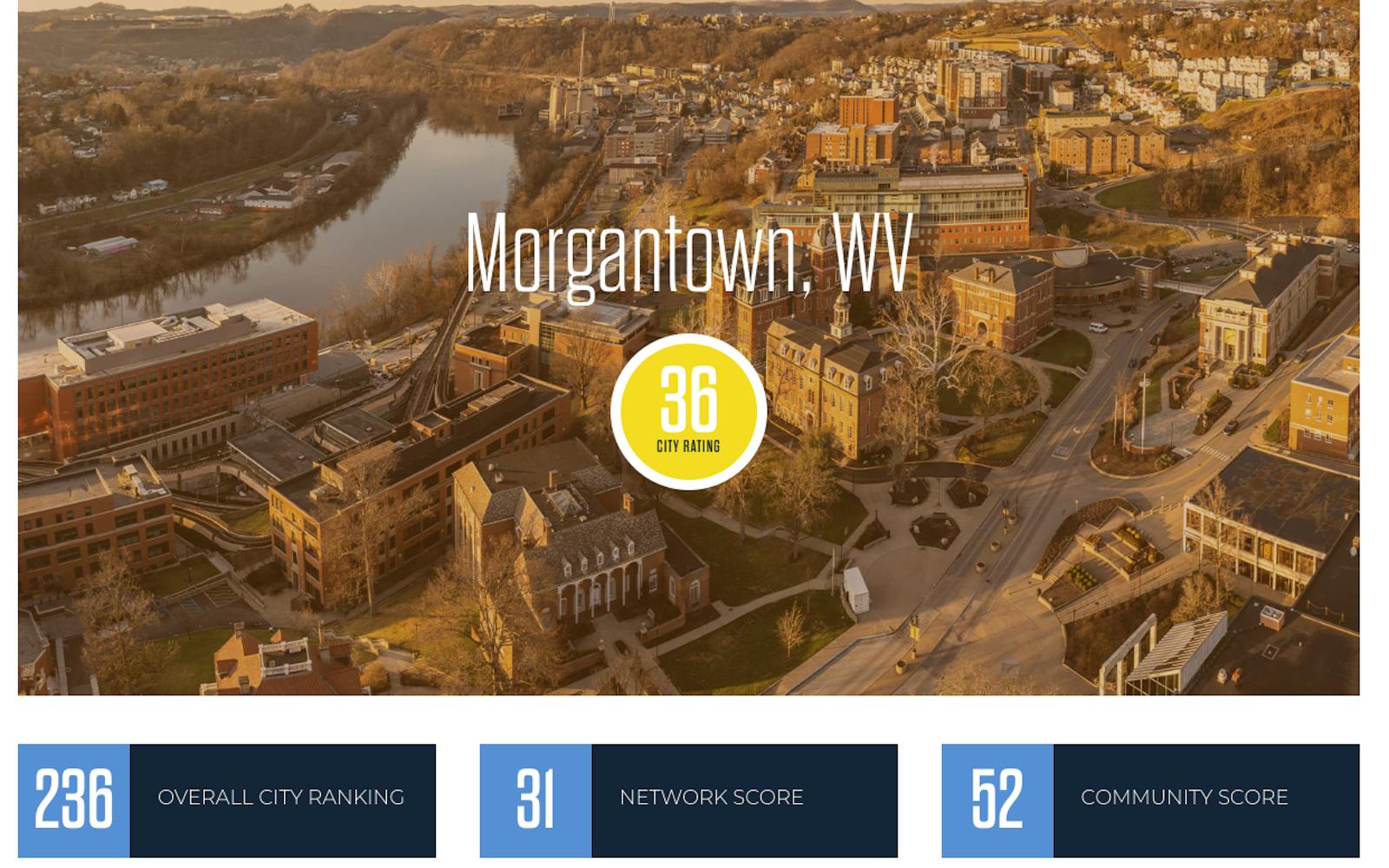 West Virginia is a state known for its high rates of obesity, poverty and drug use, as well as its low rates of education. From brain drain, opioid abuse and health issues to crumbling infrastructure, struggling education systems and low reporting on quality of life, there's no shortage of important issues at stake. West Virginia ranks the fourth highest for childhood obesity rates in the nation and more than one-in-four children live in poverty.
In Morgantown, the socioeconomic disparity that exists is severe. According to the 2018 census, the median household income for Morgantown residents is $41,071 a year, substantially lower than the average U.S. median income of $63,179. A school's free/reduced lunch rate serves as an indicator of poverty among students and by many definitions a "high needs school" can be classified as one having a 30% or more free/reduced lunch rate. In Monongalia County, where Morgantown is situated, the average free/reduced lunch rates across elementary, middle and high schools is 37%.
On top of those socioeconomic challenges, Morgantown remains a difficult place to ride a bike. In the PeopleForBikes City Ratings system, a score of 50 tends to be the threshold for great places to ride — while it jumped six points from 2021, showing significant improvement, Morgantown's 2022 score is 36. From narrow, shoulderless roadways to a mountainous topography riddled with curves and extreme grades, road riding in the region can be both intimidating and dangerous. Although singletrack and a robust mountain biking culture exist, there remains a lack of diversity in terrain and trail difficulty that serves as a barrier for beginners. The area of greatest need is beginner and family-focused bike trails, alongside riding facilities like skills areas and pump tracks.
Despite the challenges facing Morgantown youth, there is a massive amount of potential for a widespread bike movement. In the last year and a half of partnering with local institutions, the YCC has already seen significant change. The combined efforts from the YCC, the city, county, grassroots leaders and West Virginia University are coming together to improve infrastructure and accelerate the pace of development as a part of an overall vision for the area. Among everyone involved, there's a palpable sense of excitement and momentum.
The YCC is working in close partnership with the Brad and Alys Smith Office of Outdoor Economic Development Collaborative (OEDC) at West Virginia University. Using education, research, community engagement and asset development, the collaborative creates initiatives to improve the health, economy and future of West Virginians. The YCC and OEDC share a vision for a future Morgantown with a broad and integrated network of cycling programs that serve students throughout their K-12 education. The end goal is a sustainable ecosystem that provides equal opportunities and is inclusive of people of all backgrounds and all walks of life, regardless of their age, gender, race or socioeconomic status.
A big step in realizing this vision is the activation of new infrastructure and riding facilities within close proximity to schools and neighborhoods. Also important is a comprehensive education campaign geared towards the broader Morgantown community using best practices developed by YCC members and partners. Danny Twilley, Ph.D., the OEDC's assistant VP of economic, community and asset development, sees bicycling as an indispensable part of Morgantown's future.
"Building off the backbone of our nationally recognized rail trail network, our goal is to have trail access within a mile of every resident in the city of Morgantown," said Twilley. "When you create this type of access, it has both physical and mental health benefits."
Studies have shown that on average, that type of access can lead to individuals exercising 45 minutes more per week than those who lack similar access. In a place with stark health outcomes, that difference can be life changing.
"Further, research has shown that when people spend time, at least 120 minutes per week, in nature, they see positive psychological benefits," said Twilley. "Access is critical to achieving these benefits."
In January 2020, the OEDC team received an International Mountain Biking Association Trail Accelerator grant, which allowed them to partner with expert trail builders and local entities to create a master bike plan. That plan links existing trails and recreation sites, prioritizing access to schools while also introducing new beginner-friendly, bike-optimized trails. When the City of Morgantown received word of this master plan — and that the YCC had selected their city as its pilot location — they were so enthusiastic that as a result, city planners have since developed a complementary master plan of their own. The trail plan includes a sample platter of different trail types, from shared-use paths to beginner-level directional flow gravity trails.
In addition to the trail development master plan, an ambitious and inspirational project is also underway at the 400-acre Mylan Park. The Mylan Park Action Complex will serve as a regional draw for action sports and will include freestyle areas, advanced jump lines, pump tracks and skill development areas. Funding opportunities have been identified and are being pursued. Planning and engineering work has been completed on the complex.
Working in conjunction with all of these exciting infrastructure projects are the YCC's members, which are working to engage youth from elementary school through high school around bike-based programming. USA BMX Foundation will bring programming into 3rd-5th grade classrooms this fall. Project Bike Tech is already underway building a classroom at University High School and will offer their first class in the fall. The League of American Bicyclists is partnering with West Virginia University to provide LCI training seminars starting this summer.
In March of this year, Little Bellas launched in Morgantown. The organization provides mountain-bike-based mentoring for girls aged 7-18. Incredibly, after just one season of Little Bellas programming, the Morgantown National Interscholastic Cycling Association (NICA) league has already seen an increase in young female ridership. Cassie Smith, the West Virginia NICA League Director as well as a Little Bellas mentor, has seen firsthand how two YCC programs can support one another and elevate local cycling as a whole.
"Little Bellas is already proving to be a great feeder program for NICA," said Smith. "After only one season, we had three out of four eligible athletes already registered with the West Virginia league!"
While the youth of Morgantown are up against big challenges, an increasing number have an incredible tool for change at their disposal: the bike. As long as Morgantown continues to center its vision for a brighter future around youth and investing in infrastructure improvements that most benefit families, the payoff will continue to be substantial.