October 12, 2012
Memphis on Broadway
By: Anthony Siracusa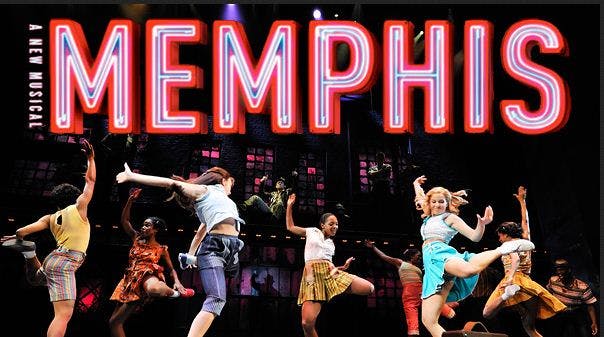 memphis graphic
Maybe you saw Memphis when it landed on Broadway in October 2009.  Or, maybe you read earlier this month about Warner Brothers' plans to turn the "tale of two star-crossed lovers living in segregated Memphis in the 1950s" into a motion picture.  After all, the Broadway performance of Memphis netted four Tonys in 2010 – including honors for best score and best musical.
Well, Memphis returned to New York earlier this month – though with noticeably less dancing and markedly more bicycle riding. 
As part of the Green Lane Project's focus to share expertise among Green Lane cities, Memphis' Bicycle and Pedestrian Coordinator Kyle Wagenschutz and Memphis' Deputy City Engineer Brad Davis joined more than a dozen engineers from Austin, San Francisco, Chicago, Washington D.C.. and Portland for two-days spent workshopping in New York City, arguably the nation's leader in designing, building and evaluating protected bike lanes. 
According to Ryan Russo, Assistant Commisoner of Traffic Management at New York City's Department of Transportation (NYCDOT), the city has built 26 miles of protected bike paths since 2006. New York has also successfully fended off a highly publicized lawsuit aimed at removing the Green Lane on Prospect Park West. This and other civic skirmishes over bikes in NYC actually improved public opinion of bike lanes: in a poll taken in August, the New York Times reported that 68% of New Yorkers think bike lanes are a good idea. 
New York City has a host of lessons for cities across the U.S.. eager to transform their streets into vibrant public places.  The city has become a national leader in building Green Lanes due largely to their willingness to use pioneering street designs – an effort supported by Mayor Michael Bloomberg under the leadership of NYCDOT's Director, Jannete Sadik-Khan. Sadik-Khan met briefly with Green Lane City engineers during this recent October visit to the NYCDOT offices.
Engineers from all six Green Lane cities workshopped with officials from NYCDOT during the morning of October 11, analyzing local transportation officials' treatment of intersections and one-way streets.  NYCDOT's Bike Program Staff used an annotated city bike map to explain the construction of their impressive network over time, which according to Russo, includes more than 266 miles of on-street bike lanes constructed since 2006.  NYCDOT has done a remarkable job documenting every bike project undertaken or completed since 2006, assessing ridership, crash data and the economic impact of the new bike lanes on neighborhoods and local businesses.
The afternoon of October 11 provided Green Lane City engineers the chance to take on-street tours of the new bike projects.  The engineers split up and spent the afternoon riding around in either Brooklyn or Manhattan, and Memphis' Deputy City Engineer Brad Davis toured Brooklyn while Kyle Wagenschutz and I rode with NYCDOT's Bike Program Director Hayes Lord through midtown and downtown Manhattan.  
The Manhattan tour began in Central Park and carried riders through the heart of Midtown Manhattan to Greenwich Village, skirting the Lower East Side and finishing near Wall Street downtown.  Three particularly innovative designs stood out on our Manhattan tour.
Broadway's Pedestrian Plazas
Beginning in the summer of 2008, Broadway Avenue began a transformation.  From Central Park to Times Square, Broadway Avenue now features a bike lane protected from car traffic by pedestrian plazas. 
Above, Hayes Lord explains that NYCDOT purchases the planters and furniture seen here and forges an agreement with local Business Improvement Districts (BID) that allows the BIDs to maintain and improve the space over time.  Some BIDs make better use of the free seating space than others, Lord explained, but the genius of the design is its ability to preserve space for people in cars, create safe space for people on bikes, and establish a vibrant pedestrian zone that local businesses are free to use. 
Mixing Zones
For engineers across the United States, creating safe intersections for bicycle riders is a challenge.  Federal guidance says "Bike lane striping ?in most cases, should not continue through any street intersections," which leaves many traffic engineers wondering what to do. 
Intersections can be especially challenging when designing Green Lanes.  Studies from Copenhagen have indicated that ending the protected bike lane before reaching the intersection – bringing people in cars closer to people in the bike lane – improves safety.  Following this line of thinking, the NYCDOT developed the Left Turn Bay, seen below. 
The left turn bay design can be found on 9th Avenue along with another innovative design their engineers are calling mixing zones.  The pictures below, taken at the intersection of 9th Avenue and W. 44th St., illustrate the design.
9th Avenue is a one way street, and at 44th cars are allowed to turn left.  Above, as a rider approaches the intersection, the person in a car prepares to turn.
The two pictures above show the rider shifting to the driver's right, avoiding a potential "left-hook" collision.  Stripes guide the person in a car towards the curb while the green paint in the bike lane ends just before the intersection.  Ending the green paint signals to the person on a bicycle that they should remain alert.  While Portland uses green paint in just the opposite way – striping intersections and other potential conflict points – New York contends that the green paint gives cyclists comfort, a feeling they should shake when entering intersections.  
Mixing zones appear to provide just the right amount of guidance.  Because space is often at a premium in intersections, neither cars nor bikes have the luxury of exclusive right of way.  The NYC mixing zone uses simple striping to guide people in cars and people on bikes to the intersection.  It's then up to each person to carefully negotiate their movements through the intersection.  The design is not perfect, and it probably doesn't inspire feelings of safety in the "interested but concerned" demographic, but the left turn bays and mixing zones are good examples of traffic engineers developing better intersections for people on bikes. The North American City Transportation Officials (NACTO) braintrust also continues to refine their recommendations for safe intersection design. 
Raised and Separated Bike Lanes
The Allen Street and Pike Street bike lanes were, without question, the most impressive bike lanes I saw in New York City.  Because the entirety of the project is still in progress, the bike lane occasionally ran beside car traffic separated by upright delineators.  
But once completed, people on bikes will enjoy a raised bike lane separated from car traffic by a planted median. 
At each intersection, there is clear guidance for people on bikes and on foot.  A pedestrian plaza at each intersection leads people on foot to a pedestrian path running down the center of the median. 
Mid-block crossings provide a comfortable place for pedestrians to sit down and enjoy what feels like a park in the middle of a major road in downtown Manhattan. 
And while all of the protected lanes in NYC provide a strong feeling of safety, I felt both secure and inspired by the Allen and Pike Street lanes.  NYCDOT made clear throughout the workshop their goal of providing great space and excellent access for everyone – people in cars, people on bikes and people on foot. The Allen and Pike street project is proof that transportation officials implement their ideas.  
At the end of Pike Street, Hayes led our group under the Manhattan Bridge where we headed west towards the Brooklyn Bridge – a majestic end to a well-organized and informative tour of the most innovative bike facilities in the United States. 
The story of Memphis' turnaround continues to inspire those American cities with tremendous potential to transform their roadways into places that invite everyone to travel safely.  The guidance NYCDOT provided to Bike-Ped Coordinator Kyle Wagenschutz and Deputy Engineer Brad Davis on October 10 and 11 will continue to inspire conversations about how Memphis might persist in innovating – a commitment taking hold across local government.  A Memphis City Councilman, the City Engineer, and Memphis' City Manager also took a trip recently – although theirs was across the Atlantic to visit our Dutch neighbors in the Netherlands.  Stay tuned to the Green Lane Blog in the coming weeks for their perspective on the Western World's bicycling captial.