November 7, 2012
Memphis in the Netherlands: "Blown Away"
By: Anthony Siracusa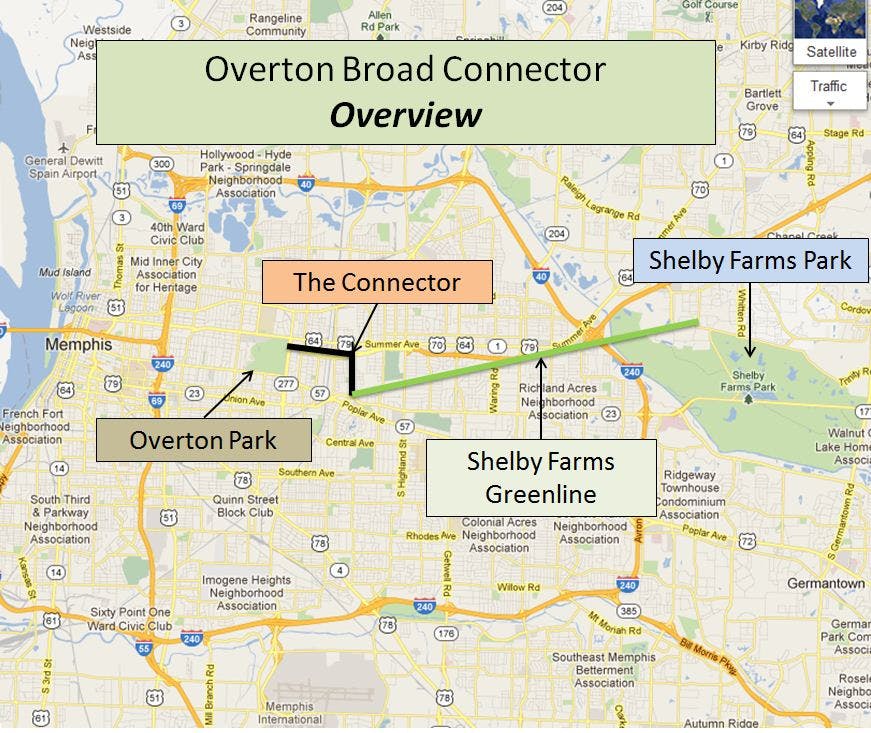 Overton Broad Connector Overview
Even Kyle Wagenschutz, Memphis' Bicycle and Pedestrian Coordinator, manages to crack a smile from the helm of a tandem where Memphis City Councilman Bill Morrison rides in tow. 
And don't let his half smile fool you – City Engineer John Cameron, pictured fore right in the photo – enjoyed riding his bike all over the Netherlands in early October.  Chief Administrative Officer for the City of Memphis George Little, pictured just behind Cameron, described his trip to the Netherlands as "eye-opening."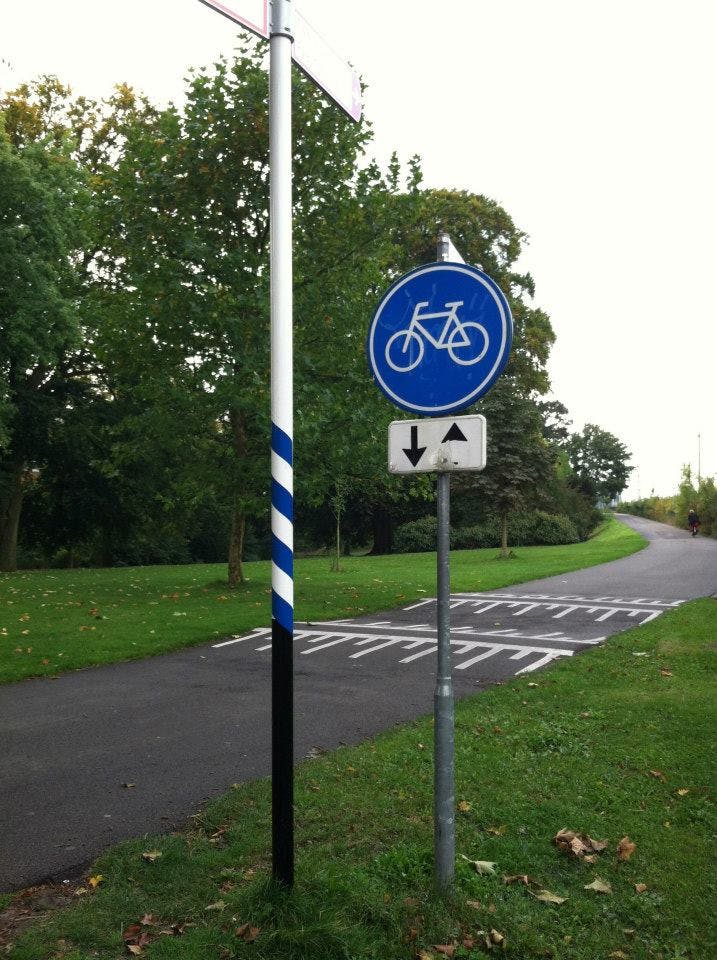 "In terms of the practical everyday use of bikes," Little said, "this trip introduced me to a whole new perspective.  Typically in Memphis, when I see people biking, I only see a handful of folks commuting.  There, it's a way of life.  It demonstrates the possibilities in Memphis…in terms of making biking a part of everyday."    
Chief Little, as he's fondly known among Memphians, traveled to the Netherlands with Kyle Wagenschutz, Memphis City Councilman Bill Morrison, and Memphis City Engineer John Cameron as part of the Green Lane Project's European fact-finding mission.  These city leaders spent nearly a week traveling through Utrecht, Rotterdam, Amsterdam and a handful of smaller cities meeting with Dutch traffic officials and riding bicycles to better understand the way cities in the Netherlands were engineered to be hospitable for people on bikes.
"Blown away" was Councilman Bill Morrison's reaction to the trip. "it was an eye opening experience to see cities and a whole country that embraces inter modal transportation."   
As I spoke with these city leaders, I was also blown away by the perspective they brought home: the trip to the Netherlands findamentally impacted these city leaders' understanding of city development. 
For the Councilman and Chief Little, Green Lanes are one of the many tools they put into their civic tools boxes during their trip overseas.  People moving by bike was, to these Memphis leaders, the outcome of a holistic effort to engineer and develop great neighborhoods. 
"In the Netherlands it wasn't just the bicycles," Chief Little told me.  "It was about a different pace of life.  You take the time to stop off and interact with a business.  In other parts of Memphis, we can introduce bike lanes as part of an overall strategy to improve neighborhoods."  Councilman Morrison echoed Chief Little's sentiment.  "We have the opportunity in Memphis to make neighborhoods into communities," Councilman Morrison said.  
Ironically, it wasn't the complexity of engineering that most stuck with the city leaders.  Instead, the speed bumps in the picture above – simple features amidst the relatively complex tapestry of engineering in the Netherlands – may have been the spark for a new vision of city design in Memphis. 
To understand why the speed bump matters requires an understanding of Memphis and its neighborhoods. 
Neighborhoods are the heart and soul of Memphis' residential character.  The city is fortunate to have a host of neighborhoods that have been well preserved throughout the 20th century, maintaining their inter-war era charm and tight gridwork pattern.
Many of Memphis' neighborhoods are also physically close together, often separated only by a major thoroughfare filled with retail and commercial businesses.  The Evergreen and Central Gardens neighborhoods provide two perfect examples. 
Central Gardens and the Evergreen Historic District  feature wide roads lined stately homes built in the 1920s.  Often, these neighborhood streets include residential speed bumps like the one seen below.  
The Memphis Speed Bump Program has been hugely popular throughout the city.  Neighborhoods are often on a waiting list for years before they're eligible to have speed bumps put in on their streets.  The speed bumbs are a modest piece of infrastructure that go a long way towards making neighborhoods great places to live.  They slow down traffic, and they shift the focus to people on foot and on bike rather than people in cars. 
For Chief Little and Councilman Morrison,  this may have been where the light bulb went off.
The picture above shows the entrance to a quiet, residential street that the Memphis team examined while in Utrecht.  The entry way from the main street prohibits people in cars from speeding into or out of this quiet residential street.  
The picture below illustrates the same concept as seen from a big road in Copenhagen.  To the right of the bike path is the side street, clearly delineated by a cobblestone sidewalk and a raised surface.
This type of design, while not radical in its engineering scope, has a profound impact on the surrounding urban atmosphere.  It provides a feeling  of intimacy and a sense of personal security. 
I think this is what Councilman Morrison means when he says we should turn neighborhoods into communities.  Simple measures can have a profound impact on the quality of life for people. "It Increases politeness and encourages people to just say hi," Councilman Morrison said of such design.
Chief Little linked his experience with this type of high quality neighborhood design with the way he thinks about development in Memphis.
"The challenge for us in Memphis is to take a smart and comprehensive approach to both our development projects and the day to day maintenance of our public assets.  Instead of thinking in terms of the efforts of pieces and parts, we have to think comprehensively.  And we have to start from the premise that this is important.  How do we do that?  And how do these designs fit into the local environment and the community?  Where can we engage the schools, local businesses, local law enforcement?  From the beginning, we have to integrate these pieces together.  And the question becomes how do we pull all these resources together to leverage the limited resources we have?"
This approach allows us to build on Memphis' strengths. 
As a city of neighborhoods, Memphis has good bones.  The pre-World War II streets and infrastructure within our core city are a huge asset.
Second, a collaborative process between advocates, businesses and non-profit organizations is precisely the force that moved the Overton Broad Connector (OBC) from an idea to a reality.  That story has already been well told in this space, but as we will see the OBC is only the first chapter in what promises to be an exciting tale of community based urban redevelopment in a major southern city.
Finally, the most recent piece to fall into place – largely as a result of Memphis' participation in the Green Lane Project – is a municipal commitment to re-thinking the way we engineer, design and build our roadways.  Our Mayor has largely led this effort, but the trip to the Netherlands made a huge difference for our City Manager George Little, our City Council Chair Bill Morrison, and our City Engineer John Cameron.
In other words, in Memphis we have begun institutionalizing innovation in the way we design our streets and neighborhoods – a process  the councilman says should matter to every Memphian.
If we begin to design our roads in ways that promote the feeling of intimacy and security felt in the Netherlands, Councilman Morrison says "people will move back into the neighborhoods.  Memphis has several assets right now, and this is an asset we haven?t tapped into.  When we talk neighborhoods, as a council member, one of the biggest complaints I get is speeding.   When people are on bikes, you slow down, you watch out for one another.  When people are out and moving, criminals avoid these neighborhoods.  This changes the entire dynamic.  Kids play.  They get away from the Xbox, we get them out playing, and these habits might become generational.  By the time the next generation comes around, biking is expected." 
He went on to tout the economic benefits of improving our neighborhoods.  "I cannot stress enough, from an elected official perspective, the economic impact that this has.   We can't even fully measure it.  It will turn around so much in our city; it will make people happy and healthier, and put Memphis on the map…not to mention tourism. People go to cities with these kinds of opportunities."
Which brings us back to Central Gardens and Evergreen. 
These two wonderful neighborhoods have the potential to connect not just to one another, but to key commercial, residential and tourist assets.
Central Gardens and the Evergreen Historic District can enhance the intimacy and security of their neighborhoods by using the traffic calming bumps that the Memphis team saw in the Netherlands. 
Across the U.S. neighborhoods are using a host  of similar features  to calm traffic and improve safety.   Often called "Bicycle Boulevards," this minimal use of infrastructure enhances safety for people on bikes, improves safety for kids, and creates the kind of place where people want to be.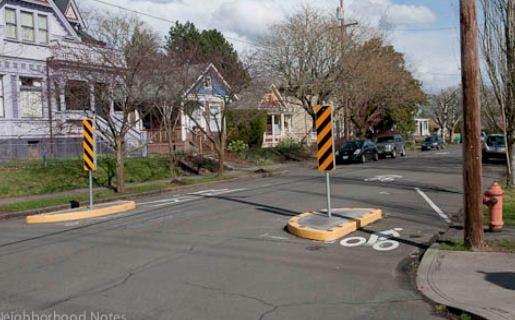 Above, two small islands require cars to slow down as they pass through this neighborhood intersection.  The design also provides designated space for bikes. Combined with the speed bumps, these bicycle boulevards can enhance the safety and security for Evergreen and Central Gardens.  
On the larger thoroughfares connecting these two neighborhoods – McClean and Cleveland – protected bike lanes can provide safe commuting corridors to key commercial destinations.  McLean was re-striped earlier this year to include traditional bike lanes, and Cleveland will be striped in the coming year with buffered bike lanes.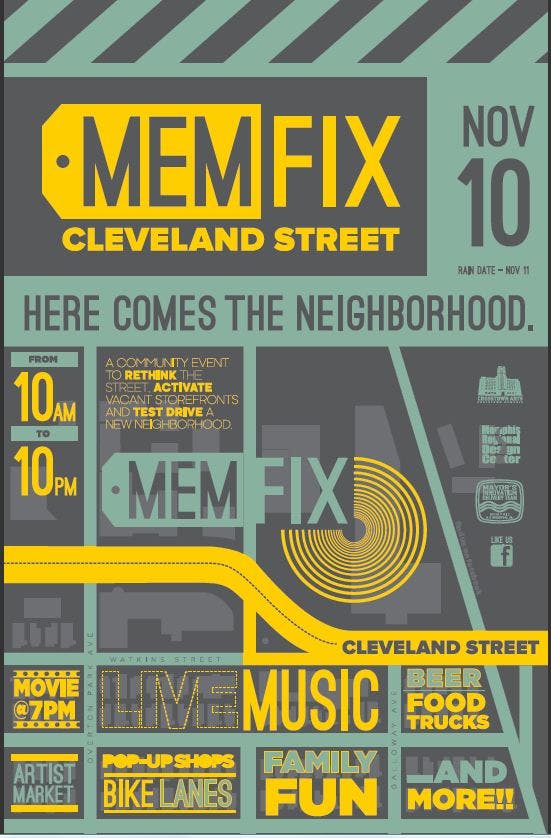 At the MEMFIX: Cleveland St. event, volunteers re-striped Cleveland Avenue with temporary protected bike lanes.  The demonstration, like the New Face for an Old Broad event in October of 2010, is intended to be a primer for a permanent street design that includes Green Lanes.   
These community led events have become the motivation change the way we do things in Memphis.  The community efforts that led to the Overton Broad Connector are now aligned with the efforts of Memphis Mayor A C Wharton's Innovation Delivery team, a public private partnership that is reshaping the development of our roadways and neighborhoods.   Combined with the trip to the Netherlands by Memphis City Council Chair Bill Morrison, Chief Administrative Office George Little, and City Engineer John Cameron, the momentum for building Green Lanes in Memphis is now in sync with a greater effort to build outstanding neighborhoods in the City of Memphis, one street at a time.