September 30, 2020
Meet the Bicyclist Who's Riding the Underground Railroad
By: PeopleForBikes Staff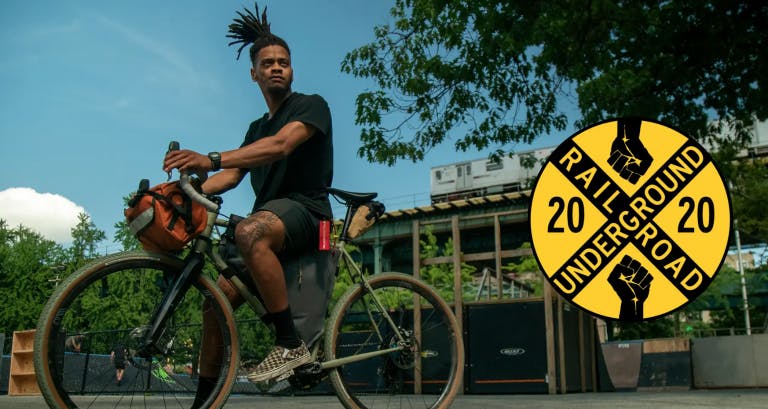 Washington, D.C. native John Shackelford is biking the 1,114 miles of the Underground Railroad.
For Washington, D.C. native John Shackelford, riding a bike has always been about making a difference within himself. Growing up in Southeast Washington, D.C.'s predominantly African American quadrant, Shackelford got into bicycling in his teens after seeing some local bike messengers working around town. "I needed money around college time, and I had met a messenger down the street, so I built up my first bike," said Shackelford. "My first job was delivering burritos. More than anything, I was hyped to be doing something different than everyone else in my neighborhood. I was making a difference within myself to be better."
Now 25-years-old and living in New York City, Shackelford thanks bicycling to getting him where he is today. While he was slinging burritos as a bike messenger, Shackelford got introduced to the world of bike racing. "I started meeting a lot of other young people on bikes. I did my first alley cat — I didn't even finish the race, but the camaraderie between everyone was amazing. I started going to smaller races and wanted to keep pushing myself. My buddy was racing single speed cyclocross, so I built up a single speed and I fell in love with the challenge. It made me want to work harder and get better."
For his next challenge, Shackelford set his eyes on biking the length of the Underground Railroad — 1,114 miles from Alabama to Washington, D.C. — a route traveled by Black Americans escaping slavery and searching for freedom in northern states during the mid-1800s.
"When I would watch cycling videos, I just felt like I couldn't relate," said Shackelford on his inspiration for planning the ride. "I couldn't feel inspired by what they were doing. I'm doing this to be the inspiration for people like me. They don't have to have my skin color or background either, it's about how I got into biking. Biking can open doors for people who want to work hard. Anyone can do it. Physically and mentally, bikes can lift you up."
When asked what he thinks holds back a lot of people from biking, Shackelford said finances are the largest hurdle. "I think the biggest barrier to biking is money. If cycling companies worked to make things more affordable, it could be more inclusive. The more people can afford it the more people will ride. Growing up, everything I had was either a hand-me-down or I spent my entire paycheck just to go race."
Knowing that he couldn't do the ride alone, Shackelford invited a few friends to tag along. Joining him will be Richard Carson from Indianapolis, Rashad Mahoney from Baltimore City and Edwardo Garabito and Alexander Olbrich from Washington, D.C. "I chose these guys because I've either raced with them or done other long rides with them before. I know that all these dudes will physically ride hard and mentally know how important this ride is," said Shackelford, noting the struggles each of them has experienced being a non-white athlete in the bike racing space. "Along the way, we'll be stopping to teach local kids how to do what we're doing. How to pack, how to hydrate, how to do rides like this on a budget. We want to show people that it's not just white people riding bikes. I want people to meet me and say, 'If he can do it, I can do it, too.'"
When asked about how others can support his journey, Shackelford said the biggest thing people can do is join them. "Just come ride with us. If you're a kid like me, growing up in the inner city, coming from low expectations where people don't expect you to do much, come ride with us, and bring your family. Donating will help and means a lot, but riding and being an inspiration is worth so much more."
At the end of the day, for Shackelford, riding a bike is all about freedom. "Cycling is a mental freedom. A lot of your inner stress or problems can go away on a bike. Your whole day can get better with a bike ride." And it's not just a mental freedom, either. "The bike itself is freedom," said Shackelford. "This tool we're using is going to bring us freedom. Everyone has their own path to freedom, and mine is on a bike."
Visit undergroundrailroadride.com to learn more about Shackelford's journey and how you can donate to help support his team's efforts to stay positive, empower and inspire.