July 19, 2019
Keeping Momentum Alive for Recreation 2.0
By: PeopleForBikes Staff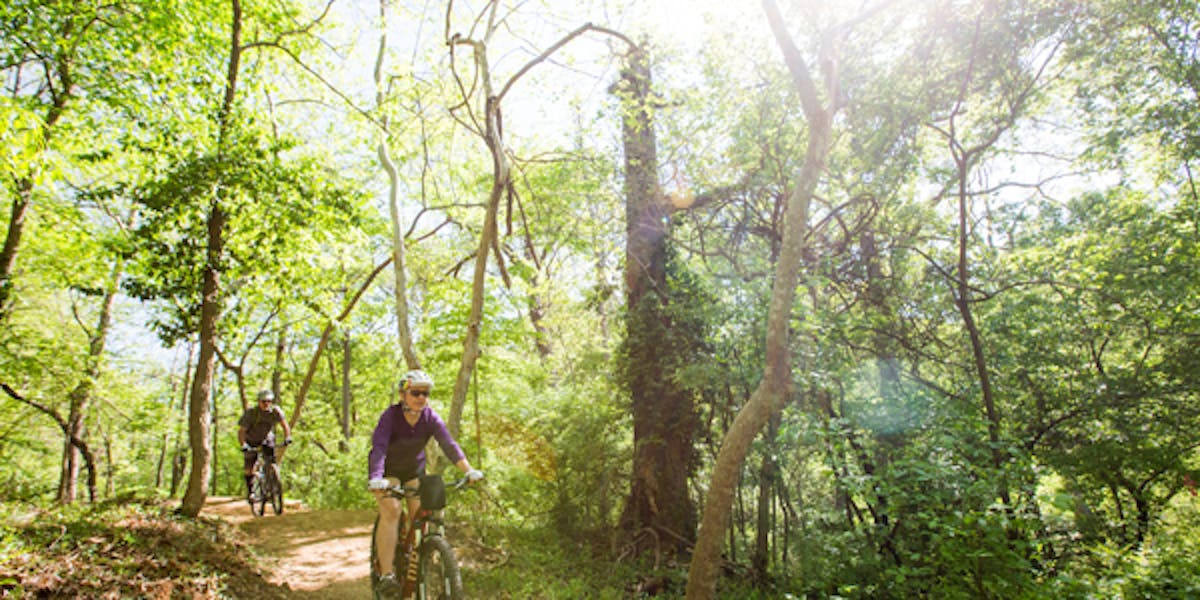 Mountain bikes on sunny path in forest
Across most of America, the snow has melted, the sun is shining, and here at PeopleForBikes, we can't get enough rides out on our public lands to soak in it all. We're on two wheels celebrating and enjoying the success of the public lands package (the John D. Dingell Jr. Conservation, Management, and Recreation Act, S. 47) that was signed into law in March. PeopleForBikes is proud to support the bipartisan package that permanently reauthorized the Land and Water Conservation Fund (LWCF) and expanded the Every Kid in a Park program, and we're working to keep the momentum on public lands and recreation going in Washington, D.C.
While the public lands package included many of our priorities, there are a number of pieces of recreation-focused legislation that still need to move through Congress. We are urging Congress to make good on its word to permanently fund LWCF, pass permit streamlining legislation, and take action on the growing maintenance backlog in our National Parks and public lands.
LWCF permanent funding: The public lands package passed LWCF permanent reauthorization, which means that we no longer have to fight for annual reauthorization on one of the most bipartisan issues. That doesn't take into account guaranteed funding, which the LWCF Permanent Funding Act (S. 1081) would. Introduced in April by Sens. Manchin (D-WV) and Gardner (R-CO), this bill would permanently fund LWCF at $900 million annually and would be a win for public lands and those who choose to bike on them across America. Congress should consider the LWCF Permanent Funding Act as necessary for any slew of recreation enhancement bills.
An innovative funding solution for maintenance backlog: Our national parks have billions of dollars in maintenance backlog, which includes trails and other elements of the visitor experience for cyclists. Proposed legislation would leverage some of the energy revenues on public lands for the maintenance backlog, which would help to fund the massive backlog that exists today. We strongly support efforts to reduce the backlog and, due to its current size, an innovative solution will be necessary. The current bill in Congress is called the Restore Our Park Act (S. 500), introduced by Senators Portman (R-OH), Warner (D-VA), Alexander (R-TN), and King (I-ME) and continues to be a priority of the outdoor recreation community.
Permit streamlining: Efforts in Congress are underway to streamline permitting on federal lands, all of which help get more people on public lands more efficiently. The recently introduced Simplifying Outdoor Access for Recreation Act (SOAR, S. 1665) from Sens. Heinrich (D-NM) and Capito (R-WV) aims to do just that. As bicycle tourism on public lands becomes more popular, tour companies and guides are struggling to comply with complicated permitting regulations, especially when trips include multiple land management jurisdictions (e.g., BLM and NPS lands). We strongly support comprehensive streamlining of the permitting process. Take action and urge your senators to become cosponsors here.