March 27th, 2014
Indianapolis' GOP mayor on bikes and the 'great revival' of US cities
By: Michael Andersen, Green Lane Project staff writer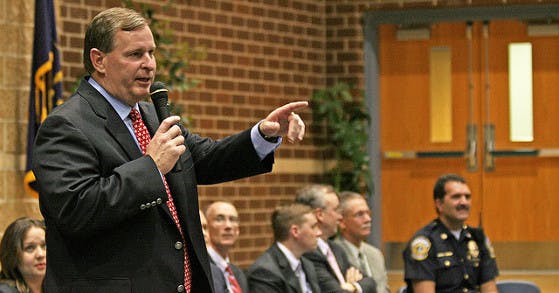 Photo by Ron Annis
The mayor of Indianapolis, Greg Ballard, sounds like the Republican he is when he makes the case for urban bike infrastructure.
Speaking to the U.S. Senate Thursday in favor of federal support for bike projects in a transportation bill that other testifiers still referred to as a "highway bill," the retired Marine lieutenant colonel turned politician spoke frankly about the fact that from where he sits, strengthening the economy isn't just about moving trucks quickly. It also requires creating places people want to live, he said.
Emphases added:
America's cities are preparing for a great revival. Many planners note that when our country built the interstate highway system starting back in the 1950s it enabled an exodus from urban areas to the suburbs. As we meet today, the tides of that population outflow are reversing and we are witnessing a re-migration to our cities.
For many decades transportation planning centered on the movement of people and goods between commercial and residential centers. Today, our cities face a much different transportation need — one of connecting people to each other and unique experiences.
New urban dwellers want to be connected to their neighborhood and their city through means other than a car. … Today I am asking this committee to support our cities as we seek to build the bike lanes, trails and greenways that serve all the people who want to live, work and raise their families in the new American city. …
The battle for the future of American cities will be won by the place that attracts and retains talent. …
The eight-mile Indianapolis Cultural Trail used to be traffic lanes and parking spaces. It now carries cyclists and pedestrians and serves as a worldwide model. … In the few short years since it opened, the trail has attracted at least $100 million in new investment to the city. In fact, just last week we approved a new 28-story residential and retail tower on a lot that fronts the trail in downtown Indianapolis. …
This trail and many other examples in cities across America demonstrate a bold new thinking toward urban transportation planning. A highway to a new factory may still be critical to attracting new jobs and moving these goods to market. But if you want to attract that facility's workers to live in your city, you need sidewalks, bike lanes, greenways and so much more.
Attitudes like Ballard's are why we just chose Indianapolis as one of the Green Lane Project's next six focus cities. We'll be glad to be helping Mayor Ballard use more protected bike lanes to make Indianapolis an ever-better place to live.