March 6, 2014
Hygge sighting: The little idea that built Denmark pops up in Austin
By: Michael Andersen, Green Lane Project staff writer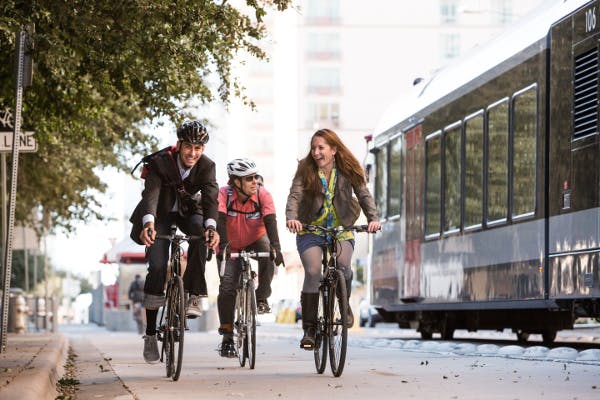 Streetcar and bikes, 4th street in Austin
Would you describe riding a bicycle on a large street in the middle of a major city as "cozy"?
It's safe to say that most Americans would choose a different word. But that's the one that sprang to mind for Molly Purdin, a young web interface designer who commutes by bike in Austin, during an interview this spring about the 4th Street protected bike lane. Check out this 22-second clip
"It's like a little party — it's so fun," Purdin says of riding in the two-way lane on 4th Street. "Everybody is just waving at each other and ringing their bells. And it's really cozy and I love that little part of my commute, because we're all just sort of in it together."
It's a charming snapshot of one commuter's experience. But as people who happen to know much about Denmark have already realized, "cozy" isn't just an interesting turn of phrase. It's the most common English translation of "hygge," one of the most important words in Danish culture, one that's often described as untranslatable into English. Among urban bike planners, it's also been one of the guiding principles of Copenhagen's turn away from the auto-dependence of the 1970s and toward the "human scale" city that great bike infrastructure creates.
As one Dane on one of last year's Green Lane Project study tours put it in a conversation with Chicago officials, "hygge" is "the feeling you get when cycling down a street on a nice day with your grandson riding on the handlebars pointing at the world and talking to you."
Call that feeling whatever you will. We'll call it awesome.
If protected bike lanes are helping this feeling find its way into English — by way of central Texas, no less — that's pretty awesome, too.