March 29, 2016
How Seattle's mayor gave planners the fire to make improvements fast
By: Michael Andersen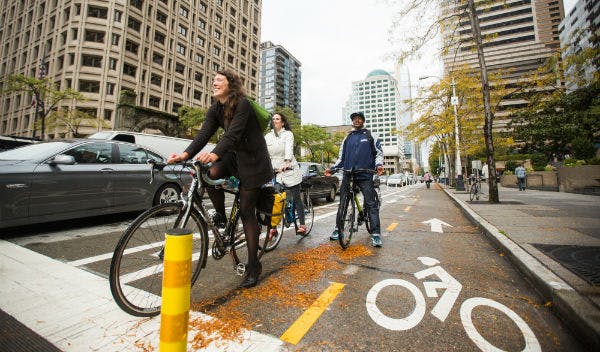 2nd Avenue, Seattle.
In 2014, Seattle used the simplest possible system for seizing an opportunity on its streets: an unexpected mayoral mandate.
Though the city had experimented with protected bike lanes a few years earlier, the design was expensive and the implementation slow. Recently elected Mayor Ed Murray felt the city was falling behind in delivering a working bike network and had been slow to address traffic safety problems such as crashes involving people biking on Second Avenue.
So at a breakfast speech on Bike to Work Day in May 2014, Murray announced that Second Avenue would get a protected bike lane in time for the fall launch of Pronto bike sharing.
The declaration accelerated a previously planned project by 18 months. Outreach for the design of a bidirectional protected bike lane on the one-way downtown street began immediately. Additional features, including dedicated bike signal phases at intersections, were added to the plan that summer.
It was a heart-thumping race to the finish for Seattle staffers. In one story that city staff like to tell, the install team ran out of side-mount flanges just before installation weekend. Two signal electricians ended up making an emergency road trip to the nearby city of Everett to look for spare parts that they painted and cut to fit.
The completed Second Avenue opened in September, just four months after the mayor?s proclamation. From outreach to installation, the work was carried out exclusively in-house at Seattle DOT. ?Biking downtown will never be the same again,? declared Seattle Bike Blog.
A week later, the city released bike counts documenting a tripling of bike volumes along the avenue. That success led quickly to additional projects?and a new five-year timetable for building Seattle's entire city center bike network.
Some things can be easier said than done. Which is, actually, the whole point of saying them.