March 31, 2016
How Memphis created a rolling festival of street redesigns
By: PeopleForBikes Staff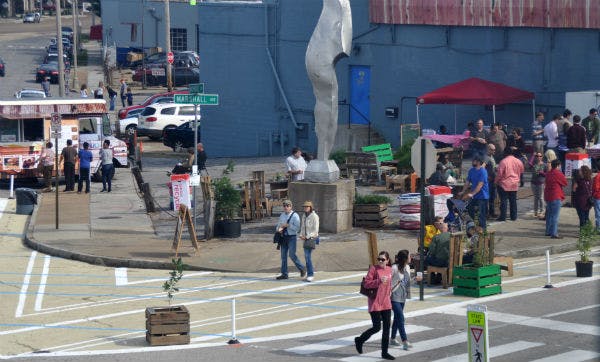 MEMfix crosswalks
In substance, Memphis' MEMFix program is similar to other cities delivering quick-build street improvements. But its grassroots origin and abiding participatory nature supports the idea that any city that can mark its streets can complete a quick-build project.
In 2010 Memphis citizens petitioned city government to install a new temporary geometry on a disinvested, high-potential commercial street. The volunteer-led effort, initiated by the street's business association, used house paint to mark a protected bike lane and organized a neighborhood festival that recruited retailers from other neighborhoods to open pop-up businesses in vacant storefronts.
It was a big hit with the community, business leaders and biking advocates alike. Soon after being elected, Mayor A C Wharton agreed that the city should promote more such projects. Early efforts became laboratories for testing designs, materials and procedures.
The city gradually institutionalized the process over the next few years, including participating in PeopleForBikes' Green Lane Project for technical assistance, program development and streets guidance. Funding, outreach and implementation materials were all approached pragmatically, using tools at hand. Some materials were donated by businesses and installed by volunteers.
The program has grown to encompass many projects, including traffic safety improvements and public spaces, on a regular implementation cycle. MEMFix neighborhood events are still held at the launch of some projects.
Because the program is initiated and led by community partners, Wagenschutz said it rarely faces much criticism. "There's always a fair amount of sort of buy-in that already exists," he said. "Generally the kinds of improvements we're doing in Memphis all have notable safety benefits to them, and I think that becomes evident."