June 11th, 2018
More Great Places to Read about Dutch Biking Wisdom
By: Michael Andersen, PlacesForBikes staff writer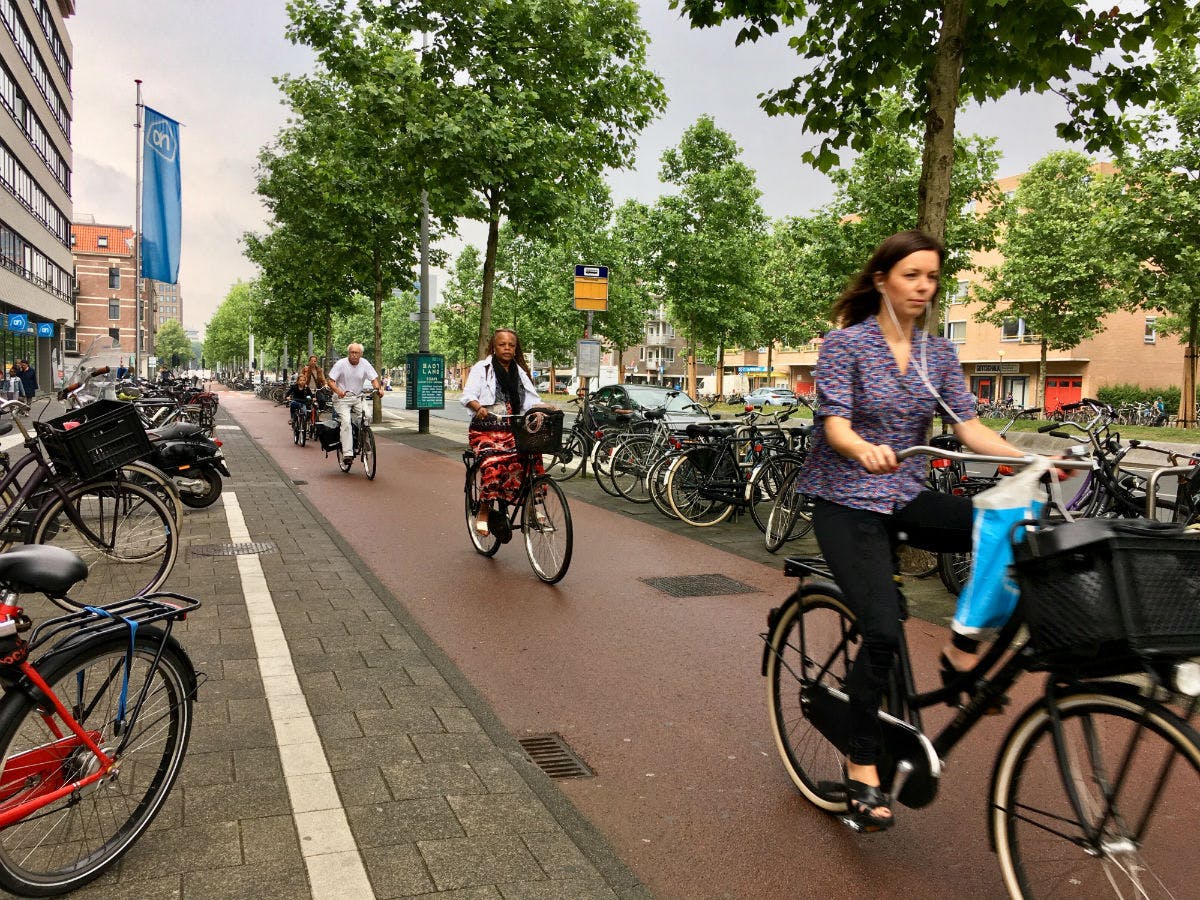 Biking in the Netherlands
All good things come to an end. Last week's study tour is done and almost all of us have headed home.
But if you've been following along on the blog, or if you've enjoyed our monster Twitter thread, here are some other places to keep getting your fix of Dutch bike infrastructure and practice.
David Hembrow, a cranky, incisive Brit based in the small Dutch city of Assen, publishes A View from the Cycle Path, and also leads study tours of Dutch infrastructure. Hembrow's blog may be the oldest publishing English-language blog about Dutch biking and it's a must-read for his perceptive analysis and blunt opinions.
Mark Wagenbuur, a Dutch-born writer and videographer based in Den Bosch, started publishing his website Bicycle Dutch in 2011 because (as he puts it) "someone was wrong on the Internet." He's since become maybe the best-known web commentator on Dutch infrastructure working in English, thanks to his skillful use of video to illustrate his observations. We were lucky to see two separate presentations by Wagenbuur in our tour, but I didn't even aspire to summarize them here — his medium is video, and he's fantastic at combining famous, obscure and original clips to tell powerful stories about the past and future of bicycling.
Throughout this week's tour, we've been following the wheel-tracks of Jonathan Maus of BikePortland.org. Maus (who is, I should say, a friend and my own former boss) joined a PeopleForBikes study tour in 2013 and turned it into a classic series of insights about the Netherlands and Denmark, anchored on brilliant documentary photography:
Across the English Channel are two British blogs that take advantage of their proximity to the Netherlands: Mark Treasure's As Easy as Riding a Bike and Mark Philpotts' The Ranty Highwayman. Both write mostly for U.K. audiences — but, well, the latest post on both sites right now is about the Netherlands. These writers bring an outsider's view and an activist's sensibility to their pieces about Dutch biking.
This just scratches the surface of the thousands of Internet articles and videos and hundreds of books and films published in English (not to mention other languages) about the Netherlands and the unique role of biking in its cities. Maybe the next one will come from you.