July 21, 2020
Find Your Next eMTB Adventure – North Carolina
By: Ashley Seaward, deputy director of state + local policy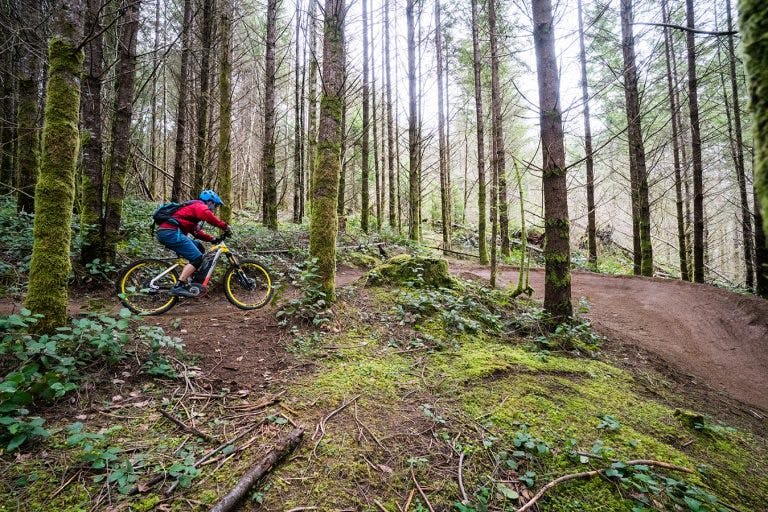 Electric mountain biking is growing in popularity.
PeopleForBikes is tracking eMTB access nationally and publishing the data on our eMTB map. This map is your one-stop shop to learn where eMTBs are allowed and find e-bike friendly trails near you. 
To help plan for your next two-wheeled adventure, PeopleForBikes will be taking you from coast to coast showcasing some of our favorite eMTB trails. In this next edition of our eMTB Adventures: Where to Ride blog series, we'll be visiting Beaverdam Lake, a section of Falls Lake State Recreation Area in Wake Forest, North Carolina.
North Carolina's Division of Parks and Recreation states that e-bikes are allowed access to designated bicycle trails. One of those designated trails is the Beaverdam Loop. This popular 13.7-mile loop can accommodate a range of mountain bike skills from beginner to advanced, depending on the section of the loop you choose to explore.
Beaverdam Lake does charge a $7 entrance fee from May 1 through Sept. 30, but visitors have found that the mountain bike trails are well worth the price.
Check out all of Falls Lake State Recreation Area's mountain biking trails, including the Beaverdam Loop, by using our eMTB map. Want to learn about other great rides outside of North Carolina? Be on the lookout for our next eMTB Adventures: Where to Ride blog.