August 21, 2020
Find Your Next eMTB Adventure – Arkansas
By: Ashley Seaward, deputy director of state + local policy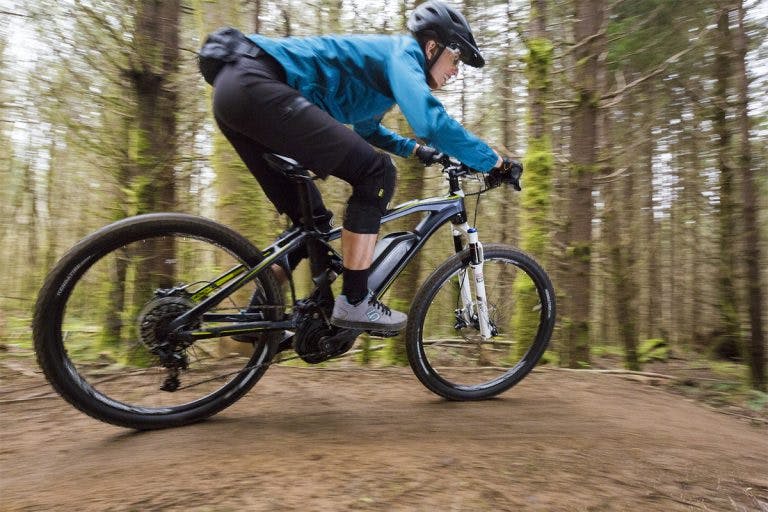 Riding an electric mountain bike.
PeopleForBikes' eMTB map is your one-stop shop to find eMTB-friendly trails near you. We're highlighting the best eMTB trails from coast to coast to make planning your next mountain biking adventure easy and accessible.
In this edition of our eMTB Adventures: Where to Ride blog series, we'll be visiting Bella Vista in Northwest Arkansas. Bella Vista is home to a growing system of world-class, eMTB friendly trails with varying levels of difficulty. One of the most popular trails is the Back 40 Loop. This system features nearly 40 miles of trails with steep climbs and scenic waterfalls that make it a go-to destination for all mountain biking enthusiasts.
Five different trail building groups collaborated on the Bella Vista mountain bike trail system, which allowed for the trails to be completed in less than a calendar year. Caring for the land and creating high-quality trails are cornerstones of the Bella Vista community, making this trip more than just an everyday ride, it's a bucket list worthy mountain biking experience.
Check out all of Bella Vista's mountain biking trails, including the Back 40 Loop, by using our eMTB map. Want to learn about other great rides outside of Arkansas? Be on the lookout for our next eMTB Adventures: Where to Ride blog and be sure to share your eMTB adventures with your friends on Ride Spot.