March 21, 2023
E-BIKE Act Makes a Comeback in Congress
By: Noa Banayan, director of federal affairs at PeopleForBikes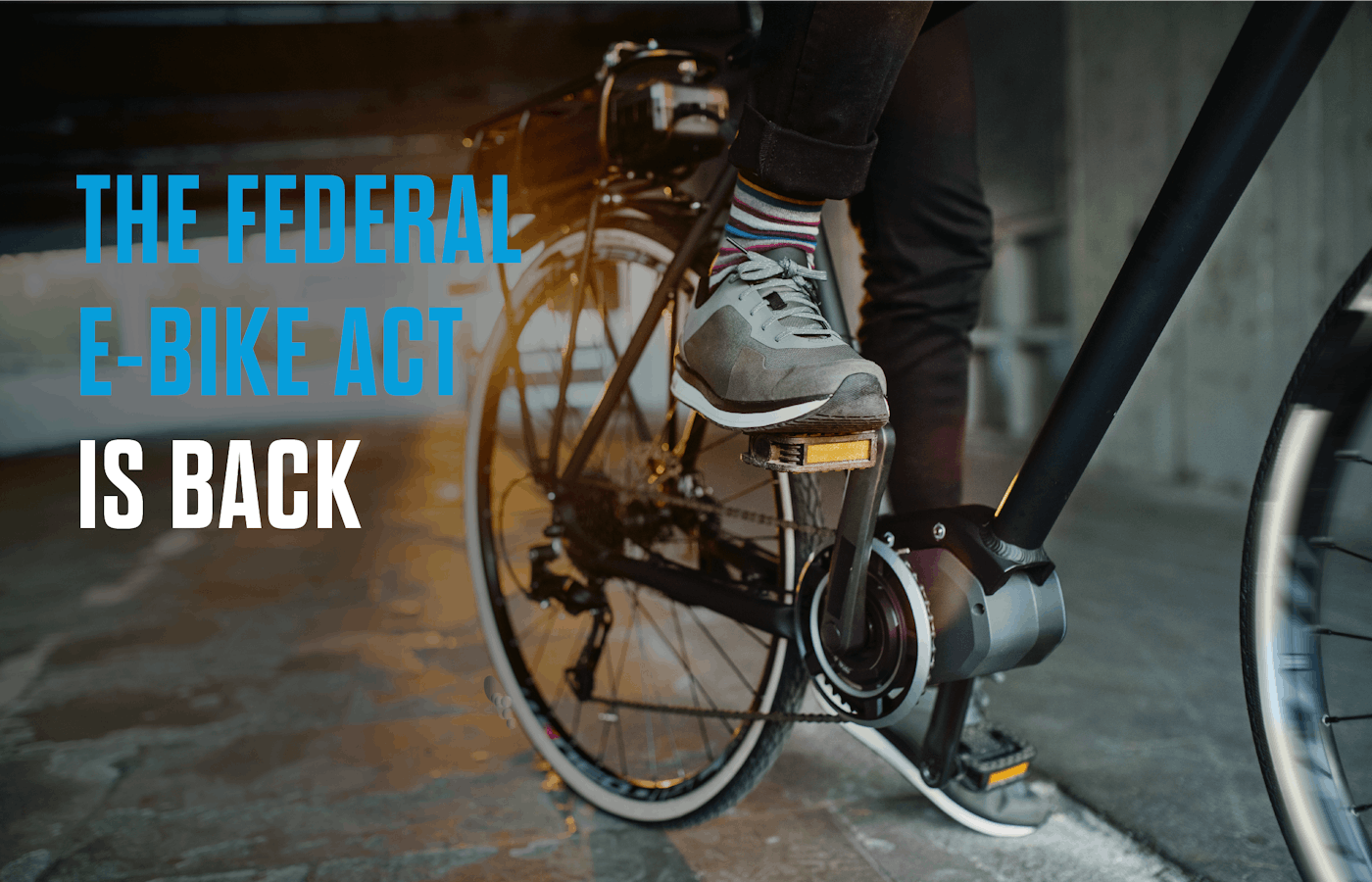 Climate leaders reintroduced the E-BIKE Act in Congress, renewing the possibility of a federal tax credit for electric bicycles.
PeopleForBikes applauds the reintroduction of federal legislation to create an electric bicycle tax credit, helping more people easily access the many benefits of electric bicycles. The Electric Bicycle Incentive Kickstart for the Environment (E-BIKE) Act (H.R. 1685/S. 881) led by Representatives Jimmy Panetta (CA-19), Earl Blumenauer (OR-03), Mike Thompson (CA-04), and Adam Schiff (CA-30) and Senator Brian Schatz (D-HI), prioritizes electric bicycles as a zero-carbon mode of transportation by making them more affordable and accessible for all Americans.
Take Action to Support the E-BIKE Act
"Many people are looking to get out of their cars and get on to e-bikes not just for recreation, but also for transportation purposes," said Rep. Panetta. "Although we're seeing more people on them in our communities, more needs to be done to ensure that everybody across our country has access to an e-bike. With its fully refundable tax incentives for those in the lower economic levels, the E-BIKE Act is a commonsense way to encourage the ownership of e-bikes. By incentivizing Americans to own and use e-bikes, we are allowing them the chance to help improve the quality of life in our communities and tackle the climate crisis in our country."
"Transitioning to a clean energy economy includes changing the way we get around. That means transit, rail, and electric buses, cars, and bikes. Our bill will make it more affordable for working people to buy an e-bike and help get cars off the road," said Senator Schatz, chairman of the Senate Appropriations Subcommittee on Transportation, Housing and Urban Development.
Though they first introduced the E-BIKE Act in 2021, the latest version looks largely similar. If signed into law, the E-BIKE Act would offer individual consumers a refundable 30% tax credit for purchasing an electric bicycle — up to a $1500 credit for new bicycles less than $8000. The credit would be allowed once per individual every three years, or twice for a joint-return couple buying two electric bicycles. New to this version is this addition of income caps that parallel the electric vehicle tax credit caps: an annual salary of $150K for single filers, $225K for heads of households, and $300K for those filing jointly.
"Incentivizing electric bicycles makes them a competitive transportation option for more Americans and supports a national effort to lower carbon emissions," said PeopleForBikes CEO Jenn Dice. "The E-BIKE Act rightfully positions electric bicycles as a critical part of a larger solution to climate change and equitable mobility. We're grateful to our climate leaders in Congress leading the charge on e-bikes."
The bill also mandates a report from the IRS after two years to understand the distribution of the credit by income tax bracket and adjust for equity in the future. 
An electric bicycle tax credit was included in the House-approved Build Back Better Act in 2021, but unfortunately, this provision did not make the cut in negotiations as that package evolved into the Inflation Reduction Act (IRA), now law. The IRA is the largest climate policy package in American history, but to quickly and effectively take action on reducing emissions, Congress must consider the E-BIKE Act as an essential and complementary policy.
When forward-thinking climate leaders in Congress first introduced the E-BIKE Act in 2021, it was one of few proposed electric bicycles incentives in the U.S. Since its inception federally, cities and states across the nation have moved where Congress stalled by proposing, approving, and implementing a wide array of creative and effective e-bike programs inspired by the E-BIKE Act. 
Electric bicycles keep people moving with efficiency and ease, no matter their age or physical abilities, while also displacing trips by car. Studies show that across the United States, we can expect an 11% decrease in carbon emissions with a 15% increase in electric bicycle mode share. In Denver, a successful and popular e-bike voucher program led to 71% of recipients using their cars less after purchasing an e-bike, with 90% riding weekly. An all-in approach to reducing carbon emissions must recognize the power electric bicycles have to take cars off the road while keeping people moving, active, and connected to their communities. 
PeopleForBikes' mission to get more people on bikes more often is directly supported by the  E-BIKE Act, complementing those efforts by making electric bicycles more easily accessible and affordable. PeopleForBikes has long championed the ability of electric bicycles to help people move more efficiently while simultaneously keeping them active and healthy, as well as reducing traffic congestion, improving air quality, and lowering emissions by replacing short car trips.
Electric bicycles help democratize our streets and make active transportation an option for more Americans. PeopleForBikes is dedicated to building a strong coalition of support alongside Representative Panetta and Senator Schatz to move the E-BIKE Act in the 118th Congress.
Take Action to Support the E-BIKE Act