September 15, 2015
Denverites say they'd shop more on Broadway with a protected bike lane
By: Michael Andersen, Green Lane Project staff writer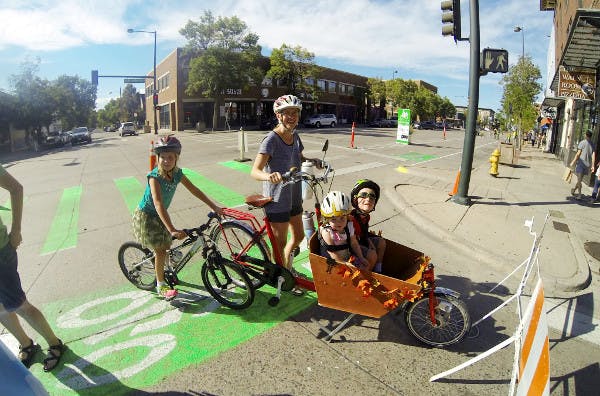 Credits from Bike Denver
From Portland to New York to Salt Lake City, the story is the same: the less a street resembles a freeway, the likelier people are to spend money there.
Last month, a three-day weekend demo of a protected bike lane on Denver's Broadway turned up a similar finding.
Out of 114 people walking or biking on Broadway during the Saturday of the demo, Streetsblog Denver reported Thursday, 78 percent said they'd "spend more money on Broadway if there were a permanent bike lane."
"If you're a real estate agent and you're selling a spot here on Broadway, you say, 'Hey, you've got 70,000 cars driving by you every day and they'll see your store,'" Marty Lavine, owner of PUSH Gym at 5th and Broadway, told Streetsblog. "But most of them are going so fast, they have no idea your store is there."
Lavine's experience is backed up by science. When we move faster down a street, we literally lose our peripheral vision.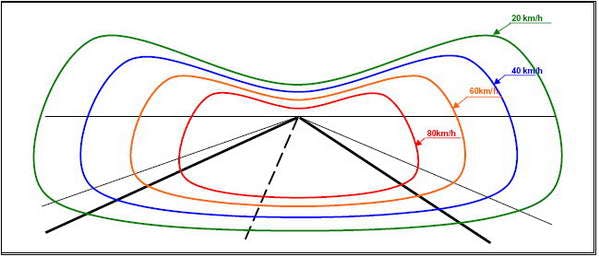 Broadway will always be a crucial route through central Denver for motor vehicles, and no one is arguing for actual traffic jams. But Denver leaders like City Councilor Jolon Clark, who represents the district, think it won't fully succeed as a business district unless it finds a better balance between a pipe for rush-hour traffic – "a one-dimensional speedway for motorists leaving the city," as Streetsblog put it — and encouraging people to drive more calmly and sometimes stop and shop.
That's what advocacy group Bike Denver was getting at when they wrote last month that Broadway should be redesigned with "more than just bikes" in mind:
Bike lanes are most important because of what they facilitate. They lower vehicle speeds by narrowing the street; they protect pedestrians by getting people on bikes off the sidewalk and into their own lane; they send more money to local businesses by bringing slow-moving traffic to the storefronts; with time, they relieve congestion by encouraging people to take shorter trips by bike or foot instead of in a car.
That said, Denver leaders say they learned one important lesson from last month's demo: removing an entire lane of auto parking from Broadway would be a bad idea. During the demo, some would-be customers who arrived in cars struggled to find spots nearby.
"That's a very big lesson learned: parking is essential to maintain," said Emily Snyder, the city's pedestrian/bicycle project manager.
Snyder said a permanent bike lane plan on Broadway could modify the bulb-out curbs to allow a protected bike lane along the sidewalk curb, with an auto parking lane separating the new bike lanes from auto traffic. That setup has been used on major commercial streets in Seattle, New York, Honolulu, Salt Lake City and elsewhere.
Snyder said the demo also taught the city about the need to coordinate traffic plans with other agencies during demos – the water bureau added to confusion on the street by doing an emergency pipe repair in early rush hour, slowing auto traffic more than it otherwise might have.
In general, though, Snyder said the Denver demo clearly demonstrated the difference bike lanes could make for giving more Denverites a comfortable way to bike to local stores.
"I've never seen so many bikes legally locked up to the right bike parking, and people were spending money," she said. "They were out there."