October 31, 2013
Denver tech companies: 'The No. 1 thing they want is bike lanes'
By: Michael Andersen, Green Lane Project staff writer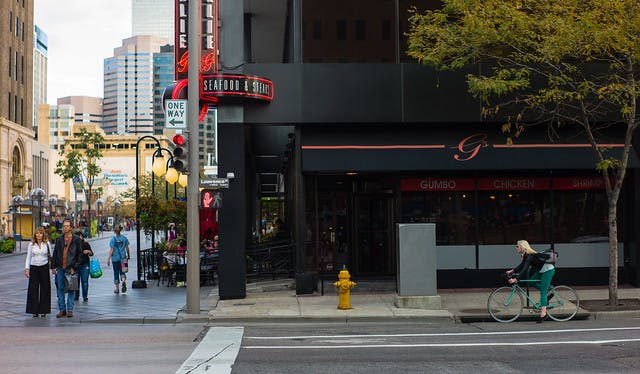 Bikeability: Denver's new economic development tool. Photo by Andrew Catellier (Flickr).
The single biggest obstacle to recruiting tech workers to Denver is its lack of good bike lanes, the head of the city's downtown business association said this month.
That's why her organization, the Downtown Denver Partnership, is taking the lead to create a "comprehensive protected bike lane plan" for the central city.
Here's the passage from DDP President Tami Door's interview with the Denver Business Journal's Bill Husted (emphases mine):
BH: Who's moving into downtown?
TD: We are the number one destination for millennials in the country. Our staff met with a lot of tech companies in Denver and we asked them what we can do to make companies stay here and come here. You know what they said was the biggest obstacle on getting employees to Denver?
BH: The 16th Street Mall?
TD: No. The number one thing they want is bike lanes. Ten years ago we never would have thought that walkability or bike lanes would be economic development tools.
BH: Do you like the B-Cycle program?
TD: It's great, but more importantly we're working on the creation of a comprehensive protected bike lane plan for downtown. It's great that we have the B-Cycle bikes and everyone can use them, but we would like to make bikes an integrated part of downtown. We want more people biking in the normal course of the day, not just because it's a novelty, but that's how they commute.
Door (who in the same interview mentions that one of her favorite authors is Ayn Rand) is the latest person to make this discovery at the local level. We've previously heard it from the mayors of Seattle and Chicago, CEOs in Portland and a commercial office building manager in D.C.
There also seems to be an amusing generational clash here between the 60ish Husted, a former newspaper columnist who seems certain that downtown Denver's biggest economic problem is its mile-long pedestrian mall, and Door, 47, who sees a hunger for more human-friendly spaces, not fewer. In cities where digitally driven office work or the tech sector are important to driving job growth, more business leaders seem to agree that comfortable bike access is quickly advancing from "amenity" to "necessity."