July 19, 2021
Critical Mass: A Summit Empowering All Women
By: Kiran Herbert, local programs writer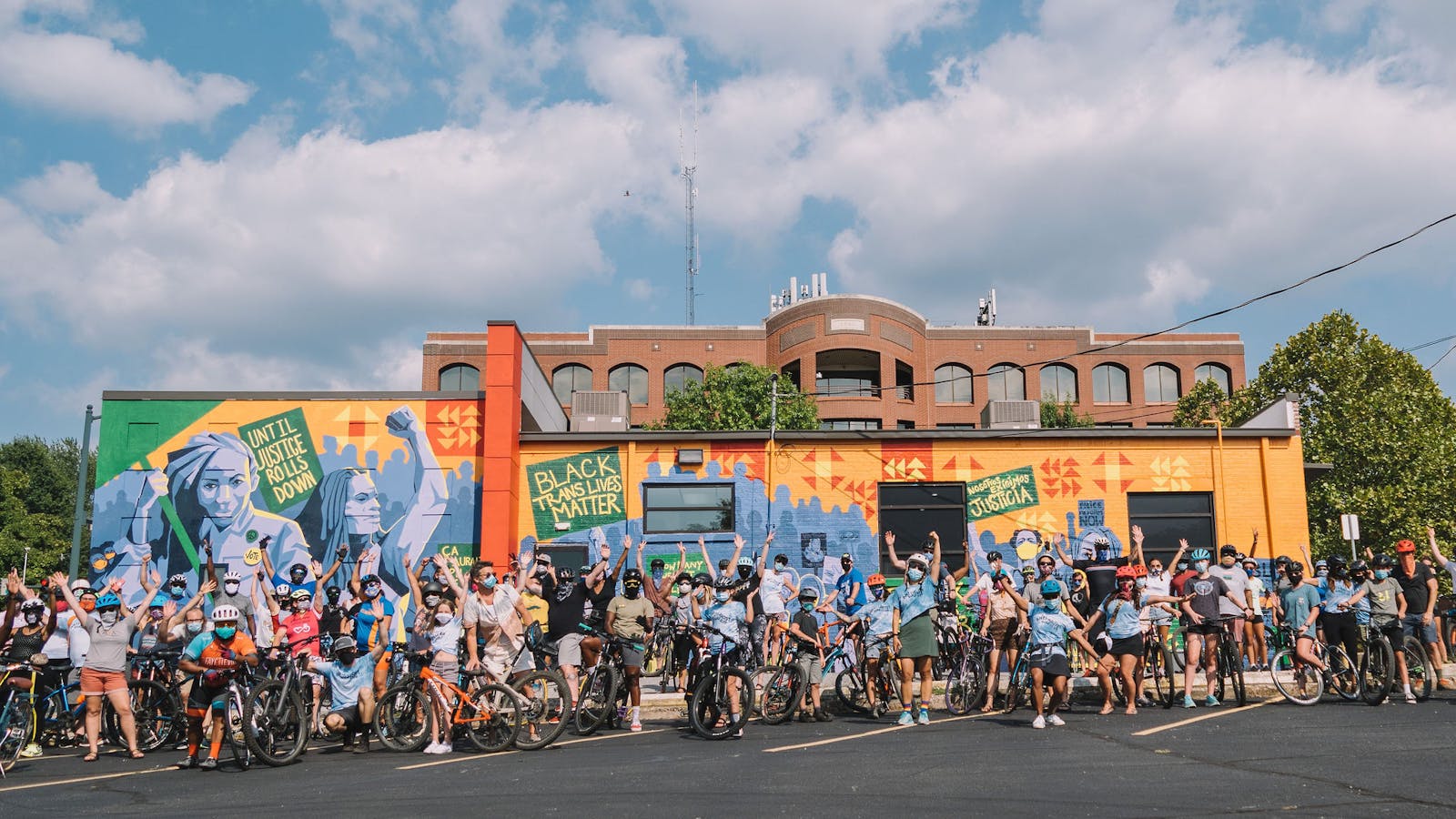 Bicycling organizations in Northwest Arkansas are joining together for this inaugural event, taking place virtually and in-person from July 23-24.
The metropolitan region known as Northwest Arkansas, tucked in the Ozark Mountains, is big on bicycling. With four-season riding, varied terrain and plenty of natural beauty, it's a mountain biker's paradise and, increasingly, a place people from all backgrounds feel comfortable jumping on two wheels. In order to sustain growth, two nonprofits — BikeNWA, a bike advocacy and education group, and NWA Trailblazers, an organization that develops multi-use trails — made it their joint mission to build up local infrastructure and ridership.
Earlier this year, the Walton Family Foundation, which is based in Bentonville, Arkansas, approached the organizations and proposed they launch a women's summit. For Bianca Montoya, who serves as the communications and marketing director for both organizations, saying yes was a no-brainer. The BikeNWA team immediately thought to bring in another Northwest Arkansas group: Bike.POC, an organization formed by Kim Seay and Bea Apple in early 2020 to be vocal and upfront about social justice in a way the local bicycling community hadn't traditionally been. In a fit of collaboration, Critical Mass: A Summit Empowering All Women was born. 
"With the summit, our goal is to help women interested in social change by offering empowering and interactive sessions that provide everyone attending with knowledge and tangible skills," said Apple. "But also, we want to help them understand how trails, cycling and active transportation is relevant to their work and personal lives."
For many, the last year has been eye-opening when it comes to recognizing all of the voices missing from our industry's proverbial table. Arkansas in particular gained notoriety for its efforts to restrict the rights of marginalized groups. The Critical Mass summit, July 23-24, is a way to harness the collective desire for social justice to create real change in the bicycling industry. Part and parcel of that plan is the need to create a space where women and non-binary folks, especially people of color, feel welcome and comfortable. 
"Especially in cycling, if the most marginalized among us — which is usually a Black or brown woman — feels comfortable in a space, then everyone does," said Apple. "But it doesn't work the other way around and we've seen that for too long. We're trying to flip that approach to make sure that everybody is included."
The team behind the summit is all-female and, recognizing the transformative power of bicycling, wants to bring that to communities that need it the most. In line with that goal, summit organizers have been intentional with their outreach, engaging with historically underserved groups, nonprofits and community organizations in the Northwest Arkansas area, as well as offering PTO, childcare reimbursements and scholarships (in an effort to facilitate attendance and encourage community, PeopleForBikes' Northwest Arkansas team also sponsored three scholarships for local J.B. Hunt employees). 
"It's a lot of dialog and conversation with the people you're trying to reach, asking, 'What would make you feel comfortable? What are the barriers keeping you from attending?' — and then working to address them," said Montoya, emphasizing that you can't just throw something at the wall and hope it sticks.
Likewise, the summit schedule is curated to both offer resources — powerful speakers, toolkits and workshops — as well as experiential components that incorporate movement and meditative practices, so that attendees leave with a toolkit that, according to Apple, "allows them to feel good as they do good." One of the keynote speakers is Dr. Destiny Thomas, a California-based anthropologist planner who helped envision the Better Bike Share Partnership's Transportation Justice fellowship program and now oversees its cohort of 12. In a session titled, "Why We Should Engage in the Development of Our Growing Cities," Dr. Thomas will speak to the need for everyone to participate in advocacy around our built environment, as well as why that advocacy needs to center marginalized people.
Also on the agenda is Charlene Mac, a strategist and management consultant, as well as a teaching fellow at Harvard Kennedy School, who will provide summit attendees with a crash course in community organizing. Many sessions include facilitated breakout discussions, offering a chance for intimacy, networking and authentic conversation. Other presentations include "How to Sustain your Own Momentum: Cultivating Resilience to Avoid Burning Out" with somatic coach Kelsey Blackwell and "Celebrating your Accomplishments with Ritual and Remedy" with traditional healer Felicia Ruiz. 
Outdoor industry stalwarts in the DEI space, Aparna Rajagopal of the Arvana Group and Elyse Rylander, manager of diversity, equity and inclusion at Quality Bicycle Products, will lead concurrent sessions for white and BIPOC women to explore "Building Inclusive Spaces and Navigating Barriers." Rounding up the lineup of speakers is an elected official policy panel complete with Arkansas representatives from the local, county and state levels.
"We want women to be empowered, understand what their resources are and understand how they can take action to create change," said Apple.
All speaker sessions will take place on Friday, July 23, and are completely virtual, while the second day of the summit, Saturday, July 24, is reserved for in-person, outdoor experiences. Recognizing the intersectionality among identities and different social change groups, all women and non-binary individuals are welcome to attend, no matter what industry they work in or where they call home. Wholistically, Critical Mass is about coming together as a group, building relationships and making change.
"We really see the summit as a two-way conversation and an opportunity for bike organizations to hear from people in these marginalized communities," said Apple, noting that it's important to flip the script and do things with communities rather than to them. "It's a great opportunity for bike advocacy organizations who have said they want to lean into the DEI space to have a seat at the table, but be there to listen."