October 30, 2020
A Conversation with Tamika Butler on Race and Bicycling
By: PeopleForBikes Staff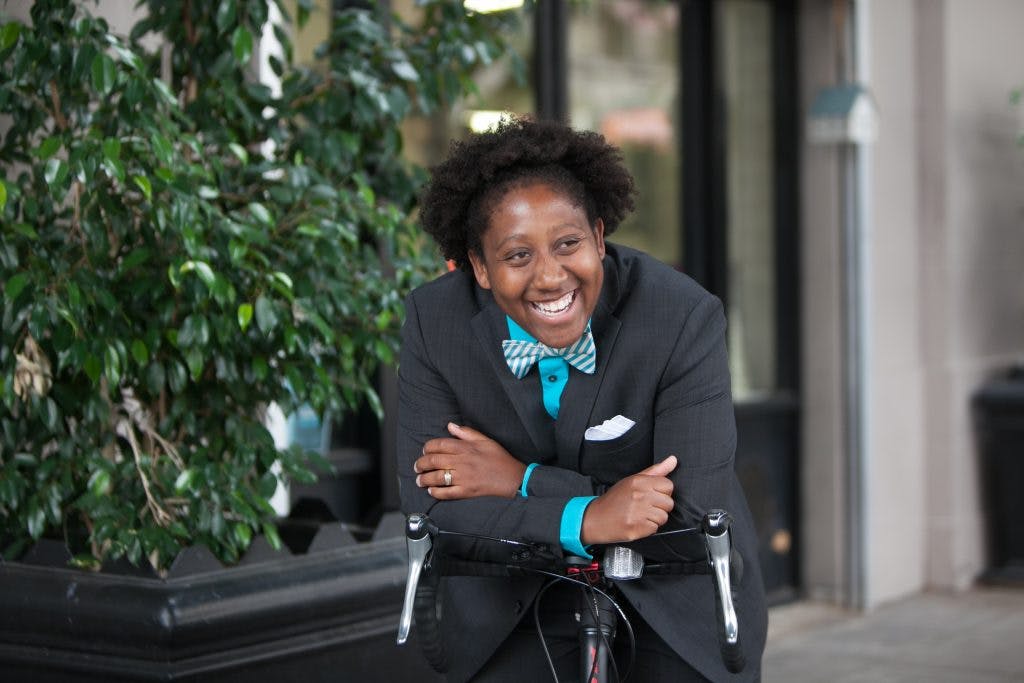 Tamika Butler
Earlier this year, PeopleForBikes hosted our annual Bicycle Leadership Conference (BLC), the world's largest gathering of bike industry leaders and executives. For this year's virtual conference, day two was dedicated entirely to mobility justice and anti-racism in the bike industry. Among many amazing speakers that day, one that truly stood out was Tamika Butler. Tamika's powerful words and moving presentation on tackling race in the bike industry captivated our audience of industry professionals. Knowing that her message could resonate with more than just those who work in the industry, we caught up with Tamika for a quick conversation about what it means to be Black on a bike and what everyday bike riders can do to support anti-racism in biking.
Tamika Butler began her career as a civil rights lawyer before finding the world of transportation through her role as the executive director of the Los Angeles County Bicycle Coalition. She later transitioned to work as the director of planning for California and the director of equity and inclusion for Toole Design, a group dedicated to designing and building spaces that allow all people, regardless of their race, abilities, economic status or location, to walk, bike and move about freely and safely. In July of this year, Tamika started her own company, Tamika L Butler Consulting, where she works speaking, training and consulting to shine light on inequality, inequity and social justice. When she's not at work, Tamika loves riding her bike.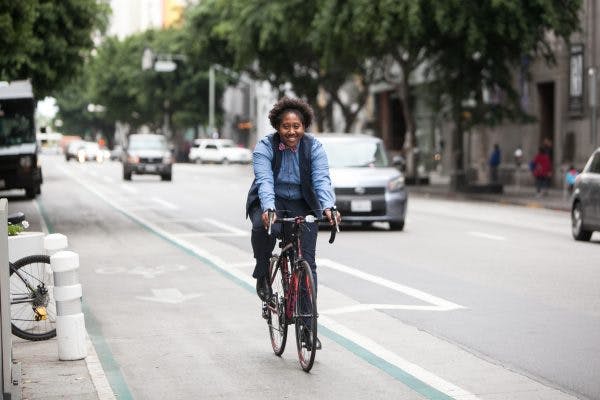 PeopleForBikes: What does being Black on a bike mean to you?
Tamika Butler: I love riding my bike and being on my bike. It provides a sense of freedom and is tied to the work that I do — liberation work. Being Black in this country means our ancestors came here as enslaved people, and much like they fought to find their freedom, I find my freedom on a bike. But just because I'm on my bike doesn't mean I stop being Black. Just like doing any activity while Black, I am in danger, and not just from getting hit by a car. I am in danger of racial profiling, in danger of police brutality and in danger of violent acts of racism, to name a few. As much as I love riding my bike, I never get on my bike without thinking about those other things. 
PFB: At the BLC you talked about how there is no such thing as "shut up and bike," similar to Black athletes that were told "just dribble the ball" or "keep politics out of sports" after they made public statements about racial injustice. Can you expand upon that idea for our audience?
TB: Similarly to what I said before, being Black doesn't stop when I get on a bike. I have to constantly keep thinking about my safety as a Black person. Some people have the privilege of getting on a bike and only thinking about biking. If you're Black, whether or not you're on a bike, playing a sport, sitting in a classroom or just walking down the street, you can't ever just focus on that one thing. You have to always think about what it means to be Black while doing that thing.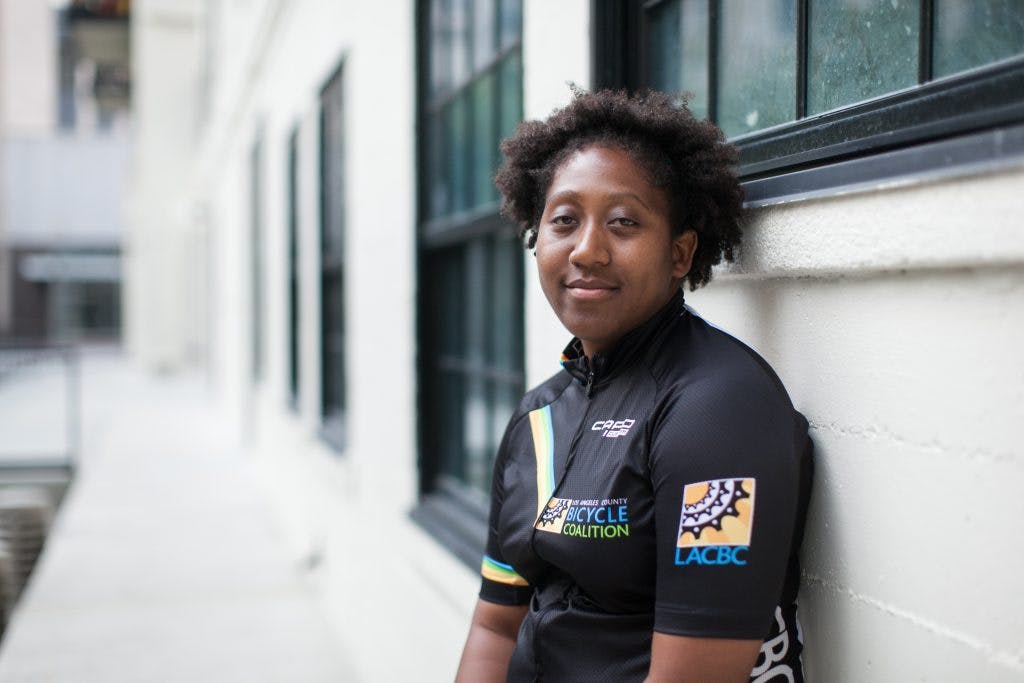 PFB: One of your most powerful statements at the BLC was, "Bikes don't discriminate, people do." Do you believe that the bike industry is inherently racist?
TB: I think the country is inherently racist, so it's impossible to have institutions that aren't. White privilege culture defines the things that we see as normal, powerful and knowledgeable. Look at who has power in the bike industry, they are white and they are men. There is structural racism and inherent bias in everything we do. People are the ones that make the rules, they don't magically appear. Every industry is having this reckoning right now — a reckoning of how to make our spaces more inclusive. Biking makes people happy, and a bike can literally take people places, but we can't progress and make this space more inclusive until we recognize how structural racism is built in to everything we do and then use our power to change that. 
PFB: You talked a lot about what the industry can do during the BLC. What can your average, everyday bike rider do to support anti-racism in biking?
TB: Acknowledgement — we all have a role to play. While people can say "I'm against racism" and  "I'm against the bike industry being racist," they need to realize that we all have a role to play in being anti-racist. We all have a role to play in fighting against anti-Blackness. Look at all of the other riders around you and question why they all look like you, why they all have similar backgrounds to you. Confront power and privilege that comes up in your everyday life. Be braver about speaking up. If you don't speak up, then who will?
PFB: What does a brighter future for the bike industry look like to you?
TB: In some ways, the future of the bike industry is bright right now. People are using bikes more than ever. As we see the number of people riding bikes grow, it is growing especially with groups in communities of color. The folks who have historically held power in our industry have been gatekeepers, and they need to let go of that power and embrace the future which is already here.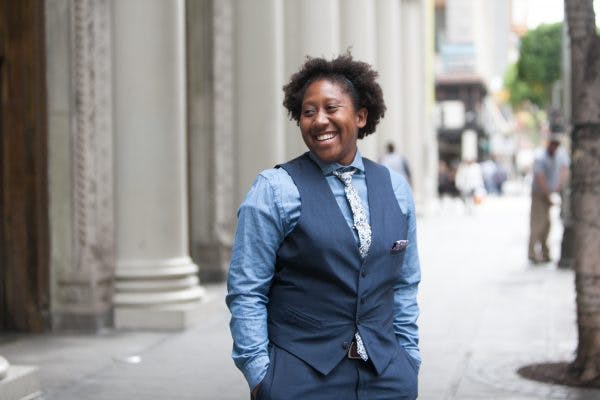 PFB: Any closing thoughts?
TB: People have to get involved. Not being racist isn't the same as being anti-racist. This isn't a passive act. Things are happening and you can't be neutral when they do. Biking isn't a neutral act. You have to have the desire and will to make a difference and then participate in making a difference.