November 18, 2020
Congress Advances Veterans Bill to Leverage Outdoor Recreation
By: PeopleForBikes Staff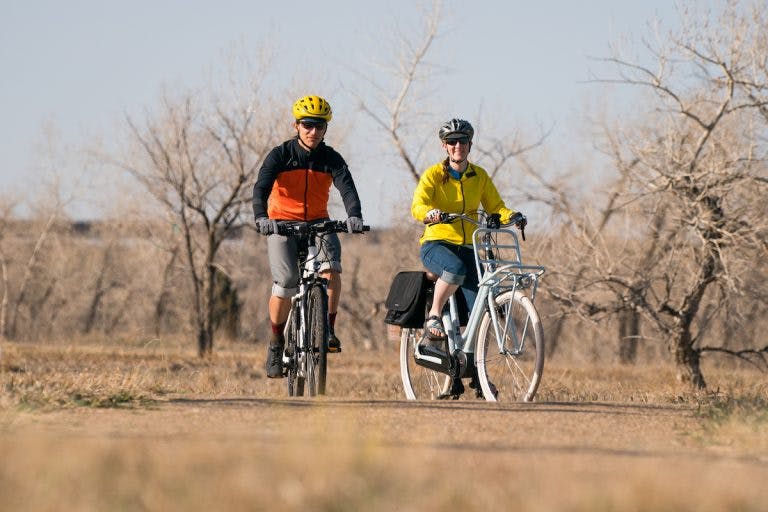 Biking in Flagstaff.
POLICY UPDATE: Amid a hyper-partisan divide in Washington, D.C., lawmakers came together ahead of Veterans Day to approve the Veterans COMPACT Act, a broad legislative package to advance care for veterans and their families, which includes support for women veterans and suicide prevention. The bill is on its way to the President's desk to be signed into law. PeopleForBikes is grateful for the service of America's veterans, and we know there's so much more our nation can do to support their mental and physical health.
Passed in the House in September and the Senate in November, this package includes the Accessing Veterans Recovery Outdoors Act (AVRO Act). AVRO will establish an interagency task force charged with identifying barriers that prevent veterans from more broadly utilizing outdoor recreation for medical treatment. This includes barriers to accessing public lands and hurdles within the research and medical community.
The legislation comes on the heels of an increasing number of studies (like this 2013 report by the Sierra Club) showing a strong link between outdoor recreation and healing. Research also supports that our nation's veterans — especially those recently returning from war — could benefit from treatment that includes outdoor recreation. 
Similar legislative efforts can also be seen at the state level. On Nov. 11, New York's Governor Andrew Cuomo signed Assembly Bill 8094-A into law, an act that requires the division of veterans' services to review issues relating to veterans' abilities to access state parks, lands and facilities.
The Secretary of the Interior and the Secretary of Veterans Affairs will chair the task force and be joined by representatives from other agencies, including the Department of Defense, Army Corps of Engineers and Department of Agriculture.
PeopleForBikes has worked with the sponsors — Reps. Adam Smith (D-WA) and Chris Smith (R-NJ) and Senators Catherine Cortez Masto (D-NM) and Steve Daines (R-MT) — and the bike industry on this important legislation, and we look forward to supporting the interagency task force with resources on bicycling and recreation. 
We're grateful for the hard work of our partners to advance this bill: Blue Star Families, Vet Voice Foundation, Minority Veterans of America, Outdoor Alliance, Sierra Club's Military Outdoors Campaign, REI, the National Parks Conservation Association and the Outdoor Industry Association.