March 27, 2018
Colorado Lottery Grows Bike Industry and Recreation Economy
By: Jenn Dice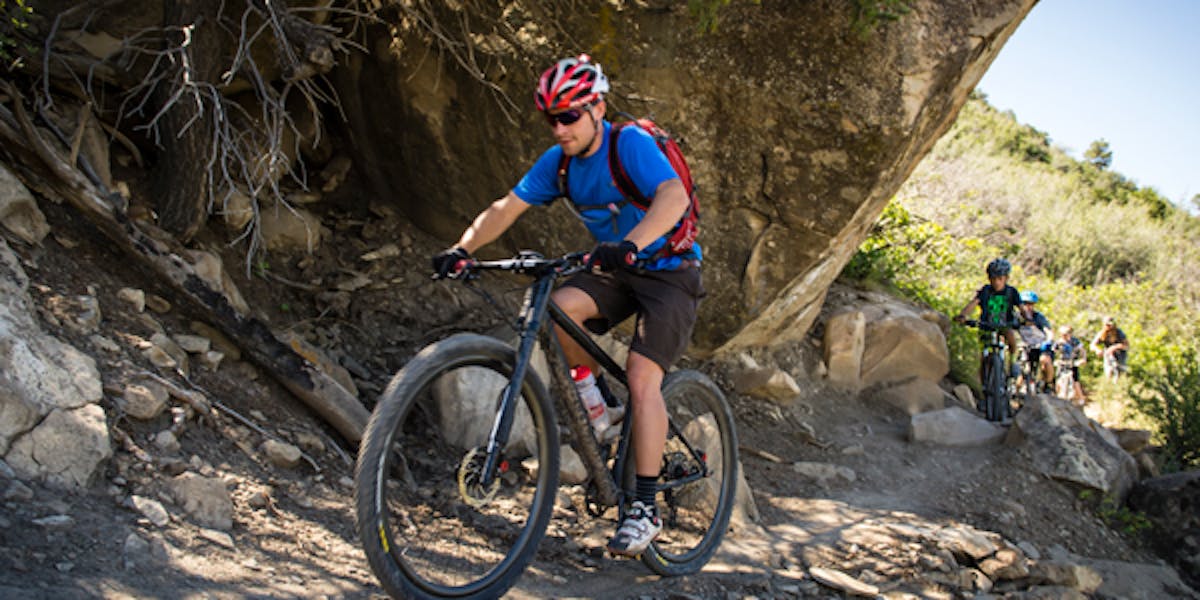 Mountain biker group
Like many Coloradans, I discovered myself outside. I moved here 22 years ago and immediately fell in love with the mountains and trails. From snowboarding in winter to mountain biking in summer, outdoor recreation has helped me make lifelong friendships and even meet someone always happy to join me on the trail—my husband.
I also found a career path, as a vice president at PeopleForBikes. In this capacity I help lead and organize the bike industry into a powerful voice for the outdoors and the recreation economy. According to Bicycle Colorado, bicycling contributed $1.6 billion in economic and health benefits to the state' economy in 2015. That makes the bike industry in Colorado a true force, supporting 232 suppliers, 413 retailers and generating hundreds of bicycling events each year. Acclaimed events like Ride the Rockies, Leadville Trail 100 MTB, Breck Epic, Triple Bypass, Colorado Classic/Velorama, Pedal the Plains and the Iron Horse Bicycle Classic take riders up and over our mountains, through our cities, and across the prairie, spending money along the way.
Bike businesses create jobs, pay taxes, fill storefronts and improve communities—all as part of an outdoor recreation industry critical to Colorado's economy and identity. The Outdoor Industry Association attributes 229,000 direct jobs, $28 billion in annual consumer spending and $2 billion in state and local tax revenue to outdoor recreation in our state.
Our great outdoors are why bike companies like SRAM, Quality Bicycle Products, Pearl Izumi, Niner, Primal Wear, DT Swiss, Yeti Cycles, Polar Bottle, Stages Cycling, VeloNews, Skratch Labs, Haibike, Alchemy Bicycle, The Pro's Closet, Feedback Sports, Moots, and Athlinks choose to call Colorado home. Colorado's trail systems provide a world-class testing ground for SRAM's suspension, brakes, and bike parts, and Shimano's Pearl Izumi facility creates cycling apparel tested in prime, real-world conditions. For both of these brands, our state's recreational offerings help attract the bicycle industry's leading talent and build an active, innovative workforce proud to call this state home.
Colorado has so much to offer these businesses helping to build a strong, sustainable economy because of its ongoing investments in trails, parks and open space. The programs we've voted into effect and established in our state to invest in the outdoors are best-in-class and make Colorado the envy of the nation. It's time to reauthorize the source of our funding power—the Colorado Lottery Division.
The Colorado General Assembly is currently considering Senate Bill 18-066, a bill to reauthorize the Colorado Lottery Division. Lottery Division proceeds are channeled through highly successful organizations working toward land conservation, outdoor recreation, wildlife protection, and more: Great Outdoors Colorado, Colorado Parks and Wildlife, and the Conservation Trust Fund. Much of the funding goes directly from these organizations to local governments for popular places and amenities for outdoor recreation, from iconic greenways and river trails like Cherry Creek, South Platte and Peaks to Plains, and town trail favorites like Palmer Trail, Horse Gulch and Emerald Mountain, to model bike parks like those in Frisco and Boulder.
Since its inception in 1980, the Lottery has returned more than $3 billion in proceeds for projects in every county in the state, for work that has benefits to all Coloradans. PeopleForBikes and the bike industry support Senate Bill 18-066, along with hundreds of Colorado local governments, businesses and nonprofits, and individuals, because reauthorizing the Colorado Lottery Division ensures that its contributions to recreation and conservation can continue uninterrupted for another 25 years.
Please join us in showing support at KeepItCO.org.