February 28, 2022
Centering Youth Voices in Bike Advocacy
By: Kat Andrus, PeopleForBikes' youth program manager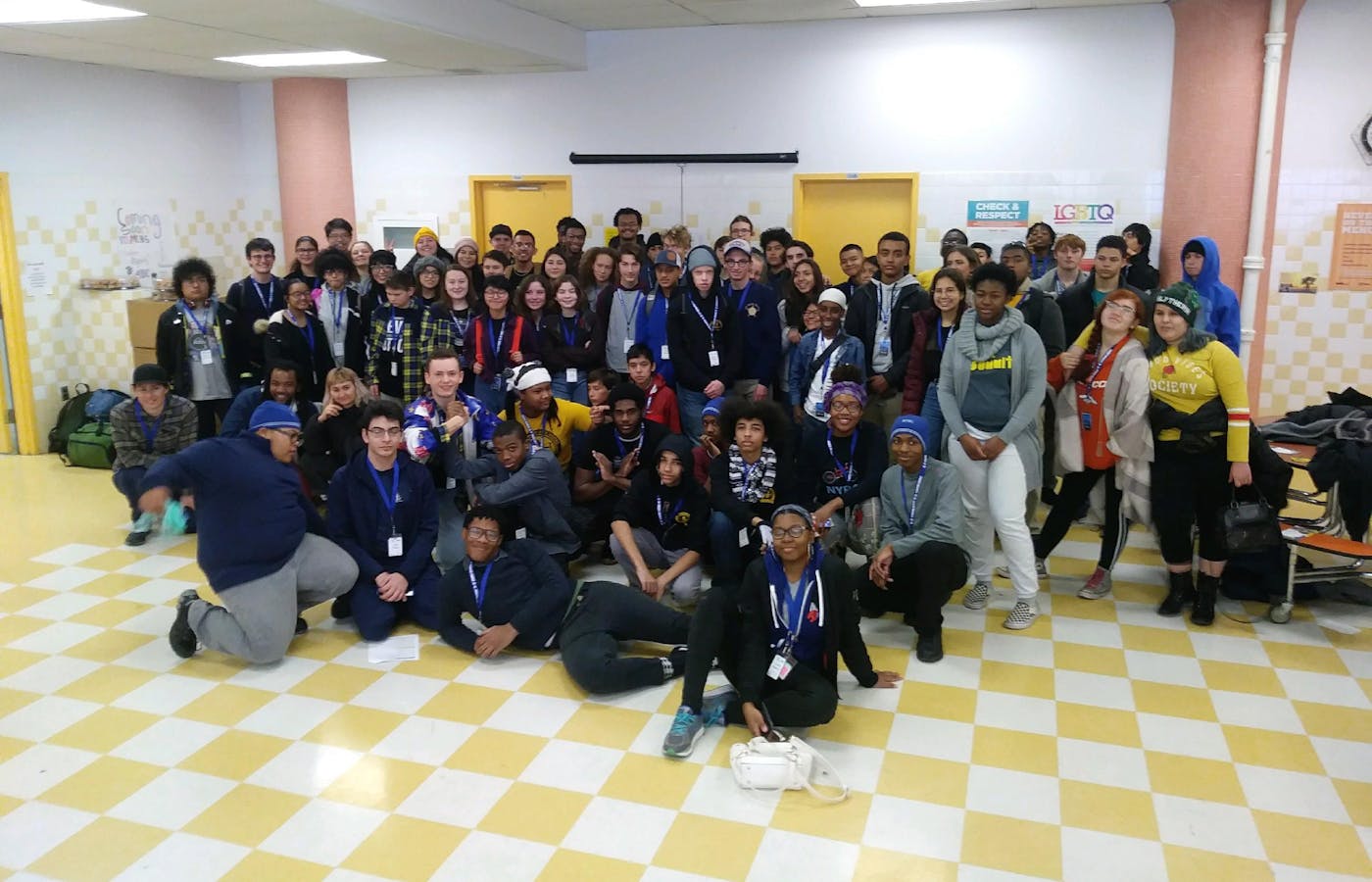 The National Youth Bike Council, a network of high school-aged advocates from around the U.S., is speaking up on behalf of young bicyclists everywhere.
After attending the Youth Bike Summit in 2016, three ambitious high schoolers from Philadelphia and Seattle got the big idea to form a connected network of youth biking advocates across the U.S., creating an active learning space for young cyclists and boosting the youth voice in the bicycle industry. What started as a text group chat grew into an email listserv, eventually becoming The National Youth Bike Council (NYBC), a community of youth leaders and their adult advisors and advocates.
"At the Youth Bike Summit, it was common to see youth cyclists talking about how they wished they knew more youth in their communities that rode bikes as well," said Joshua Funches, a founding member of the NYBC. "I was a part of a local bike council and we asked ourselves, 'What would happen if we combined all [the local councils] and put youth in full control?' That would be so awesome!"
That is what sets the NYBC apart. The group is by, of and for youth. The council was created to center youth leaders, allowing them full control of the organization and operations. It is completely driven by the 14 to 22-year-olds at the helm of the organization with support provided by adults through its board and advisory positions. The structure of the council works to empower and enable youth leaders through peer support and motivation. Through the collective contributions of multiple communities, young people have the opportunity to develop life skills and leadership qualities, as well as create the type of society they want to live in. 
Zoe Mitchell learned of the group at a Youth Bike Summit in 2019 and is now an active council member, serving as the group's treasurer. "I was already involved in my local biking community as a youth advocate when I attended the summit, and I was really excited to see that there was a national council in the making," said Mitchell, who joined because she wanted to meet more youth around the country who were doing similar work. "I have learned a lot about facilitating meetings, business planning and accounting this past year."
The NYBC believes in developing valuable skills from an early age. The organization's model helps members to learn teamwork, emotional intelligence, bicycling education, community responsibility and other life skills. Members start with an onboarding process that connects them with social media networks and one-on-one peer support, through which they're able to develop personalized growth goals. Each council member will participate in at least one major national-level project each year in addition to meeting in-person at the Youth Bike Summit. Projects are designed with flexibility so that they can be responsive to the interests of the council member as well as the needs of the community. You can check out some of the group's past projects here. 
The NYBC has big plans and high hopes for the coming year. One of the goals is to increase its membership base. "I think our impact will grow stronger once we get more council members in different states," said Mitchell. "So far our reach is limited to about three states, so if we could partner with local organizations and youth in more states we'll be able to reach more people." 
Beyond focusing on expanding its membership base and peer networks, the council is also engaging with broader bike advocacy spaces. For example, the group will be presenting at this year's National Bike Summit, which has created a designated "Youth Space" for the first time. The annual Youth Bike Summit is also scheduled for March 27-29 with an online component as well as an in-person option in Washington D.C.
The NYBC's ambitious vision and goals are perfectly aligned with PeopleForBikes's mission to get more people riding bikes more often and make biking better for everyone. PeopleForBikes supported the council with two different recent efforts. From July to December 2020, we donated a portion of our online sales directly to the council to support its growth. A partnership with the member-owned cooperative of independent bike retail operations, the Bike Cooperative, provided a small grant as a part of the Justice Journey's Ride Initiative. The funding makes a 2022 in-person gathering for the group feasible and will help with ongoing new member recruitment efforts. 
"These grants help play a big role in new council member incentives as well," said Funches. "We want to continue to support each other in a learning space by providing starter packs when new council members join." 
There are many ways to get involved and grow the work of the council. If you are 24-years-old or younger, consider becoming a council member or joining the group's Discord channel. For those over the age of 24, there are different ways to engage. You can sign up here to join the group as a "resource," providing as-needed support and assistance on a variety of topics related to growing and supporting the organization. You can also serve the group as an advisor, guiding the direction of the NYBC on a more regular basis. Anyone can subscribe to the newsletter, follow the council on social media or make a donation.
What was once an ambitious idea has evolved into a robust network of youth leaders, innovative initiatives and collective dreams for the future of cycling. These young leaders have a passion and drive to create change that is unmatched as evidenced by how far they've come in just a few years. Seventeen-year-old Gwen Urbain, who participated in the summer chats initiative the council launched last summer, summed it up perfectly: "From my perspective, the mission of the council is to spread awareness of how to create a happy, healthy community but also to advocate for youth to take a stand and become leaders — always learning, always helping others, always being the best they can be."