June 11, 2018
California Congresswoman Julia Brownley visits Giant USA
By: Emily Furia, business network writer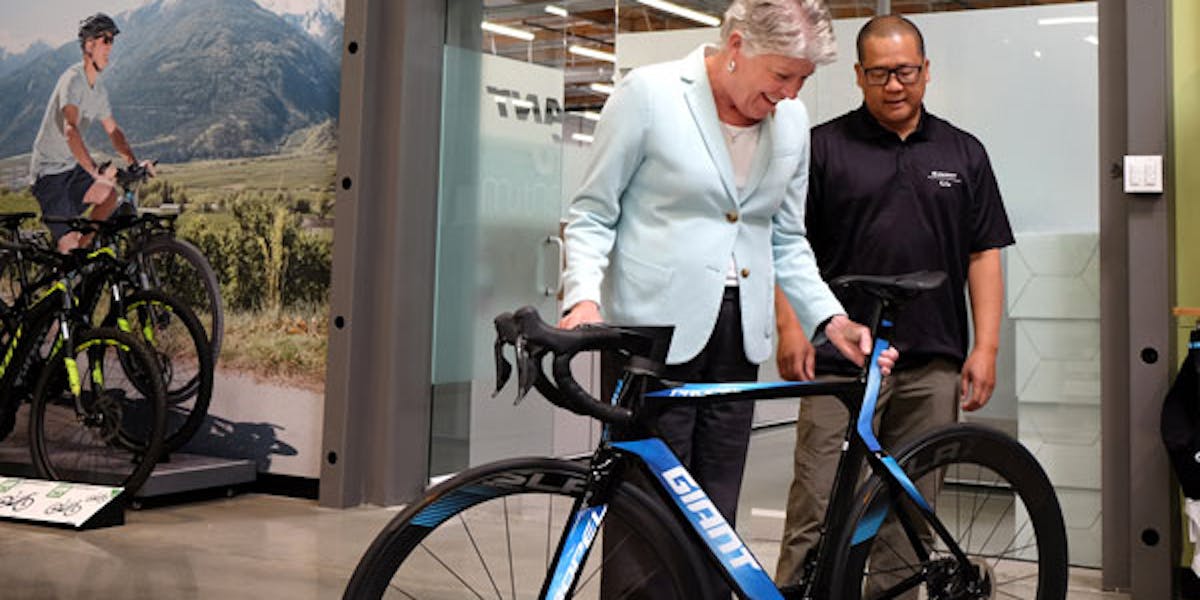 Representative Julia Brownley (D-CA-26) checks out the Giant Propel Advanced SL Disc at Giant's U.S. headquarters in Newbury Park, California.
This May, U.S. Representative Julia Brownley (D-CA-26) and members of her staff visited Giant Bicycles' United States headquarters in Newbury Park, California. Brownley, who sits on the House Transportation and Infrastructure Committee, toured the Giant facility with An Le, global marketing director and Allen Needle, senior sales operations manager. They discussed the bike industry's economic contributions to California and the nation as well as the importance of funding bike infrastructure projects in Ventura County and across the nation.
During the visit, Giant officials shared statistics on the power of the bike industry: Bike riders in the U.S. spend $88 billion annually on bicycle-related products, services, and travel, according to the Outdoor Industry Association. The bicycle industry contributes $42 billion to the GDP each year as well as $12 billion in federal, state, and local taxes. More than 1,000 bicycle retailers operate in California alone; Giant sells 55,000 bikes in the state each year.
Needle said that Brownley planned to visit for 30 minutes but stayed more than an hour. She asked many questions about the bicycle industry, the state of independent retailers, and bicycle technology and manufacturing, especially e-bikes. "She was clearly engaged with issues that affect the community and cycling—transportation, recreation and protecting open spaces," he said.
"It was great to meet with the staff at Giant Bicycles to discuss the bicycle industry's role in Ventura County and what we can do to improve transportation infrastructure," said Congresswoman Brownley. "As a member of the House Transportation and Infrastructure Committee, I have been a strong advocate for federal investments in bike and pedestrian infrastructure projects. Not only does this improve the environment and quality of life in local communities and mitigate the effects of traffic congestion, but it also helps our local economy."
After the meeting, Needle shared some advice on the ways bike business owners can support bicycle infrastructure projects in their communities and engage with elected officials. Here are three of his tips:
Take your rep for a ride
Invite your U.S. Senators or Representatives to your place of business—then take them on a fun ride on a local path. This not only gives them a chance to meet people whose livelihood relies on people buying and riding bikes, but also gives you a chance to talk about how bike shops and other bike-related businesses enrich local communities. Giant, for example, has donated more than 400 bikes to wildfire relief efforts in California and 400 bikes to the victims of Hurricane Harvey in Houston.
Ask for their help with a local bike project
Let your elected officials know about bike infrastructure projects that have been proposed within their district. Representative Brownley's office provides letters of support to bike infrastructure projects being considered by local, city and county governments—whether those projects are local, state or federally funded.
Encourage their support of the BUILD grants program
Encourage your employees to contact their members of Congress and ask that they support increased funding for the BUILD grants program (formerly known as TIGER), which finances many bike infrastructure projects. Congressional staffers will tally the requests—whether they come by phone, e-mail, or snail mail—and report them to elected officials.