November 8, 2021
Billions in Funding Advanced for Bikes in Federal Votes on Infrastructure and Reconciliation Bills
By: Noa Banayan, director of federal affairs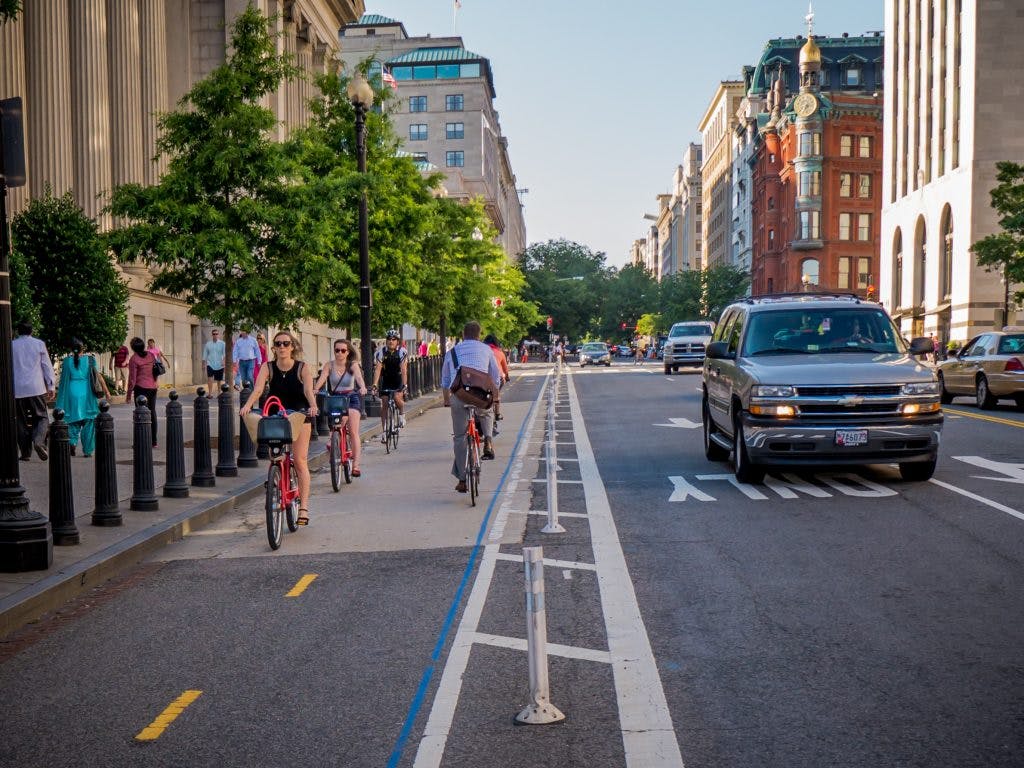 The $1 trillion Infrastructure Investment and Jobs Act and $1.75 trillion Build Back Better Act offer big funding for bikes nationwide.
After months of debate and negotiations, the U.S. House of Representatives made progress on trillions of dollars in infrastructure and government spending, including billions in programming and incentives for bikes. Approved late on Friday, November 5, the $1 trillion Infrastructure Investment and Jobs Act (IIJA) heads to President Biden to be signed into law. An initial, procedural vote was offered for the $1.75 trillion Build Back Better Act (BBB), setting billions more for climate and equity-focused infrastructure grants, a tax credit for electric bicycles and a bicycle commuter benefit for a full vote by November 15.
PeopleForBikes applauds this action from Congressional leaders and champions for bicycles in Congress. To meet the growing demand for bicycles and safe places to ride, the IIJA must be matched with the BBB, which holds billions of dollars more for equity, climate resiliency and tax incentives for electric bicycles and bike commuting. 
"We're pleased to see Congress and the administration advance billions of new dollars for bike lanes, trails and safer streets with the IIJA," said Jenn Dice, PeopleForBikes president and CEO. "Partnered with the Build Back Better Act, these packages are poised to reduce our nation's reliance on carbon emissions, enhance equitable mobility and address the continued demand for safe, connected places to bike."
The actual details of the IIJA remain unchanged from when the Senate voted to send it to the House on August 10. We outlined the specifics of what the bipartisan bill includes — and what it doesn't — in a recent blog, but we'll share the positives again here:  
$550 billion five-year transportation authorization bill after several short-term extensions.
An average of $1.44 billion/year for the Transportation Alternatives Program (TAP), a nearly 70% increase. TAP is the largest source of federal funding for bike infrastructure!
Authorization of the Active Transportation Infrastructure Investment Program to build connected biking and walking networks.
A requirement for all states to develop standards for Complete Streets.
A vulnerable road user assessment (i.e., study how dangerous roads are for people outside of cars).
Inclusion of the model three-class electric bicycle definitions. 
The House intends to vote on the BBB after the Congressional Budget Office releases the score of the bill. It still requires approval from Senate Democrats, creating more opportunities for amendments and cuts.