May 7, 2018
Be a Bike to Work Ambassador
By: Sarah Braker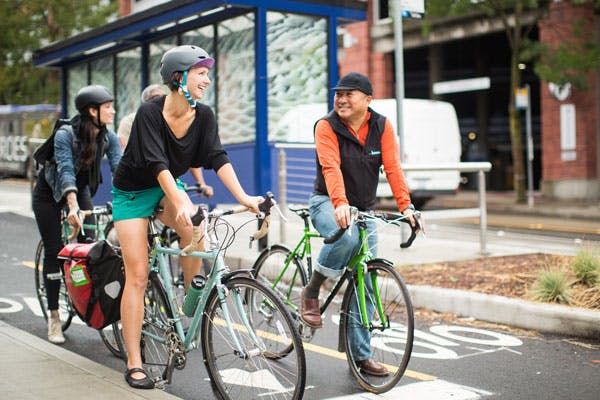 Advocating for solutions that can promote biking to work can reap major rewards.
Commuting to work by bike can be easier said than done. There can be a lot of hurdles that keep people in their cars. You can't move people closer to work or control the weather, but that doesn't mean you're helpless. You can start by telling your colleagues how much better your life is as a bike-to-worker. You can also take these five steps to get them on board.
Changing room
Workplace bathrooms aren't necessarily known for their comfort and roominess. It can be awkward to completely disrobe in a stall, not to mention the risk of dropping your blouse in the toilet. A separate and comfortable place to change out of bike clothes and into work clothes can make a big difference for bike commuters.
Secure bike parking
Even the best bike lock isn't 100-percent effective, which means leaving a bike locked outside an office for eight or more hours can be stressful. Add to that the possibility of unexpected rain or snow, and fear of damage to a bike can be a big deterrent to people riding in. Indoor and secure bike parking is a great solution for this, but not the only one. If you can dedicate a separate space for bikes, consider allowing people to bring their bikes into the office. They won't take up too much space and can be conversation starters.
Route-finding resources
One of the most common answers to, "why don't you ride to work?" is probably, "I don't know how to get there safely." If you really want to be a bike to work encourager, take some time to show off your knowledge. Point people to mapping websites and apps or sit down with them and help them plan a route. Someone probably gave you advice when you started and it's time to pay it forward.
Incentives
Everyone loves prizes, and small gifts can be just the motivation people need to hop on their bikes. Coupons for coffee shops and restaurants, company swag, or gift cards to bike shops are just a few of the incentives that can be the extra push. You could even enter bike commuters into a raffle for larger prizes like bike gear or extra vacation days. Riding to work is its own reward but sometimes people need something to help them get started.
Recognition
For many people, riding to work is no small feat. Show them that you're noticing. Feature bike commuters on company blogs or social media or give them a shout out at staff meetings. Not only will this help encourage them to keep going, it could also be the push others need to start biking to work themselves.