March 22, 2018
Bike Retailers Head to Capitol Hill to Advocate for Bike Infrastructure Funding
By: PeopleForBikes Staff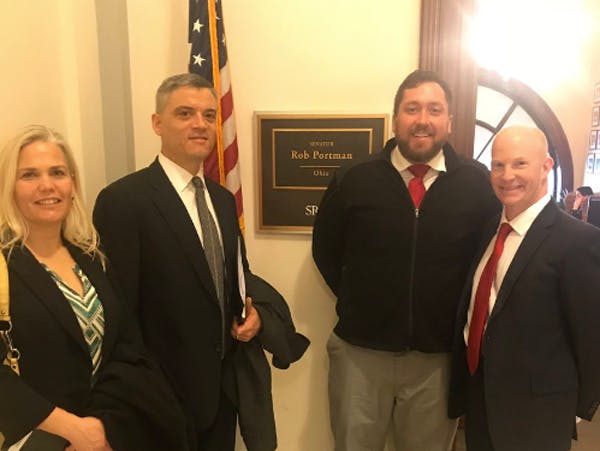 Anne Mader (The Bike Lane, Virginia), Stefan Meyer (Kent Cycle, Ohio), Noel Kegel (Wheel and Sprocket, WI and IL) and Erik Esborg (PeopleForBikes).
Kicking off another year of bike business leader advocacy efforts on Capitol Hill, PeopleForBikes hosted the National Bicycle Dealers Association executive fly-in on March 20 and 21.
"At PeopleForBikes we work year round to show elected officials the power of the bike industry," said Jenn Dice, PeopleForBikes, vice president business network and government relations. "It is much more powerful when the faces of the industry–the small and the big businesses–are there in person to tell their own stories."
Bike retailers across the U.S. are a critical part of the $88 billion bike industry. The PeopleForBikes fly-in provides an opportunity for them to speak directly with elected leaders on Capitol Hill about the importance of bike infrastructure to their communities and their businesses.
Specifically, retailers asked that multimodal and bike-friendly projects are a part of the the administration's $1.5 trillion infrastructure proposal. Bike infrastructure can typically be low cost with high ROI and retailers understand the importance of a federal investment–both from a bike commuting and recreation standpoint–but also s a freight investment which will benefit more than just the bike industry.
"This was my first PeopleForBikes/NBDA fly-in, and it was a valuable experience," said Peter Henry of Landry's Bicycles in Boston. "Better places to ride are good for people on bikes and bike retailers, who contribute to local communities and economies. It was a privilege to join my fellow bike shop owners in D.C. to make our voices heard."
Other fly-in participants included Linda and Larry Black (MD), Mt Airy / Bike 123; Jim Carveth (NE), Bike Rack; Mike Jacobowsky (CA), Chain Reaction; Noel Kegel (WI), Wheel & Sprocket; Anne Mader (VA), The Bike Lane and Stefan Meyer (OH), Kent Cycle.
PeopleForBikes and its partner businesses will continue to work with allies on Capitol Hill pursuing policies that are beneficial to bicycling and the bike industry. Upcoming fly-ins include the Bicycle Products Supplier Association (BPSA) fly-in and Capitol Hill Congressional Bike Fest on May 22 and 23 and a women's executive fly-in September 5 through 7.