April 21, 2020
An Earth Day Different From the Rest
By: Noa Banayan, federal affairs manager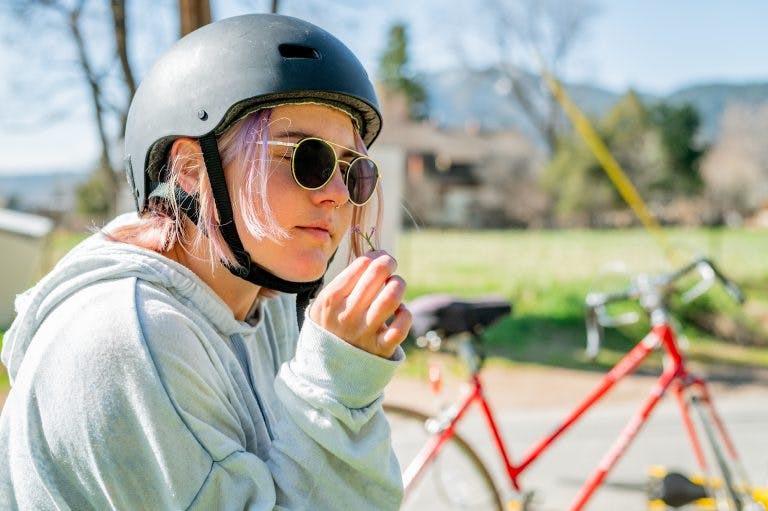 A young rider takes a moment to enjoy nature.
Due to the constantly changing dimensions of the COVID-19 crisis, we encourage you to follow all current CDC guidelines as well as local travel advisories and recommendations. Take care of yourselves and loved ones. We're all in this together. 
Most years, mid-April is filled with every kind of Earth Day event you can imagine. From community gardening celebrations to climate activism, beach cleanups and, of course, big bike rides — the excitement is inescapable.
This year, things are different. The spread of COVID-19 and global efforts to contain it are all-consuming. We're staying home and riding it out solo. We can't gather in groups and it's a tough time to find things to celebrate. While this might not be the moment for silver linings, many of us are finding ourselves with a little extra time on our hands. At PeopleForBikes, we're using this Earth Day to reflect on the future we want for this Earth, and figuring out how to be the best advocates for it.
We're working on gathering good news and finding inspiration in stories of communities supporting each other, of more people riding bikes and of places where the clouds are literally lifting. While the circumstances are tragic, people around the world are seeing firsthand how smog and pollution decreases when people drive and fly less and therefore emit less carbon. From New Delhi to Los Angeles to Washington, DC, air quality is improving at a remarkable rate. Will these changes in behavior and resulting environmental gains endure once the suffering ends?
PeopleForBikes has always advocated that bicycling is a simple and immediate way for people to reduce their carbon footprint while simultaneously improving their personal health, saving money and having fun. This rings true now more than ever, and we're seeing record rates of bicycling on our paths and streets. Americans are looking to bikes as a safe, appropriate transportation mode for essential travel and a healthy form of recreation and activity.
There's hope in knowing that policymakers at all levels and on both sides of the aisle recognize the threat of climate change and environmental degradation. In Washington, DC, PeopleForBikes is talking to federal representatives about bikes as part of a broader solution mitigating the worst effects of climate change, as well as helping people get back to work and revitalizing the economy. We're pushing for innovative programs that fund bike infrastructure projects as a carbon emission reduction strategy, and we're proud to have advocated for the first major transportation bill with a bipartisan climate title.
This Earth Day, we can see how all of this bicycling is working towards a bigger cause. It certainly feels as if we're limited in what we can do at the moment, but staying home and riding safely are two simple things you can do now that will benefit you, your community and ultimately, the planet.
We encourage you to join us as we Ride It Out together, but separately, and share your solo bike adventures with us on Ride Spot!